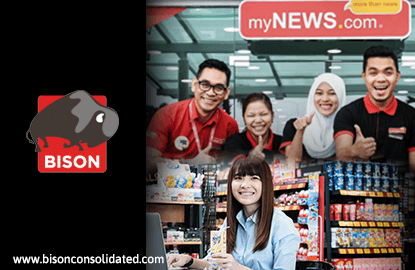 This article first appeared in
The Edge Malaysia Weekly,
on January 2 - 8, 2017.
CONVENIENCE store chain operator Bison Consolidated Bhd is ending the year with a stellar share price performance and financial results after a solid nine-month maiden run on Bursa Malaysia since its listing on March 29.
However, the same cannot be said about its counterpart, 7-Eleven Malaysia Holdings Bhd.
Bison, whose flagship brand is myNEWS.com, just released its results for the fourth quarter ended Oct 31, 2016 (4QFY2016), showing a net profit of RM4.31 million on revenue of RM72.45 million.
For the full year, net profit climbed 34.2% year on year to RM18.13 million while revenue rose 21.15% to RM263.56 million.
Retail sales made up the lion's share or some 85% of the group's revenue while the rest comprised complementary income from advertising and sales promotion rebates, distribution centre charges, sales from Bison Café and management service charges to an associate company.
In the retail segment, the two largest revenue contributors remained food and beverage services and tobacco products, accounting for 75.2% of the group's top line.
Bison now has a total of 303 press and retail convenience stores, mostly bearing its myNEWS.com brand, alongside nine WH Smith outlets on a 50:50 basis with WH Smith Malaysia Sdn Bhd and a Bison Café in 1Utama Shopping Centre. In 2016 alone, Bison added 69 new stores and closed four, according to Nomura Research.
The research house says the management plans to open 70 new stores annually over the next two years.
"We continue to think that new stores could potentially be opened faster should quality locations with higher footfall be made available," it says, adding that it also expects accelerated sales growth in FY2017 after significant store expansion.
Nomura Research maintains its "buy" recommendation on Bison but has trimmed its target price to RM2.15 from the previous RM2.25 to reflect weaker consumer outlook and more competition in the convenience store space.
In the notes accompanying its financial results, Bison says its gross profit margin rose 1.5% to 35.7% in FY2016, thanks to a better sales mix and product offerings.
AmInvestment Research points out that Bison's Ebitda margin for FY2016 improved to 10.4% from 9.7% in the previous year despite its store base growing 32%.
"We continue to like Bison for its full autonomy of its myNEWS.com brand name, aggressive expansion plan and potential margin enhancement, underpinned by sales from the group's food processing centre in Rawang and franchising opportunities," says the investment house.
It also points out that Bison has refurbished its 1,500 sq ft store in Mid Valley Megamall into its newly launched Gourmet to Go format that sells a large range of reasonably priced fresh food selections.
Nomura Research says the Gourmet to Go store offers a glimpse of the future of Bison's product mix when its food processing facility commences operation in the next three years.
Bison's share price had a good run for most of 2016. It consistently traded above its initial public offering (IPO) price of RM1.10, closing only once at a low of RM1.109 on April 26 before rallying to RM2 on Sept 30.
Nevertheless, the stock retreated to close at RM1.61 on Dec 29.
Four of the five analysts tracking the counter have a "buy" call on it while the fifth has a "hold" recommendation. The average target price for Bison's shares is RM2.12, which implies an upside potential of 31.55% should its share price reach the projected level.
"People are probably buying because of the earnings potential of the company. Don't forget that a lot of the myNEWS.com outlets are still new. It's likely that you can see the full force of the earnings this year," says a local stockbroker.
In its IPO prospectus, the company outlined its plans to grow revenue, optimise profit margins and enhance business functions as well as back-end operations.
While Bison expands aggressively and there is upside potential for its share price, what about the trusty, old 7-Eleven shares?
After all, 7-Eleven is a household name in Malaysia with a long presence and a staggering 2,057 outlets compared with Bison's relatively small network of 303 stores.
As it stands, Bison's share price of RM1.61 on Dec 29 was already higher than 7-Eleven's current downward trend.
Last Thursday, 7-Eleven's share price closed at RM1.40, hovering close to its IPO price of RM1.38 when it listed on May 30, 2014.
The stock spent most of the first half of 2016 below the RM1.50 level before sinking to a one-year low of RM1.32 on July 28. It then mounted a brief rally to RM1.95 on Oct 17 before falling again.
Unlike for Bison, only one of the five analysts tracking 7-Eleven has a "buy" call on it. Two have a "hold" recommendation and two a "neutral" call. The average target price for the stock is RM1.43.
Bison's valuation is slightly cheaper than that of 7-Eleven with the former trading at a price-earnings ratio of 24.6 times and the latter at 28.87 times.
7-Eleven's weak financial performance could be weighing down its share price. In its latest results — 3QFY2016 ended Sept 30 — net profit was down 30.41% year on year to RM11.65 million despite revenue rising 5.5% to RM647.8 million.
The higher revenue was driven by the opening of new stores, better merchandise mix and consumer promotions despite the persistent retail market weakness.
Nevertheless, profits were squeezed by increased selling and distribution expenses as a result of store expansion as well as the impact of the minimum wage increase effective July 1, which saw staff cost rise 10%.
For the nine-month period, 7-Eleven's net profit inched up 1.88% year on year to RM42.65 million on a 4.86% year-on-year increase in revenue to RM1.58 billion.
7-Eleven's board says business conditions are expected to remain challenging owing to the ongoing weakness in consumer confidence and macroeconomic conditions.
"Despite this latest development, we remain positive of holding on to our market leading position," the board says in the notes accompanying the 3QFY2016 results.
It is true that the same market conditions could weigh down Bison. The company concedes as much, cautioning that the country's economic landscape will likely continue to be soft due to cautious consumer spending, thanks to global economic uncertainties. Yet, it remains unperturbed.
"Despite the less vibrant local economy, the board believes that the group can maintain its growth and profitability trend," says Bison.
This is because the group has initiatives in place, including opening 70 new outlets, establishing a sub-distribution centre in Johor to complement its centralised distribution centre in Rawang, Selangor, and improving product offerings this year.
For the two listed convenience store chain operators, the field in which they are operating has looked crowded of late.
Bison and 7-Eleven compete with each other as well as with other independent news agents and convenience store chain operators, including the unlisted KK Mart, 99speedmart and QL Resources Bhd's new Family Mart brand that just entered the local market.
But Bison still believes that Malaysia's retail convenience store business has room to grow. Citing its independent market research report accompanying its prospectus, the company notes that the retail convenience business is projected to grow at a compound annual growth rate of 9.5% or from 2,776 outlets in 2015 to 3,327 outlets this year.
This is underpinned by the observation that the penetration rate of retail convenience stores in Malaysia is still far below that of other developed Asian countries, such as Singapore, Hong Kong and Japan.
Retail sales are projected to grow at 12.8%, from an estimated RM3.3 billion in 2015 to RM4.2 billion this year, according to the independent research report.
"As the second largest retail convenience store operator in Malaysia, the group continues to be well positioned to take advantage of the growth prospects of Malaysia's retail convenience store market," says Bison's board.