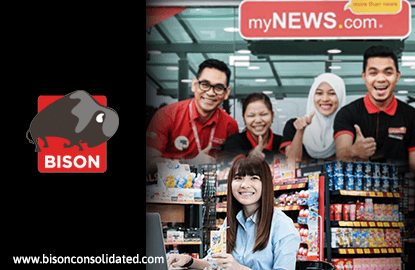 This article first appeared in The Edge Financial Daily, on March 17, 2016.
KUALA LUMPUR: Bison Consolidated Bhd's initial public offering (IPO), under which 15.5 million shares were made available for applications by the Malaysian public, has been oversubscribed by 6.94 times.
In a press statement yesterday, the convenience store operator said it received 6,754 applications for 123.17 million IPO shares available for public subscription, representing an oversubscription rate of 6.94 times.
"A total of 3,800 applications for 52.84 million IPO shares were received for the bumiputera category, which represents an oversubscription of 5.82 times, while under the public category, 2,954 applications for 70.33 million IPO shares were received for an oversubscription of 8.07 times," the statement read.
Bison said the balloting of successful applications was conducted yesterday afternoon, and that all notices of allotment for the IPO shares will be mailed to successful applicants on or before March 28, 2016.
It was reported on March 4 that Bison planned to raise RM89 million from its IPO, which comprises 80.61 million shares — 62.31 million for institutional offering, and 18.3 million for retail subscription.
Of the 18.3 million shares, 15.5 million IPO shares were available for application by the Malaysian public, of which 50% were allocated to bumiputera investors and 50% under the public category.
The remaining 2.8 million IPO shares were reserved for subscription by eligible persons, Bison said.
Both the final prices for the institutional and retail portions of the IPO have been fixed at RM1.10 per share. While institutional offering represented 20.1% of its enlarged issued and paid-up capital, the retail portion represented 5.9%.
Bison managing director Dang Tai Luk had said the group planned to use RM50 million of the IPO proceeds to fund 115 new store openings by October 2017. Bison's listing is tentatively slated for March 29, 2016.