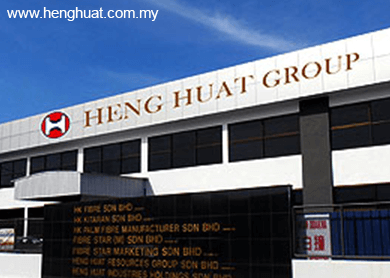 THE biomass business may not sound sexy, and one reason could be that attempts by some biofuel players to venture into the sector in the past ended in failure. However, many may not be aware that the demand for biomass is rising in China and elsewhere, and Heng Huat Resources Group Bhd is poised to ride the growth.
Biomass, in this case, is not used for fuel, but for erosion control and planting activities, among other things.
Executive director Lim Ghim Chai is upbeat about Heng Huat's growth prospects. He anticipates a growth of 20% in profit and 10% in revenue for the current financial year ending Dec 31, 2015 (FY2015), from its core net profit of RM12 million and revenue of RM91.6 million a year ago.
The company should be able to generate net profit of more than RM15 million, or 7.29 sen, per share on revenue of at least RM100 million in FY2015, Lim tells The Edge.
Heng Huat posted a net profit of RM10.4 million, or 5.79 sen per share, in FY2014 after adjusting for RM2 million in one-off listing expenses, compared with RM9.7 million the year before. Revenue expanded 24% to RM91.6 million, from RM73.7 million the year before.
Heng Huat is seeking a transfer to the Main Market by the end of this year, as it has met the profit requirement, achieving an aggregate net profit of RM32.3 million from 2012 to 2014.
Its share price has reversed its downward trend since the start of the year, climbing from 40 sen to a record high of 58.5 sen on April 17. Heng Huat, which made its debut on Bursa Malaysia last July, slid to a low of 37 sen in mid-December, below its initial public offering (IPO) price of 45 sen.
At last Thursday's close of 55.5 sen, the company's market capitalisation was RM114.2 million. The stock is currently trading at a price-earnings ratio of 9.6 times and a price-to-book value of 1.5 times.
The Penang-based group manufactures biomass materials for industrial use by processing empty palm oil fruit bunches and coconut husks. It also produces mattresses, cushions, pillows and bolsters, as well as value-added products such as briquettes and palm fibre mats.
Its plant in Seberang Perai, Penang, has a production capacity of 8,372 tonnes of oil palm fibre per month, and a utilisation rate of 85% to 90%. By the first quarter of next year, the company's production capacity would have  increased by 35% when its new plant in Gua Musang, Kelantan, starts operation.
Lim says the fibre industry is one with high barriers to entry, as it requires state-of-the-art technology and expertise. "Moisture and fungus control is also very important, or the products could become smelly," he adds.
He expects Heng Huat's financial performance this year to be driven by favourable currency rates, higher demand for biomass materials, as well as better pricing for its exports.
"We foresee the ex-factory prices of our main product to be more stable compared with 2014, as our biomass materials are among the branded products in the China market," says Lim. The ex-factory price of long palm fibre ranged from RM600 to RM700 per tonne last year, and is expected to stay at RM700 per tonne this year.
As an exporter, Heng Huat is a beneficiary of a weak ringgit. Export sales contributed some 65% to 70% to total sales last year. Its clientele includes mattress manufacturers and agricultural companies in China, South Korea, and Australia.
China is currently its biggest export market, accounting for about 45% of revenue last year, with receipts mostly in renminbi (RMB). Hence, Heng Huat expects to benefit from the stronger Chinese currency in FY2015, says Lim.
"We expect a few million in foreign exchange gain this year as we believe the favourable currency trend will continue," he says. Year-to-date, the ringgit has weakened 10% against the RMB.
Lim believes the huge market in China will give Heng Huat enough room to grow its business in the coming years, as demand for biomass materials exceeds supply at the moment.
"The undersupply situation is due to a lower supply of coconut fibre, while palm fibre is mainly available in the Asean region. Furthermore, China's population is more than 1.4 billion and living standards are improving every day," he says.
Lim says it is hard to replace coconut and palm oil fibre — the main materials in the production of biomass mattresses — with other by-products.
While the market in China is big, Heng Huat is also keen to explore new markets, especially those that encourage environmentally friendly practices.
"We hope to penetrate the European market within one to two years. Most advanced countries prefer non-wood fibre products over wood-fibre products," Lim says.
Wood fibres, he explains, are extracted from trees and used to make wood-based materials, while non-wood fibres are recycled from waste.
The company also produces value-added products such as palm briquettes, an alternative to firewood and conventional fuels such as coal. The palm waste product can be used in industrial boilers for steam generation and heating purpose.
But Lim admits that companies are reluctant to switch to green alternatives due to the falling fuel price, which makes it cheaper to burn coal, diesel and wood.
"Hopefully, when China is keen to re-urbanise and restructure its cities some time in the future, the demand for palm briquettes will increase and we will then concentrate on growing that segment," he says.
The group's mattress division manufactures the Fibre Star and Xiong Mao brands. The key markets for these products, which use the company's coconut fibre sheets, are China and Malaysia. Apart from that, Heng Huat is an original equipment manufacturer of fibre mattresses for several local brands.
The division incurred a marginal loss before tax of RM41,000 in 2014, despite accounting for 40% of the group's revenue, with the remaining 60% coming from the biomass division.
Lim says the mattress division is aiming for RM24 million in revenue and at least RM1 million in profit in FY2015.
"In the past two years, we have been busy with the listing exercise. Now that the company is listed, we will put in more efforts to optimise our factory and improve plant efficiency," he says.
---
Note: The Edge Research's fundamental score reflects a company's profitability and balance sheet strength, calculated based on historical numbers. The valuation score determines if a stock is attractively valued or not, also based on historical numbers. A score of 3 suggests strong fundamentals and attractive valuations. Visit www.theedgemarkets.com for more details on a company's financial dashboard.
This article first appeared in The Edge Malaysia Weekly, on April 27 - May 3, 2015.