This article first appeared in The Edge Malaysia Weekly, on May 27, 2019 - June 02, 2019.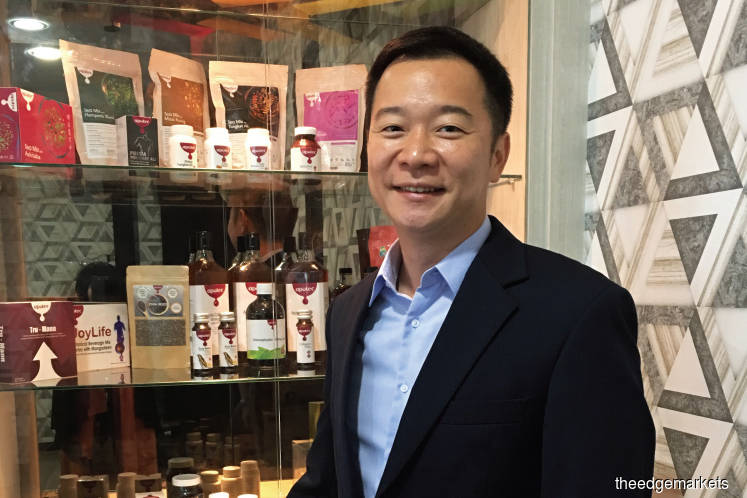 Hon: We believe a migration to the Main Board would help attract new investors and stabilise our share price.
AFTER achieving its best financial performance last year — driven by higher domestic demand from its original design manufacturing (ODM) segment as well as an increase in sales for its house brand products — ACE market-listed Bioalpha Holdings Bhd is ready to strengthen its foothold in neighbouring Indonesia this year.
The Indonesian market contributed 19% to total revenue of RM70.1 million in financial year ended Dec 31, 2018 (FY2018), mainly from the functional foods product line of the integrated nutraceutical and health supplement group.
Early this year, the group managed to secure approval from Badan Pengawas Obat dan Makanan (BPOM), Indonesia's national drug and food control agency, to manufacture health supplements for its ODM clients, which are mostly Malaysian companies with operations in Indonesia. This has helped Bioalpha expand its product offering in Indonesia to include health supplements.
"Securing orders from clients is not the issue as we have orders in hand, but we have to get clearance from BPOM to manufacture the products there. To date, we have submitted around 20 applications for product approvals, and three approvals have already been granted. We are looking to get at least 10 approvals this year," Bioalpha managing director William Hon tells The Edge in a recent interview.
From FY2013 to FY2018, Bioalpha's export sales grew at a five-year compound annual growth rate (CAGR) of 25%, mainly driven by growth in its Indonesian and China markets in recent years. China contributed 17% to group revenue in FY2018.
"Prior to this, we had adopted a business-to-business [model] in the China market, but this year, we will start a business-to-consumer distribution model. This means our house brands will be exported to the China market." For a start, the goods will be sent to Hainan province, which offers a bonded warehouse incentive. A bonded warehouse is a secured area, controlled by the customs authorities, in which imported goods may be stored until duty owed is paid.
"We only pay the tax when there is demand from customers in China for our products through e-commerce portals, so we will capitalise on this bonded warehouse incentive by the Hainan government," says Hon.
"By the second half of this year, our products will be selling on all the major e-commerce portals in China such as JD.com, Taobao and Tmall," he adds.
Besides growing its export sales, the group is also looking to increase the number of its franchised Constant pharmacies to drive domestic sales. As at December last year, there were more than 20 Constant pharmacy outlets.
"We plan to add 15 franchised outlets this year, with our first southern region outlet opening in Johor this year. We have a franchisee who has committed to open seven outlets in the southern region," says Hon.
"Our focus for Constant pharmacies is community pharmacies in residential areas, so you will not find our outlets in shopping malls. At the maturity stage, the turnover for one outlet can reach RM1.5 million to RM2 million (per annum) in turnover," he adds.
He is confident of the need for more pharmacies despite the current weak retail outlook, given the rising ageing population in the country who will require a daily intake of health supplements.
By next year, 11.1% of Malaysia's population will be aged 60 and above and this is expected to increase to 15.3% by 2030, according to a recent study by the Institute of Labour Market Information and Analysis (ILMIA).
Bioalpha's house brands such as Apotec and Nushine are sold at its Constant outlets, as well as at other leading pharmacy chains. Its Apotec range includes Apple Cider with Honey, Kacip Fatimah tea and Roselle Tea, while its Nushine products offer an Anti-Ageing sachet drink and OmegaMaz fish oil.
Potential medical marijuana venture?
Via its farming division, Bioalpha is the largest herbal farmer in Malaysia, with over 20 types of herbs such as Kacip Fatimah, Tongkat Ali, Misai Kucing and Roselle planted at its herbal parks in Desaru, Johor, and Pasir Raja, Terengganu.
"The minimum gestation period for a new herb is about three years. For this year, we will start to see contributions from our farming division as our Desaru plant has already reached maturity and we expect the Terengganu Park to break even this year," says Hon.
The group currently has about 700 acres of undeveloped land bank in Pasir Raja. Plans are underway to plant Musang King durian there, but it will take another five years for the plantation to mature.
Given its expertise in herb farming, would the group consider medical marijuana farming, should it be legalised in Malaysia?
"If the government legalises marijuana for medical purposes, Bioalpha is looking forward to participating in this project because we have the land bank to do so, and we have the know-how in the basic extraction and packaging of herbs," says Hon.
Although Bioalpha achieved a bumper FY2018 financial performance, with a record high revenue of RM70.09 million (up 25% year on year), and best net profit of RM11.6 million in FY2018 (up 47% y-o-y), its share price performance continues to be sluggish.
Year to date, its share price has declined by 2.4%, closing at 20.5 sen last Thursday. However, Hon remains confident of the company's prospects.
"We have a healthy top line, bottom line and CAGR. Perhaps we are not attracting shareholder interest as we are still small [in terms of market capitalisation].
"Nevertheless, we are in the process of migrating to the Main Board of Bursa Malaysia, and we are targeting to submit our application for a transfer by this year. We believe a migration to the Main Board would help attract new investors and stabilise our share price," he says.
It is worth noting that the group's market capitalisation since its listing in 2015 has grown over three times to RM176 million last Thursday. CIMB Research, the only research firm that covers the stock, has an "add" call on it, with a target price of 37 sen, indicating an upside of 80%.
"We expect the Indonesia operations to show much stronger revenue growth in 2019 as more health supplement products are produced," the research house said in a March 1 note.