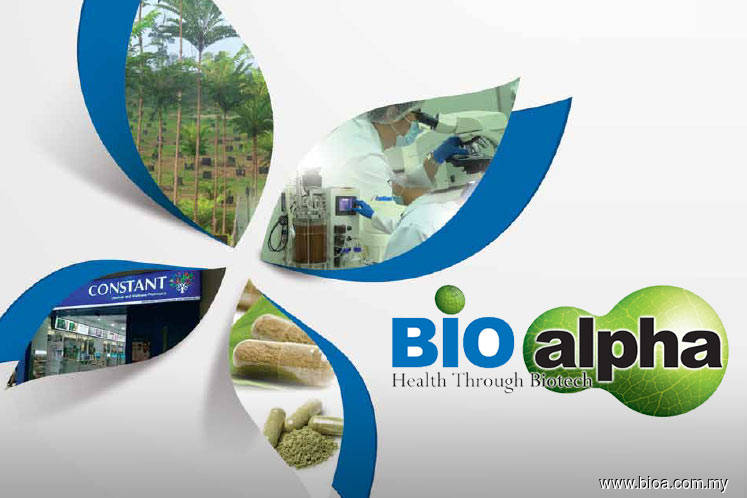 KUALA LUMPUR (Oct 1): Bioalpha Holdings Bhd has proposed to raise up to RM23.83 million via a private placement to third party investors at an issue price to be fixed later, which will be partly used for the launch of new products such as health supplements and functional foods in the principal markets of the group or other potential new markets.
It also plans to use part of the proceeds for acquisition of potential new businesses and for working capital.
In a filing with Bursa Malaysia today, the ACE Market-listed Bioalpha said assuming an indicative price of 25 sen per share — a 1.19% discount to the five-day volume weighted average market price of Bioalpha shares as at Sept 28, 2018 of 25.3 sen — the proposed private placement is expected to raise gross proceeds of between RM20.25 million and RM23.83 million.
Barring any unforeseen circumstances, Bioalpha expects the proposed exercise to be completed within six months from the date of approval by Bursa Securities.
TA Securities has been appointed as the adviser and placement agent for the proposed private placement.
In a separate filing, Bioalpha said it plans to acquire the business of North West Enterprise Sdn Bhd (NWESB), which is in the manufacture, trading and supply of hotel amenities, personal care products and instant beverage in sachets for hotel and other establishments in the hospitality industry.
Bioalpha said the proposed acquisition of NWESB will be funded via proceeds from the proposed private placement.
Its wholly-owned subsidiary Bioalpha International Sdn Bhd today entered into a memorandum of understanding (MoU) with NWESB for the proposed acquisition.
The final purchase price and shareholding structure will be finalised upon the completion of the due diligence process on NWESB, which will undertake not to look for any other party to acquire the business during the six-month period of the MoU.
 
"Should the proposed acquisition materialise, the group can offer existing clientele a new range herbal-based natural skincare products that are gentle and safe with no side effects," Bioalpha said.
"Additionally, Bioalpha Group can improve NWESB's instant beverage in sachets such as coffee and tea, which are supplied to the latter's hospitality clientele, with its herbs to enhance the products such as Tongkat Ali coffee or tea and Kacip Fatimah coffee or tea. This serves as an excellent platform to enhance awareness of local herbs as well as to further promote and market Bioalpha Group's products to overseas tourists staying at the establishments under NWESB's clientele," it added.
Bioalpha said the MoU is not expected to have any material effect on the group's earnings per share, net assets per share and gearing for the financial year ending Dec 31, 2018.
Bioalpha shares closed unchanged at 25 sen today, with 521,500 shares done, bringing a market capitalisation of RM206.54 million.