This article first appeared in The Edge Financial Daily, on August 6, 2018.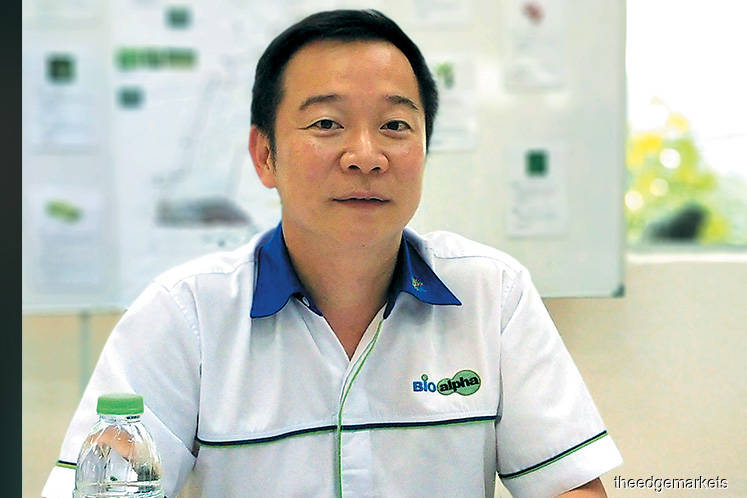 KUALA LUMPUR: Herbal-based supplements manufacturer Bioalpha Holdings Bhd is optimistic about chalking up another record revenue this year based on the demand in the first half of the year, especially in the April-June quarter.
"I am very confident of another record year," group managing director William Hon Tian Kok told The Edge Financial Daily. "Our second-quarter performance was pretty good."
As for the first quarter, Hon said there was a breakthrough in the revenue achieved.
"Usually by the fourth quarter, we should have delivered all our orders to brand owners and distributors, so the [subsequent] first quarter is expected to be our low-sales quarter. But this year we were still able to record a more than RM12 million turnover in the first quarter," he said.
For the first quarter ended March 31, 2018, Bioalpha posted a net profit of RM640,000, compared to a net loss of RM1.96 million a year earlier, while revenue grew 44.4% to RM12.46 million from RM8.63 million.
The group has seen its revenue rising every year since listing on the ACE Market of Bursa Malaysia in 2015.
For the financial year ended Dec 31, 2017, revenue rose 18.66% to RM55.92 million, from RM47.12 million in the previous year. Net profit, however, fell 7.35% to RM7.86 million from RM8.49 million.
Hon, who founded the business in 2005, said Bioalpha is today the only player in the market which is directly involved in every stage of the production of herbal-based nutritional products.
The group cultivates various herbs at its herbal parks in Desaru, Johor (300 acres or 121.41ha) and Pasir Raja, Terengganu (1,004 acres) and carries out its own research and development through in-house experts.
Bioalpha is also involved in processing the products right up to the finishing stage, and finally commercialising them at its own franchised pharmacy chain.
Because of such integration, Hon said Bioalpha is able to maintain its gross profit margin at an average of 60%.
Elaborating on the group's upstream activities, Hon said the existing herbal planting land bank is sufficient to cater for growth over the next five years.
As for manufacturing facilities, he said that the main production plant in Bangi, Selangor will achieve 80% utilisation rate by the end of this year.
"That is why we have embarked on some refurbishment and expansion for our facility in Bangi. We will [also] commence a new factory in Pasir Raja by the first quarter of next year," he said.
With these two expansion projects, Hon said Bioalpha's production capacity will increase by at least 50%, meeting the expected growth in its business over the next two to three years.
On the group's pharmacy chain businesses, Hon said Bioalpha currently has a portfolio of 15 outlets, and will set up another 10 outlets under the franchised model over the next six months.
"Our objective is to commercialise our house brand supplement products; we are not into drugs. This way it is easier for us to convince other retail pharmacy chains to sell our products," he said.
"We encourage our franchisees to open at residential or community areas, instead of competing at the high street level. Because the margin is better, and the break-even period is much shorter, some could start making money in two to three months, like our Tanah Merah outlet [in Kelantan]," he added.
Hon said the franchising business model allows the group to expand its pharmacy network under the same brand without incurring substantial capital outlay.
He said it costs about RM500,000 to establish a pharmacy outlet, while each franchisee will have to pay a franchise fee of RM80,000 and upfront revenue to the group.
On top of that, the group will earn a management fee for managing the day-to-day operations of the outlets for the franchisees, which is 10% of the outlet's gross profit.
Hon said that apart from expanding the number of Bioalpha outlets, the group is also seeking to acquire other retail pharmacy chains.
"We are looking at acquiring retail pharmacy chains with two to 50 outlets … brand owner with a strong brand for health supplements, functional food or personal-care products, and maybe with manufacturing facilities," he said.
"We have enough cash for working capital at the moment, but we may look into possibility to raise additional capital if any M&A (merger and acquisition) is going to happen," he added.
Bioalpha was in a net cash position of two sen per share as at the end of the first quarter of this year.
Based on the group's current prospects, Hon expects Bioalpha to pay a higher dividend as well.
"We will definitely pay dividend this year, the amount depends on our bottom line, I would say it is going to be better than last year," he said.
Bioalpha's share price fell 0.5 sen or 1.96% to 25 sen last Friday, with a market capitalisation of RM202.37 million.