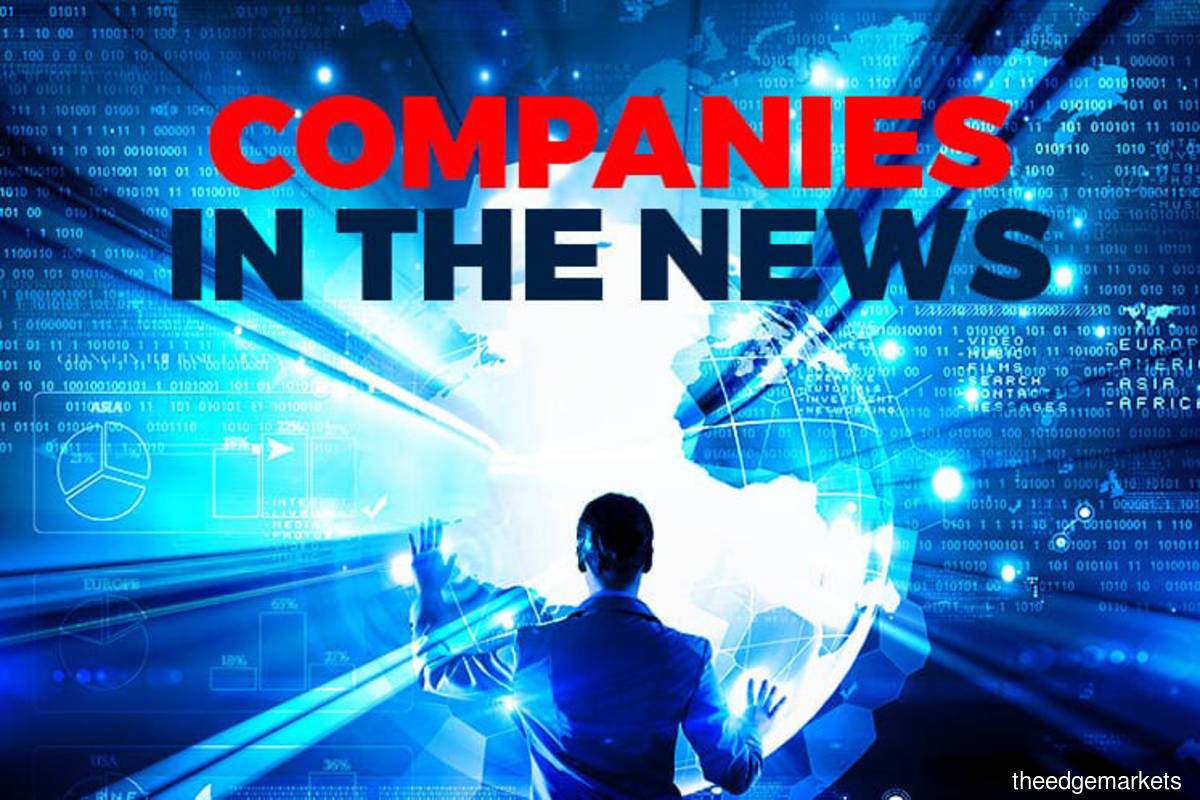 KUALA LUMPUR (March 8): Based on corporate announcements and news flow today, companies in focus on Tuesday (March 9) may include: Bintai Kinden Corp Bhd, Chin Hin Group Bhd, Hextar Global Group Bhd, TFP Solutions Bhd, Favelle Favco Bhd, MCE Holdings Bhd, Datasonic Group Bhd, Magni-Tech Industries Bhd and Complete Logistics Services Bhd. 
Bintai Kinden Corp Bhd's wholly-owned subsidiary Kejuruteraan Bintai Kindenko Sdn Bhd has bagged a RM9.78 million contract from Tenaga Nasional Bhd (TNB) to undertake the asset replacement and refurbishment for transformer, earthing transformer and reactor to PMU 275/33 KV Grik.
Chin Hin Group Bhd has acquired a 31.2% stake in kitchen cabinet manufacturer Signature International Bhd for RM93.6 million cash or RM1.17 per share. Chin Hin group managing director Chiau Haw Choon said the acquisition is in line with its objective of acquiring strategic stakes in companies with potential for future growth.
Hextar Global Bhd is diversifying its business to include manufacturing and distribution of specialty cleaning chemicals products such as latex polymers, coagulants, detergents, degreasers and chlorine sanitisers via the acquisition of Chempro Group. The agrochemical company is acquiring three companies under Chempro Group, namely Chempro Technology (M) Sdn Bhd, Protek Chemicals & Engineering (B) Sdn Bhd and a stand-alone company, Alpha Aim (M) Sdn Bhd, for a combined RM138 million cash.
TFP Solutions Bhd's wholly-owned subsidiary MBP Solutions Sdn Bhd has inked a deal with SB Supplies & Logistics Sdn Bhd, the operator of the SugarBun restaurant franchise, to supply the latter with a suite of fintech services.
Favelle Favco Bhd said it has received orders for the supply of offshore and tower cranes amounting to RM101.4 million from six clients. In a bourse filing today, the group said its wholly-owned subsidiaries, Favelle Favco Cranes (M) Sdn Bhd and Favelle Favco Cranes Pty Ltd, have secured the orders since Dec 1, 2020.
MCE Holdings Bhd's wholly-owned Multi-Code Electronics Industries (M) Bhd has secured contracts worth RM10.2 million to supply various mechanical parts for new Perodua car models. The supply of these parts is expected to commence in the first quarter of its financial year ending July 31, 2022, for a duration of six years. The estimated total investment cost to undertake the contracts is RM510,000.
Datasonic Group Bhd's alternate director Safian Mohd Yunus has emerged as a substantial shareholder after acquiring 30 million shares in the technology group via Hallmark Epitome Sdn Bhd. The acquisition raised Safian's shareholding in the group to 142.5 million shares or a 5.43% stake, according to a filing with Bursa Malaysia.
Magni-Tech Industries Bhd's latest quarterly net profit rose 49.9% to RM48.95 million, from RM32.66 million a year earlier, on the back of higher revenue and a gain on disposal of properties. The group declared a dividend of 3.5 sen per share, plus a special dividend of one sen per share, for a total payout of 8.3 sen for the nine-month period ended Jan 31, 2021 (9MFY21) – up from 7.93 sen in 9MFY20.
Complete Logistics Services Bhd has appointed Opcom Holdings Bhd's non-executive director Teh Li King as a non-independent and non-executive director, effective today. The logistics group also announced the resignation of its executive director Leon Law Li Yion, 28, effective today, due to personal reasons.