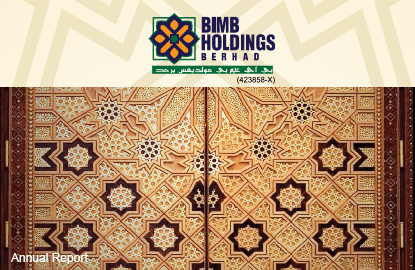 KUALA LUMPUR (Nov 11): BIMB Holdings Bhd saw a 2.24% stake worth RM149.71 million cross off-market in the first half of the trading session today, translating into an average price of RM4.20 apiece. 
The transactions are done in four blocks, ranging from 7.1 million shares a block to 9.5 million shares a block, according to Bloomberg data.
The transaction price was a five sen or 1.2% discount to the latest trading price of RM4.25, as of 12.30 p.m. midday break. 
For comparison, a the counter's open market trading volume was a paltry 2,500 shares. 
It is unknown as to who the parties involved in the transactions were. But BIMB's single largest shareholder Lembaga Tabung Haji (LTH) was reportedly intent to sell a 20% stake in the banking institution. 
The potential buyers, according to a media report, could be another major shareholder, Employees Provident Fund (EPF), which owns 12.9% of BIMB.
Lembaga Tabung Haji is expected to generate RM1.3 billion from the sale of a 20% stake. 
Over the past month, off market trades in BIMB have been very active, when it saw a 36.57 million shares or a 2.2% stake change hands in multiple direct transactions between Oct 14 and Oct 17. The shares were valued at RM149.8 million or RM4.20 apiece — below its closing price of RM4.25 on Oct 17.
Following that, the stock saw a flurry of off-market activity with 73.45 million shares sold, for a combined value of RM308.93 million.
There were several transactions from Oct 19 to 24, at prices ranging from RM4.20 to RM4.28.
It is not known as to who were involved in the different transactions, but filings show that during the period, pilgrim fund Lembaga Tabung Haji had acquired 35.65 million shares at an undisclosed price on Oct 21, while Amanahraya Trustees Bhd — Amanah Saham Bumiputera disposed of 4.73 million shares on Oct 19 and 20.
Apart from Lembaga Tabung Haji and EPF, others substantial shareholders in BIMB are Kumpulan Wang Persaraan with 5.84% stake as at Oct 6 this year, followed by Yayasan Pelaburan Bumiputera's 5.44% stake as at May 17 and Skim Amanah Saham Bumiputera's 5.16% as at Nov 4. 
Commenting on this, CIMB Research said the deal came as a surprise, because BIMB is Lembaga Tabung Haji's only holding among Malaysian banks.
"The deal, if it happens, would be neutral to BIMB in the near term," it said, noting the pilgrim fund would sell the shares to targeted parties and hence, there would not be significant overhang on BIMB shares.
"The deal would be positive for BIMB in the longer term, as it would increase the liquidity (free float) of the stock by reducing the concentration of the shareholding in the hands of Lembaga Tabung Haji," it added. 
CIMB Research does not expect the potential sale of a 20% stake in BIMB to affect the bank's operations.
"Even with the sale, Lembaga Tabung Haji would still be BIMB's largest shareholder. So, we do not expect any drastic change in BIMB's strategic direction, after pilgrim fund lowers its stake in the group," it added. 
The research outfit has an Add call on BIMB, but has raised its target price to RM4.90 from RM4.80 earlier, due to the rollover of valuation to end-2017.