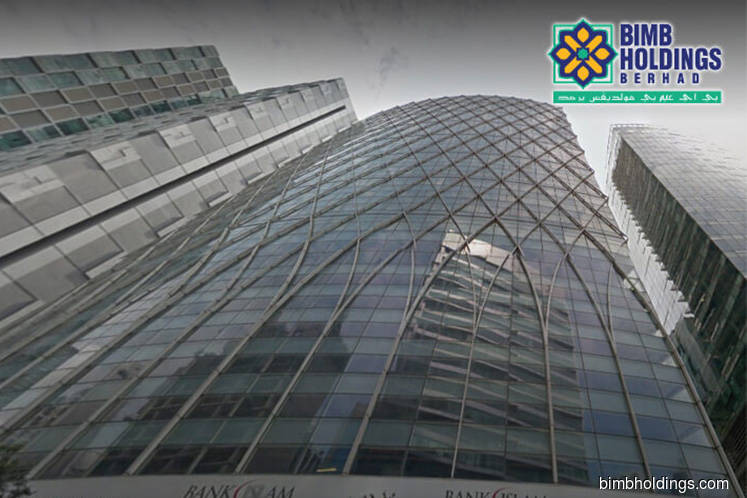 KUALA LUMPUR (Aug 27): BIMB Holdings Bhd's net profit rose 10.5% to RM149.91 million in the second quarter ended June 30, 2018 (2QFY18) from RM135.67 million a year ago, on higher contribution from Islamic banking and Takaful businesses.
This resulted in higher earnings per share of 8.85 sen for 2QFY18 compared with 8.28 sen for 2QFY17.
Quarterly revenue also increased 5.2% to RM992.17 million from RM943.19 million a year ago.
For the cumulative six months (1HFY18), the group's net profit jumped 12.3% to RM322.05 million from RM286.77 million a year ago, while revenue grew 6.9% to RM1.99 billion from RM1.86 billion in 1HFY17.
In a filing with Bursa Malaysia today, BIMB said the group's return on equity stood at 19.5%.
BIMB also noted that the group's performance is mainly dependent on its two main operating subsidiaries, namely Bank Islam Malaysia Bhd and Syarikat Takaful Malaysia Keluarga Bhd (Takaful Malaysia).
For 1HFY18, Bank Islam achieved a profit before zakat and taxation (PBZT) of RM400.7 million, up 9% from RM367.8 million a year ago, mainly due to higher total income.
"The bank's total income for 1HFY18 was higher by RM95 million compared with the corresponding period last year, mainly due to higher fund based income of RM113.6 million, which was mainly attributed to increase in base rate and base financing rate by 25 basis points (bps) effective February 2018, in response to the 25 bps increase in overnight policy rate on Jan 25, 2018.
"It is also attributed to the year-on-year (y-o-y) growth in net financing assets of 6.7% to reach RM43.2 billion as at end-June 2018, from RM40.5 billion as at end-June 2017," it added.
As for Takaful Malaysia, it recorded an 11.2% increase in PBZT of RM146.4 million in 1HFY18, compared with RM131.6 million in 1HFY17, on higher net Wakalah fee income arising from business growth in the Family and General Takaful business, partially offset by fair value losses.
Takaful Malaysia recorded operating revenue of RM1.29 billion for 1HFY18, up 12.5% y-o-y, on higher sales generated by both Family Takaful and General Takaful business.
On prospects, BIMB said Bank Islam will continue to play its role as a value-based intermediary to deliver a sustainable performance whilst supporting economic and social development.
Takaful Malaysia, meanwhile, will remain focused on sustaining its position as the market leader in the Family Takaful business, while expanding its market share in the General Takaful business to establish a strong foothold in the industry.
BIMB shares ended the morning session up 2 sen or 0.52% at RM3.87, with 10,800 shares done, bringing a market capitalisation of RM6.52 billion.