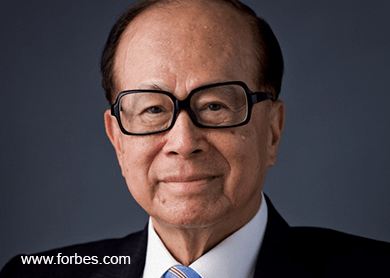 LONDON/HONG KONG (Mar 26): Li Ka-shing's $15 billion takeover in the U.K. is a bet that Britons want just one thing from their telecommunications provider: mobile-phone service.
While his competitors in the U.K. are adding television and broadband offerings, the Hong Kong billionaire plans to create the country's biggest wireless carrier by combining his Three unit with Telefonica SA's O2. No TV. No discounted broadband packages. Just mobile.
If the 86-year-old -- dubbed "Superman" by Hong Kong media for his investment acumen -- gets it right, Hutchison will focus on its more than 30 million customers without the distraction of bidding for expensive TV content or luring broadband subscribers. The risk is that customers will switch to the bundled offers such as those by BT Group Plc, the landline behemoth that on Wednesday introduced consumer wireless service with packages starting at 5 pounds ($7.40) a month.
"In a couple of years, you would expect the majority of people to be looking for quad-play offering, with all services under one operator," said Stephane Beyazian, an analyst at Raymond James Euro Securities in London. "If this happens, Hutchison will be in a difficult position."
Some investors whom Hutchison has invited to take a stake in its British venture are hesitant, highlighting the risks in its strategy, according to people familiar with the matter. When announcing the O2 deal on Tuesday, Hutchison said it was still in talks with potential partners.
Hutchison shares rose as much as 1.7 percent in Hong Kong and were up 1.3 percent at 11:08 a.m., on track for the highest close in two weeks.
Mobile Vision
The deal -- creating a company that serves 44 percent of all U.K. mobile-phone subscribers -- deepens a push into the European telecommunications industry that Hutchison entered more than a decade ago. While rising demand for faster mobile connections has helped Hutchison sign up users, offerings combining TV, Internet, landline and wireless service have recently gained popularity in Europe as consumers access video, music and social media on multiple devices.
The bundles give operators a chance to discount services to attract new customers, and selling more than one product makes subscribers less likely to leave. Fewer than 2 percent of U.K. households bought all four services together, according to a report by regulator Ofcom last year.
"Three had that success of doing one thing well and that was mobile Internet -- arguably that could also pay off today," said Matthew Howett, an analyst at researcher Ovum in London. "We don't know where things are going to go. Quad play is not an obvious winner."
Plugging Holes
With his mobile push, Li hasn't shied away from risk. When he launched his initial $17 billion entry into faster wireless services early last decade, he unveiled the newest technology, 3G, in the U.K. a year before his network was fully ready. He bet customers would adopt it anyway and trusted the Three unit to figure out the new business as they went along, people familiar with the rollout said, asking not to be named discussing internal plans.
The 3G network was launched on March 3, 2003 -- 3/3/3 is auspicious because the word "three" suggests vitality and abundant life in Chinese. As Li's longtime deputy, Canning Fok, prepared to come to London to oversee the debut, Three workers rushed to plug holes in its coverage. They lined Fok's route with temporary antennas to beef up his wireless signal, and made sure he'd have full coverage in his office and hotel, the people said.
Hutchison had promised investors 1 million customers in the first year, but the fledgling startup was plagued by problems. The company had trouble delivering new phones on time, and the devices were expensive. By June, Three had cut prices on handsets to as little as 99 pounds, a 78 percent discount to the full price, to win over customers.
Same Team
Hutchison eventually pushed its customer target back by a year and lowered the cost of plans, tripling its subscriber base by competing on price. More than a decade later, the network is languishing in fourth place among British mobile companies.
Hans Leung, a spokesman for Hutchison, declined to comment on the company's move to deepen mobile operations in the U.K. compared with other carriers' converged model.
The same team in Hong Kong remains in place as it attempts to take the business from fourth place to first. Fok devised the plan for a full-service launch in March 2003, according to a person familiar with the matter, who asked not to be identified discussing a private matter. And it was Fok, 63, who would fly to Europe alongside Chief Financial Officer Frank Sixt and settle on the terms with Telefonica earlier this year, another person said.
"They picked up that mobile-centric vision 15 years ago and 15 years later the market has changed -- it's not converged yet but it's definitely changing," said Beyazian at Raymond James. "They will not have the same tools in the market as the others."