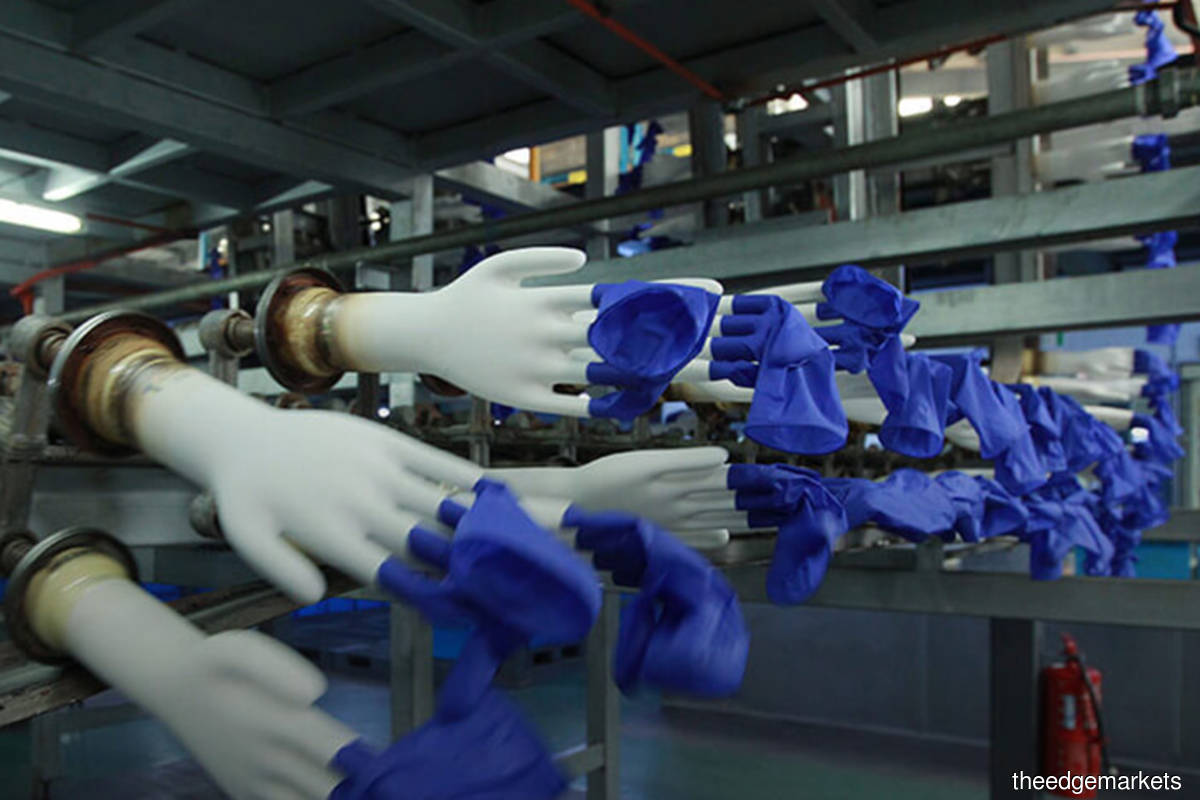 KUALA LUMPUR (July 15): Selling pressure continued on the big four glove stocks — Top Glove Corp Bhd, Hartalega Holdings Bhd, Kossan Rubber Industries Bhd and Supermax Corp Bhd — this morning.
The downtrend suggests that some stale bulls are taking some profit off the table. Furthermore, the roller-coaster rides yesterday had affected the bullish sentiment.
To recap, heavy selling emerged for all the seven glove stocks listed on Bursa Malaysia in the final trading hour yesterday, pulling down their share prices by 15% to 25%. Soon after, all of them had a uniform V-shape rebound before the closing bell.
Some analysts commented that this could be a healthy pullback after a strong rally, while others who were of the view the valuations were stretched now cautioned that investors should wait for the upcoming result season to better gauge the glove makers' earnings potential as most good factors had been priced in.
The big four dropped back into the negative zone. Top Glove was down 86 sen or 3.7% to RM22.30, Hartalega dropped 86 sen or 5.06% to RM16.14, Supermax slid 62 sen or 3.9% to RM15.28 and Kossan fell 74 sen or 5.5% to RM12.76.
Trading volume of Supermax already ballooned to 17.9 million within the first trading hour.
CGS-CIMB Research reiterated its recommendation — to have an "overweight" position in the rubber glove sector. It stressed that the glove stocks "remain attractive as key beneficiaries of strong global glove demand due to Covid-19, leading to expectations of record-breaking profits for two to three quarters".
The stockbroking firm recommended its clients to add more glove stocks to their portfolios at the current price levels.
It pegged the target price (TP) for Top Glove at RM25, Hartalega at RM20, Supermax at RM12.80 and Kossan at RM15.
According to its research note, the Malaysian Rubber Glove Manufacturers Association (MARGMA) expects a robust 20% growth in rubber glove demand, reaching 330 billion pieces in 2020 due to the Covid-19 pandemic, which has led to higher usage in the medical and other non-medical sectors (such as food and beverages and retail).
The association, CGS-CIMB said, anticipates Malaysia to export 220 billion gloves this year, an increase of 15% year-on-year. The export volume accounts for 67% of the estimated global demand.
"MARGMA expects the global glove shortage to linger until end-2021, premised on Malaysian glove makers having an average order backlog of six to eight months as well as growing severity of Covid-19 globally," it said.
CGS-CIMB said MARGMA estimates that current glove average selling prices (ASPs) range from US$80 (RM341.12) to US$160 per 1,000 pieces. The association expects selling prices to be sticky downwards amid anticipation of continued high usage of rubber worldwide.
"It is of the view that ASPs could hold at these levels for the next six to eight months (the glove makers' current average order backlog) given the acute shortage of gloves currently.
"MARGMA is also of the view that any potential further ASP hikes will be dependent on sell-through (usage) and use-through (inventory levels).
"Post Covid-19, MARGMA believes that ASPs will not revert to pre-Covid 19 levels (US$19 to US$22 per 1,000 pieces) on the back of higher global usage and higher operating cost," CGS-CIMB wrote.
Read also:
Glove stocks uniform trading pattern sparks intrigue