This article first appeared in The Edge Financial Daily, on March 26, 2020.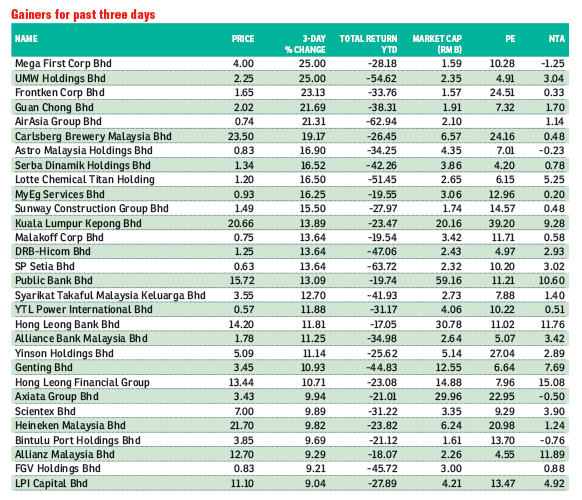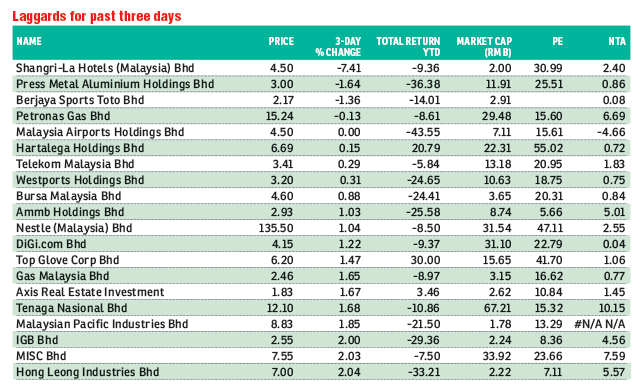 KUALA LUMPUR: Bursa Malaysia staged a rebound in the past three trading days, which some quarters describing it as a "dead cat" bounce as many stocks have been severely oversold, plunging more than 30% in the short span of three weeks.
Buying interest appeared to be stronger elsewhere in the region, in particular, Tokyo's Nikkei 225 leaping 15.74%; Shanghai's SSE Index up 4.56%, while Hong Kong's Hang Seng Index jumped 8.44%.
On the home front, the FBM KLCI has rebounded 5.13% over the past three trading days, from Monday's closing of 1259.88, and managed to break the 1,300 key level to reach 1324.50 yesterday. Meanwhile, the FBM Top 100 Index has gained 5.57% to 8,929.23, week to date (WTD).
The small-cap counters, however, have outperformed the big boys, where the FBM Small Cap Index has gained 9.66% to 8,656.81.
Looking at the individual sectors, oil and gas (O&G) and technology-related companies were the counters that led the rebound in the local equities with double-digit gains WTD. In particular, the Bursa Malaysia Energy Index — largely represented by O&G counters — gained 12.4% to 597.01, while the Bursa Malaysia Technology Index surged 12.36% to 27.55, over the last three trading sessions.
What comes down will go up? 
Looking at the performance of large-cap companies, power producer Mega First Corp Bhd (MFCB) and automotive manufacturer UMW Holdings Bhd, have both championed as top gainers by percentage over the last three trading sessions with 25% gain in three days. MFCB closed at RM4.00, still down by 28% year to date (YTD), and UMW Holdings at RM2.25, plunging 54% YTD.
Meanwhile, Frontken Corp Bhd chalked up 23% gain to RM1.65, valuing it at RM1.57 billion. However, the semiconductor-related stock is still down by 33% YTD.
Subsequently, cocoa manufacturer Guan Chong Bhd (GCB), which had set out multiple expansion plans in Africa and the European continent, saw its share price climb 21.7% to RM2.02. This implies that GCB's current price-earnings (PE) valuation stands at 7.32 times.
On the other hand, AirAsia Group Bhd which was hit hard by the global travel ban, rebounded 21.3% to 74 sen. However, the low-cost carrier's share price is 62% lower YTD.
Some of the shares which have rebounded in the mid- to high-teen range, include Carlsberg Brewery Malaysia Bhd (up 19.17% to RM23.50) and Astro Malaysia Holdings Bhd (up 16.9% to 83 sen), O&G-related Serba Dinamik Holdings Bhd (gained 16.52% to RM1.34) and Lotte Chemical Titan Holding Bhd (up 16.5% to RM1.20), as well as MYEG Services Bhd (up 16.25% to 93 sen).
Interestingly, the top 10 large-cap gainers over the last three trading sessions, saw their share price capitulating from 19% to 62% YTD. In particular, 40% of these companies are currently below their respective net tangible asset per share value — which might have prompted bargain-hunting by investors to accumulate oversold stocks.
Laggards among the rebound
Shangri-la Hotels (M) Bhd was the top laggard amid the broad market rally over the last three days. Instead, the hotel operator's share had fallen 7.41% to RM4.50. Interestingly, the group appeared to be shielded from the mounting concerns on tourism-related businesses.
YTD, Shangri-la's stock price has been holding up strong. It has fallen only by 9.36%. Its current PE stands at 30.99 times, 3.6% higher than the five-year average PE of 29.92 times.
Other counters that yielded negative returns WTD, notwithstanding the broad market rebound, includes Press Metal Aluminium Holdings Bhd (down 1.64% to RM3.00), Berjaya Sports Toto Bhd (fell 1.36% to RM2.17) and Petronas Gas Bhd (shed 0.13% to RM15.24).
Meanwhile, shares in Malaysia Airports Holdings Bhd which gained 21 sen or 4.9% to RM4.50 yesterday, had recouped losses it suffered on Monday. WTD, its share price remains unchanged, however, YTD it has fallen 43%, due to concerns on air passenger footfall.
Glove makers that are widely viewed as beneficiaries from the Covid-19 outbreak, specifically Hartalega Holdings Bhd and Top Glove Corp Bhd, were left out in the rally.
Hartalega gained merely 0.15% in the last three days, while Top Glove shares were up 1.47%. The reason could be attributed to both stocks that have had their strong rally to factor in the anticipated strong global demand for rubber gloves due to the Covid-19 outbreak. YTD, Hartalega and Top Glove have climbed 20% and 30% respectively.