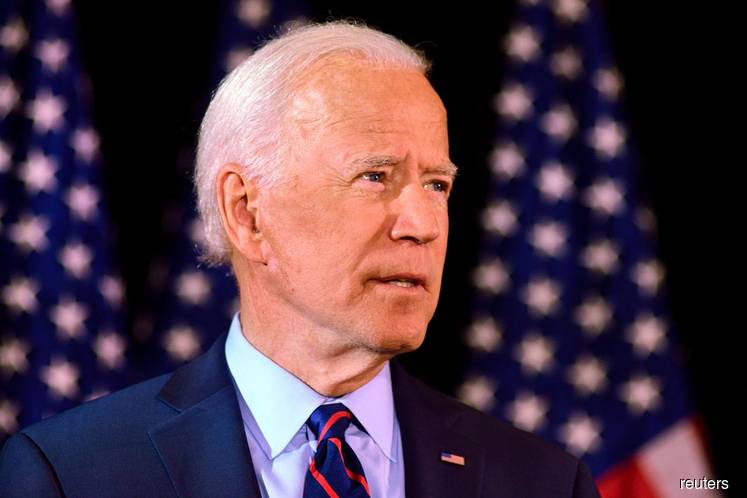 (Jan 14): Joe Biden continues to lead a tightening field for the Democratic presidential nomination, according to a new national poll by Quinnipiac University.
The former vice president has 25% support in the poll, down 4 percentage points from December. He is followed by Senator Bernie Sanders at 19% and Senator Elizabeth Warren at 16%.
Former South Bend, Indiana, Mayor Pete Buttigieg leads a second tier at 8%. Former New York City Mayor Michael Bloomberg was at 6%, down 1 percentage point from December. Bloomberg, who has spent $224 million on broadcast and digital advertising, is the founder and majority owner of Bloomberg LP, the parent company of Bloomberg News.
Businessman Andrew Yang was at 5% and Senator Amy Klobuchar was at 4%. The survey of 651 Democratic and Democratic-leaning voters has a margin of error of 3.8 percentage points.
Polls in Iowa, which will hold the nation's first nominating contest on Feb. 3, show an even tighter field with Biden, Sanders and Buttigieg all vying for the lead.
Bloomberg Gets First Nod from a Congressman
Democratic presidential candidate Michael Bloomberg received his first endorsement from a member of Congress.
Representative Max Rose of Staten Island said he was backing Bloomberg in part because of his response to the Sept. 11 terrorist attacks in New York after he was first elected mayor in 2001.
"Mike Bloomberg has taken on tough fights and gotten results, which is why I believe he is the best candidate for my district, my city, and for our country," Rose said in a statement issued by the campaign.
Rose, a U.S. Army veteran and former nonprofit health-care executive, defeated Republican incumbent Dan Donovan in 2018 when Democrats took control of the U.S. House. He represents Staten Island and South Brooklyn.
Bloomberg is the founder and majority owner of Bloomberg LP, the parent company of Bloomberg News. -- Mark Niquette
Trump Kids to Stump for Dad on Iowa Caucus Day
Donald Trump Jr., Eric Trump and Lara Trump are all planning to campaign in Iowa for President Donald Trump the day of the Iowa caucuses, according to a person familiar with their plans.
It's unclear whether they will host rallies or engage with local television media, according to the source. Kimberly Guilfoyle, the former Fox host and girlfriend of Donald Jr., will also join them.
The strategy underscores how important Iowa is to Trump's re-election effort. Trump carried the state by nearly 10 percentage points against Democratic presidential nominee Hillary Clinton in 2016.
A recent CNN /Des Moines Register/Mediacom survey released Friday found that Iowans are split on impeachment with 45% of registered Iowa voters supporting it and 43% opposing. -- Kevin Cirilli
Bloomberg Urges Re-Ordered Primary Calendar
Michael Bloomberg says Democrats should change the order of state presidential nominating contests in future elections to put more diverse battleground states ahead of Iowa and New Hampshire and better position the party's nominee to win in the general election.
The former New York mayor, who's skipping the first four contests in February this year to focus on California, Texas and the other states voting in March, said in a CNN opinion piece that, if elected, he would ensure the Democratic National Committee works with state party leaders to re-order the primary calendar. He didn't propose a new order for states voting.
Iowa and New Hampshire, the first two nominating contests on Feb. 3 and Feb. 11, both have populations that are more than 90% white -- with a combined 10 electoral votes -- and don't help Democrats win a general election, Bloomberg said in a release accompanying the opinion piece.
"We need a system that both better reflects our country and puts us in a better position to defeat a candidate like Donald Trump," Bloomberg said in his op-ed. Bloomberg is the founder and majority owner of Bloomberg LP, the parent company of Bloomberg News.
Julian Castro, who dropped out of Democratic presidential race earlier this month, also has called for reordering the party's primary schedule because "it's time our primaries reflect our nation's diversity." But Bloomberg said other candidates have been largely quiet because "the changes are unpopular with voters in Iowa and New Hampshire." -- Mark Niquette
COMING UP:
Six Democrats -- Joe Biden, Pete Buttigieg, Bernie Sanders, Elizabeth Warren, Amy Klobuchar and Tom Steyer -- have qualified for the next debate, on Tuesday in Iowa.
The first-in-the-nation Iowa caucuses will be held Feb. 3.
(Bloomberg is also seeking the Democratic presidential nomination. He is the founder and majority owner of Bloomberg LP, the parent company of Bloomberg News.)