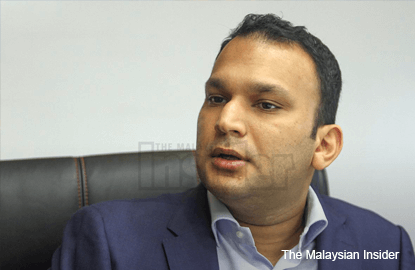 KUALA LUMPUR (Sept 17): The tender awarded to Malaysian Resources Corporation Berhad (MRCB) and George Kent (M) Bhd for the Light Rail Transit 3 (LRT3) project is within the price range established by the project owner, Prasarana Malaysia Berhad.
MRCB executive director Imran Salim said that the company had also offered a few package options to Prasarana in carrying out the LRT3 line from Bandar Utama to Klang.
"We provide estimates, and then we gave them options. For instance if the government wanted it ready six months ahead of schedule, we will give them an option with additional machinery and manpower at a certain pricing. We gave many options (to choose from)," he told The Malaysian Insider in an exclusive interview.
Imran said that the project delivery partner (PDP) concept was different from other construction tenders, where in the case of the former, only estimated and not the final costs would be stated.
"I'm very clear, in our tender, we gave options to our client.
"If they wanted it ready in six months, this is the amount, if they wanted it ready in one year, this is the cost.
"It is up to the government to accept or otherwise," Imran said.
"PDP tender is not a construction tender, for a construction tender, there needs to be a final price, but for PDP, it can vary, so there are two different things here," he said.
Imran, however, did not reveal the actual tender price the company had offered to Prasarana citing confidentiality.
"We submitted the tender based on basic information, there was no engineering details," he said.
Imran added that MRCB's expertise was in civil engineering, while George Kent was chosen as partner due to the company's expertise in the field of rail signaling system.
"Not many companies in the country have such experience in signaling.
"Mostly are offered to international companies, now we have a local company that is able to do it.
"They have projects in India and Hong Kong in rail signaling, that is their strength," he said, adding that MRCB never encountered any problems during their partnership.
"They are strong from one aspect, we are strong in another, and when put together, we make a good pair. The government will be getting the best," Imran said.
Tender for the PDP was opened in December last year and had received interest from 18 companies.
The PDP award is said to emulate the concept that was first used in the Sungai Buloh-Kajang mass rapid transit (MRT) line by Mass Rapid Transit Corp Sdn Bhd.
The Malaysian Insider previously reported a source as saying that the appointment of MRCB-George Kent had shocked the industry as George Kent was known to have problems in the construction of the Ampang Line LRT extension, which was completed a year later than scheduled.
According to the source, many analysts thought UEM was better equipped and experienced to build the LRT3 as it has been involved in such projects previously.
According to documents sighted by The Malaysian Insider, George Kent's tender had offered the price of RM11.5 billion, the third lowest of six tenders submitted, for the project.
The UEM consortium, meanwhile, had submitted a tender for RM9.88 billion while the lowest bid was for RM9.5 billion. – The Malaysian Insider