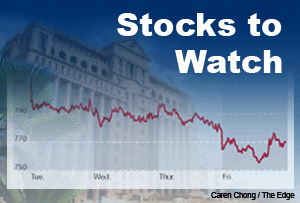 KUALA LUMPUR (Oct 21): Based on corporate announcements and news flow today, stocks that may in focus on Thursday (Oct 23) could include BHS Industries Bhd, Inari Amerton Bhd, RHB Capital Bhd (RHBCap), Malaysian Building Society Bhd (MBSB), CIMB Group Holdings Bhd and Sarawak Cable Bhd (SCB).
BHS Industries Bhd has proposed a special share dividend issue, a one-for-one bonus issue and a share split of every one existing share into two ordinary shares.
The proposed special share dividend issue entailed two treasury shares for every 45 ordinary shares held in BHS, from the distribution of up to some 3.4 million treasury shares.
Meanwhile, the proposed bonus issue is up to 80 million shares, on the basis of one bonus share for every existing share held in BHS.
Thereafter, BHS will implement a share split exercise which will see each existing share of 50 sen par value subdivided into two ordinary shares of 25 sen each.
BHS said the proposed special share dividend and bonus issue of shares are the "most appropriate avenue" of rewarding its existing shareholders.
The firm added that the proposed share split is expected to enhance the marketability and trading liquidity of its shares, as a result of the increase in the number of shares in issue.
BHS closed 2 sen lower at RM3 today, translating in market capitalisation of RM229.58 million.
Inari Amerton Bhd has priced its proposed 1-for-8 rights issue at RM1.50 per share, which represents a discount of 35.62% from the theoretical ex-rights price of RM2.33.
Meanwhile, it has also fixed the exercise price of the free warrants at RM2. The free warrants will be allocated on the basis of one warrant for every rights shares subscribed.
Of the estimated proceeds of RM133.2 million from the rights issue, Inari will allocate RM40 million for the expansion of production capacity; RM40 million for the purchase of new equipment and machineries; and RM30.5 million for working capital purposes.
The remaining proceeds of RM22.7 million will be used for defraying bank borrowings and expenses of the rights and free warrants issue.
Shares of Inari closed 1 sen higher at RM2.71. It has a market capitalisation of RM1.64 billion.
Bursa Malaysia has rejected the applications from both RHB Capital Bhd (RHBCap) and Malaysian Building Society Bhd (MBSB) for their common major shareholder, the Employee Provident Fund (EPF), to vote in the mega merger, according to latest filings to the local bourse.
This confirms the newsbreak by TheEdge Markets.com earlier today, which had reported that Bursa was expected to disallow EPF to vote in the proposed merger of RHBCap, CIMB Group Holdings Bhd and MBSB.
In arriving at its decision, Bursa said it took into consideration a few factors, which includes the fact that EPF had prior knowledge of the proposed merger.
"By virtue of EPF being the common major shareholder in all three affected companies (MBSB, RHBCap and CIMB), as well as being the single largest shareholder of both MBSB and RHBCap, there exists such a potential conflict of interest situation, where EPF may be able to influence the proposed merger to its own benefit," it noted.
"As the single largest shareholder of MBSB and RHBCap and a major shareholder in CIMB, EPF may benefit from the transaction as a shareholder of RHBCap and/or CIMB. As such, its overall position would differ from a party who is merely a shareholder of MBSB, especially given the differing terms and valuations applicable to these three affected companies," it added.
The EPF is the single largest shareholder of RHBCap and MBSB, with 41.5% and 64.6% stakes respectively. It also holds 14.6% of CIMB.
The securities of the three financial institutions had been suspended from trading from 2.30pm to 5pm today. They will resume trading from 9.00am on Thursday (Oct 23).
Prior to the suspension, CIMB shares closed 13 sen or 2% lower at RM6.41. MBSB was unchanged at RM2.60, while RHBCap rose 4 sen to RM8.52.
Meanwhile, Sarawak Cable Bhd (SCB) has entered into a sale and purchase agreement with HNG Capital Sdn Bhd, to acquire a 100% stake in Universal Cable (M) Bhd and Leader Cable Industry Bhd for RM210 million.
In a filing with Bursa Malaysia this afternoon, SCB said the agreement follows the acceptance of a conditional offer on June 16, and payment of an earnest deposit of RM2.1 million to HNG on Sept 12.
The acquisition consideration is to be settled via a combination of cash, assumption of liabilities and the issuance of 37.6 million new ordinary shares of 50 sen each in SCB, at an issue price of RM1.3318 per share, representing 11.86% of the enlarged, paid-up share capital of SCB.
The cash part will be 90% funded from borrowings, with the balance from SCB's internally-generated funds.
The proposed acquisitions are expected to be completed by the fourth quarter of this year.
SCB closed 5 sen lower at RM1.30, giving it a market capitalisation of RM371.67 million.