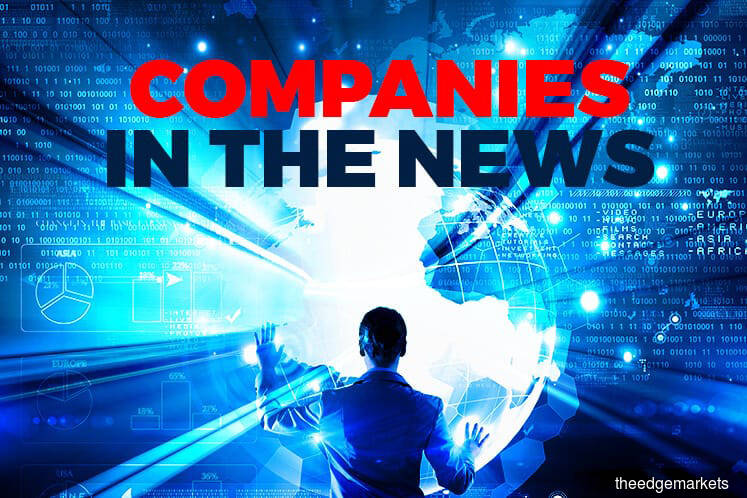 KUALA LUMPUR (June 11): Based on corporate announcements and news flow today, stocks in focus on Thursday (June 12) may include: Boustead Heavy Industries Corp Bhd (BHIC), Top Glove Corp Bhd, Pantech Group Holdings Bhd, Malaysia Airports Holdings Bhd (MAHB), Bermaz Auto Bhd, IGB Bhd and Pavilion Real Estate Investment Trust (Pavilion REIT).
Boustead Heavy Industries Corp Bhd (BHIC) announced that Izaddeen Daud has joined its board of directors as a non-independent non-executive director, effective today. Izaddeen, 51, who started his career as an auditor at Earnst and Young, also sits on the board of directors of Boustead as an independent non-executive director. Izaddeen was a senior manager at Affin Merchant Bank and senior vice president at Permodalan Nasional Bhd before holding the position of CEO at ASM Investment Bhd. 
Top Glove Corp Bhd recorded its best-ever quarterly net profit at RM347.9 million in 3QFY20, which more than quadrupled from RM74.67 million last year. Prior to this, its highest quarterly net profit was RM128.35 million, registered in 1QFY16. The 3QFY20 net profit alone makes up 94% of the FY19 full-year net profit of RM370.56 million. The group attributed its stellar performance to the "unparalleled growth in sales volume, on the back of the global Covid-19 pandemic". Quarterly revenue was up 41.85% to RM1.69 billion — also the strongest ever quarterly topline, from RM1.19 billion in 3QFY19. The group foresees another bumper net profit in 4QFY20, on the back of continued growth in demand and higher average selling prices.
Pantech Group Holdings Bhd saw its 4QFY19 net profit decline 35.88% to RM7.23 million from RM11.28 million a year earlier, dragged by slow oil and gas activities, sale of smaller-margin products and higher taxes. Quarterly revenue, however, rose marginally to RM143.91 million from RM142.61 million, backed by higher sales in the manufacturing division. For the whole of FY20, Pantech's net profit was down 24.45% to RM35.86 million from RM47.46 million in FY19, mainly due to weaker trading business on lower activities in local oil and gas projects. Full-year revenue fell 1.11% to RM602.47 million from RM609.22 million, as the oil and gas business slowdown more than offset higher sales from the manufacturing segment. 
Malaysia Airports Holdings Bhd (MAHB) has seen a 15% increase in average daily flights since the implementation of the Recovery Movement Control Order and said it expects passenger numbers to pick up again. The Kuala Lumpur International Airport, it said, saw average daily flights increase from 97 to 122 over the past two days, as the country's three main airlines — Malaysia Airlines, AirAsia and Malindo Air — have resumed local flight routes with new offerings to entice Malaysians to travel locally. The group is optimistic on the air travel industry, citing AirAsia's flight schedule which showed an average 22 domestic flights daily between June 10 and June 30 from Kuala Lumpur to destinations such as Alor Setar, Johor Bahru, Kota Bharu, Kuala Terengganu, Langkawi and Penang, as well as four daily flights to international destinations such as Singapore, Jakarta, Kuala Namu and Pekan Baru. 
Bermaz Auto Bhd posted its weakest ever quarterly and annual results since it was listed in 2013. The auto manufacturer's net profit shrank by 96.6% in 4QFY20 to RM2.46 million from RM60.06 million a year ago, on lower vehicle sales in Malaysia and Philippines. The distributor of Mazda vehicles saw its sales largely impacted by movement curbs imposed by Malaysian and Philippine governments in March. Quarterly revenue declined to RM299.36 million from RM538.28 million. The group's annual net profit slid 62.3% to RM100.51 million from RM264.04 million. Annual revenue slumped 30% on-year to RM1.76 billion from RM2.52 billion — the lowest since FY17. 
IGB Bhd's net profit declined to RM17.68 million for 1QFY20, down 64.25% from RM49.45 million a year ago, as it faced a weak property market while its hotel business was hit by the Covid-19 outbreak. Quarterly revenue fell 12.69% to RM291.42 million from RM333.76 million, owing to weaker contributions across the board led by property development and hotel businesses, which offset gains in its two property investment divisions (retail and commercial).
Separately, IGB said its proposed commercial real estate investment trust will be established by the end of this year, with the group set to raise up to RM1.23 billion through the disposal of 10 properties to the trust.
Pavilion Real Estate Investment Trust (Pavilion REIT) registered a 36% fall in net property income to RM65.12 million in 1QFY20 compared with RM101.51 million a year ago, on lower earnings from its retail and office portfolio, mainly the result of a 14-day rent free period because of the Covid-19 pandemic. The REIT attributed the lower earnings to the March 18-31 rent free period given to tenants that were not able to provide essential services and supplies during the movement control order period. Net profit for the quarter halved to RM34.6 million from RM69.23 million, on the back of lower revenue of RM116.41 million, a 23% year-on-year decline from RM150.92 million before.