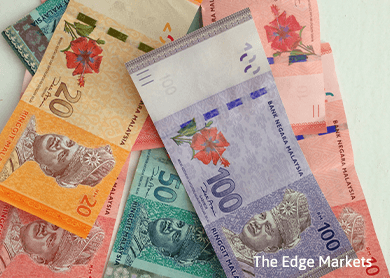 KUALA LUMPUR: More investment money is seeking shelter in export-oriented companies, many of whose share prices have marched to multi-year peaks, if not historical highs, as the ringgit weakens further against the US dollar.
But mind your risks, warned some analysts and fund managers, who believe some share prices may see an "exponential reversal" when the ringgit regains its strength. On Monday, the ringgit dived to a nine-year low against the US dollar at 3.772, getting nearer to the 3.8 level, at which it was pegged during the 1997-1998 Asian financial crisis.
The decline halted yesterday, following a technical correction, and Bank Negara Malaysia Governor Tan Sri Dr Zeti Akhtar Aziz's comments that the ringgit weakness does not reflect Malaysia's economic fundamentals and that the depreciation should be temporary. The ringgit closed at 3.7525 against the US dollar.
Glove makers, semiconductor companies, plastic materials manufacturers and furniture makers are among the stocks well sought after, when the ringgit continues softening.
"It is easy to pinpoint the industries with strong US dollar-denominated exports as beneficiaries of the stronger greenback, but a weak ringgit boosting exports can temporarily mask the companies' operational weaknesses," said Aberdeen Asset Management Malaysia fund manager Najman Isa when contacted.
Taking the rubber glove industry as an example, he said that glove makers may be benefiting greatly from the strong US dollar, but when the tide turns, it may result in an equally exponential reversal.
Investors should be mindful of their investments if the performance of a company is mainly driven by exchange rate differences, Najman commented. He added that established manufacturing companies with low US dollar-denominated debt, and competitive products that are in demand abroad, are best positioned to take advantage of the weaker ringgit.
The share price of furniture maker Lii Hen Industries Bhd more than doubled to RM4.79 yesterday from RM2.07 a year ago, with a market capitalisation of RM287.4 million.
Meanwhile, Kossan Rubber Industries Bhd rose to RM6.50 yesterday from RM3.78 a year ago, with a market capitalisation of RM4.16 billion.
Hong Leong Investment Bank (HLIB) head of research Low Yee Huap concurred that not all export-oriented companies are equally good. Investors should look closer at the companies' earnings drivers, such as cost efficiency and demand for their products, not only the foreign exchange gains.
Low explained that when the ringgit strengthens, the reverse impact on companies with strong fundamentals will not be that drastic.
Firm demand and low costs will continue driving the earnings growth of companies that are fundamentally strong, he explained, even when the local currency appreciates against the greenback.
HLIB said that given the current subdued overall market, the only bright theme at this juncture that could excite investors would be the play on strong US dollar beneficiaries.
"For thematic play on the strong US dollar, we prefer Evergreen Fibreboard Bhd, Eversendai Corp Bhd, Homeritz Corp Bhd, Inari Amertron Bhd, OldTown Bhd, Time dotCom Bhd and Unisem (M) Bhd. These stocks are aided by the right fundamental ingredients that would still support share price performance even if the strong US dollar theme play fizzles out," it said.
HLIB also noted in the report that for stocks that were negatively impacted, investors with a longer-term horizon should keep a watchful eye on AirAsia Bhd, Axiata Group Bhd and Tenaga Nasional Bhd, as the current subdued sentiment presents opportunities for "long-term exposure at more palatable levels".
"We still have a "buy" call on these three stocks. While sentiment is dampened in the short term due to the negative news flow, we still think they are fundamentally strong,"
This article first appeared in The Edge Financial Daily, on June 10, 2015.