This article first appeared in City & Country, The Edge Malaysia Weekly, on April 12, 2021 - April 18, 2021.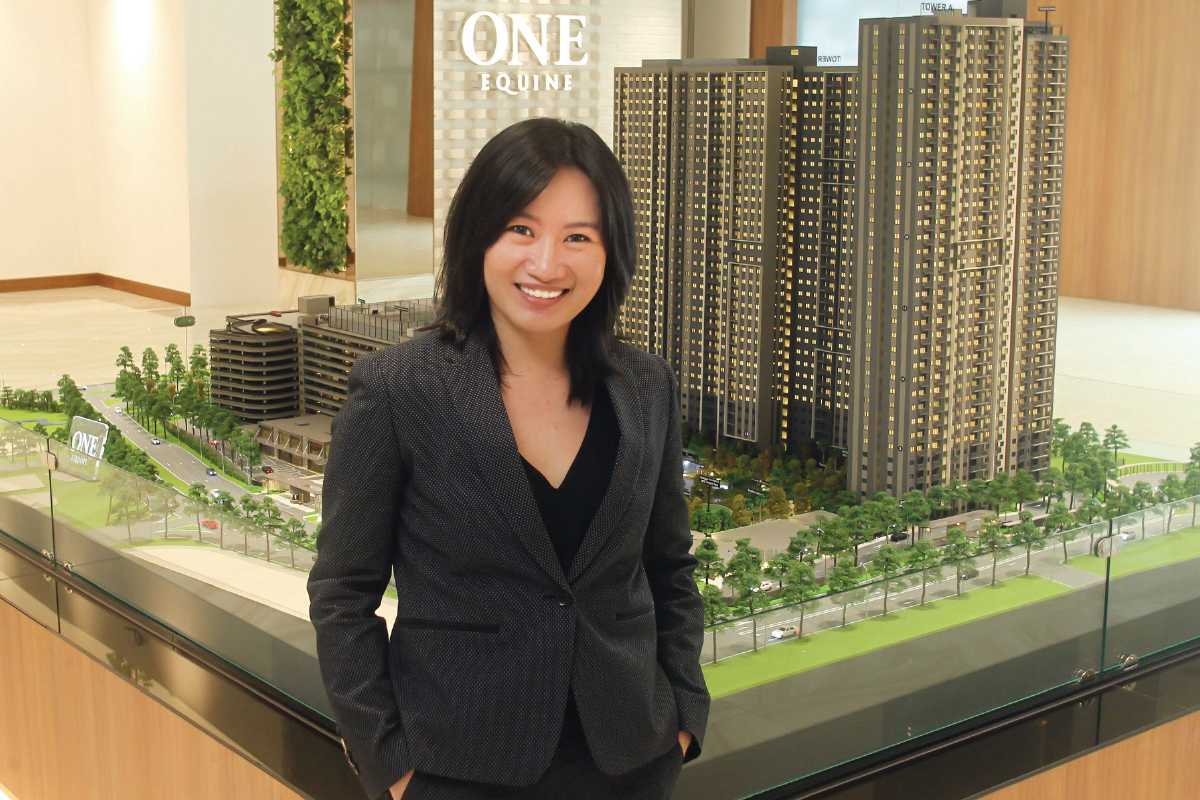 Beverly Group Sdn Bhd is set to launch One Equine in Taman Equine, Seri Kembangan, in Selangor, and Altris Residence in Quartz WM, Seksyen 10, Wangsa Maju, Kuala Lumpur, at the end of April and June respectively.
"This year will be challenging for us, as everyone faces market uncertainty. Our company's focus, however, has always been consistent in offering good-quality, affordable and functional products. This is why we manage to build developments that excite people, yet sell them at reasonable prices," says senior manager of sales and marketing Alexis Ng in a virtual interview with City & Country.
Since its establishment in 2014, the group has launched and fully sold five projects with a total gross development value (GDV) of RM2.06 billion: 28 Boulevard in Pandan Perdana; Lexa Residence, Fera Residence and Henna Residence in Quartz WM, Wangsa Maju; as well as Equine Residence in Taman Equine.
28 Boulevard was handed over in April 2019, and Lexa Residence and Fera Residence were handed over in February and August 2020 respectively. Equine Residence will be handed over by year-end, and Henna Residence, by 2022.
One Equine
Jointly developed by Beverly Group and Singapore-based Surbana Jurong Private Ltd, the 11.22-acre leasehold One Equine is adjacent to Equine Residence and has a GDV of RM1.02 billion. It will comprise four towers — two with 35 storeys and another two with 33 storeys — with a total of 2,819 serviced apartments and SoHo (small office/home office) units. It will also have eight shops and 4,598 parking bays.
Ng says the shops are built to support the population of One Equine. "We are looking to bring in retailers such as convenience stores, childcare centres, pet shops and clinics. In the meantime, we will use this retail structure as our sales gallery and, when we finish selling the project, these shops will eventually be sold."
One Equine will be launched in two phases: the first at end-April and the second at a later date. Phase 1 (1,391 units) has a GDV of RM500 million and Phase 2 (1,428 units), RM520 million.
Phase 1 consists of Tower A (35 storeys; 865 SoHos) and Tower B (33 storeys; 526 serviced apartments). Priced from RM268,000, the SoHos will have built-ups of 450 sq ft each and come in layouts of studio, 1+1 and 2-bedrooms. The serviced apartments will have built-ups ranging from 617 to 1,055 sq ft and come in 2, 2+1, 3- and 4-bedroom layouts with prices starting at RM370,000. They are due for completion in 2024.
"We are filling [a market gap] by offering products that are different and carefully pricing them at reasonable prices. These units will be suitable for first-time homebuyers, singletons, young working professionals, young couples with or without children, young and multigenerational families, as well as retirees and investors. Half the units are targeted at owner-occupiers while the rest will be marketed to investors. This is crucial to ensure the development is sustainable and that its appreciation value can be driven by healthy rental yield," explains Ng.
"Often, if a project is too skewed towards a certain target segment — for instance, investors — things might be risky when the market takes a turn, just like the pandemic, which has affected most of the long- and short-term rental yields, as foreigners are not allowed to enter the country. We are also expecting a fully domestically driven market for the project, be it rental or owner-occupied."
According to the developer, One Equine is planned to be singularly communal. "The project, which is designed based on the tagline 'urban living rooted in nature', has an urban yet natural feel and will offer a wide range of facilities that cater for residents from all walks of life, from the young to the elderly," Ng says.
There will be a 6.08-acre central park offering facilities such as a 50m swimming pool, children's pool, wet deck with Jacuzzi, herb/vegetable garden area, yoga area, children's playground, an outdoor pavilion and a barbecue garden area, a 6,900 sq ft indoor gymnasium, an outdoor gymnasium, a nursery room, multipurpose hall, picnic and camping areas and pavilions.
"We will also utilise the rooftop of the carpark to build a 1.57-acre sports arena, which consists of three multipurpose courts and a jogging track. The maintenance fee is estimated at 30 sen psf per month," says Ng.
Meanwhile, she notes that the development's high density will be potential buyers' main concern. "By incorporating proper facility design, there will be different pockets of areas that residents can enjoy without having to crowd in a particular space. We will also provide shields and privacy protected by lush greenery and tree canopies around the facilities."
The developer is confident that there will be demand for One Equine, as it is priced reasonably and located strategically with good accessibility and amenities. "We will also market the product via digital platforms. However, some buyers will prefer the traditional way of viewing the show units in the sales gallery instead of virtually. Thus, we will explore different strategies to market the product and are hoping to achieve a take-up rate of 80% for Phase 1 before launching Phase 2," says Ng.
The development is near AEON Equine Park, Giant Hypermarket Seri Kembangan, The Mines shopping mall, IOI City Mall, Alice Smith International School, SJK (C) Bukit Serdang, Universiti Putra Malaysia, Hospital Serdang and UniPutra Golf Club. It is also easily accessible via Jalan Equine, Jalan Putra Permai, Damansara-Puchong Expressway, Maju Expressway and South Klang Valley Expressway. The upcoming Taman Equine MRT Station, which is part of the Putrajaya Line, will further improve access and enhance property values in the area when completed in 2023.
Altris Residence
Set to be launched in June,  Altris Residence — developed by the group in collaboration with Mapletree Investments Pte Ltd and Lai Sun Development Co Ltd — is the fourth project in its 16.5-acre Quartz WM estate in Seksyen 10, Wangsa Maju, following Lexa Residence, Fera Residence and Henna Residence.
Ng explains that the project has a modern luxurious, urban and refined concept, and is located in the centre of Quartz WM. "The estate's name, Quartz WM, was inspired by the English name of the nearby Bukit Tabur — Klang Gates Quartz Ridge. The name Altris was taken from a rare plant called Aleisanthia rupestris found in Bukit Tabur and, as such, we created the Quartz community."
Following the positive response to the previous projects in Quartz WM, the develop­er is confident that there will be demand for Altris Residence, regardless of the market conditions, and is hoping to sell all of the units before construction of the project is completed.
Occupying a freehold plot measuring 1.97 acres in Quartz WM, Altris Residence has an estimated GDV of RM340 million and will comprise three adjoining 43-storey towers offering a total of 551 serviced apartments and 988 parking bays. The project is expected to be completed in 2025.
The development will have two lobby areas for drop-off. Lobby 1 (wood-inspired) will cater for Tower A and Lobby 2 (stone-inspired) will be for Towers B and C. "We will incorporate a facial recognition system in the lobby areas to enhance visitor management and security for residents," says Ng.
The typical units at Altris Residence will have built-ups ranging from 646 to 1,443 sq ft with layouts of 2-bedroom, 2+1 bedroom, 2-bedroom duplexes, 3-bedroom, 4-bedroom, 5-bedroom or 5-bedroom duplexes. Prices start at RM490,000. "Some of the units will come with flexi bathrooms (dry and wet); for the duplexes, residents can fully utilise the additional space below the staircase as a storage area. For the bigger 5-bedroom units and 5-bedroom duplexes, the additional room can be used as a bedroom or converted into a home office, music or study room," says Ng.
The special units will be located at the podium on level nine. There will be six pool villas and 25 garden villas or private enclosed space units with built-ups of 765 to 2,379 sq ft. Selling prices start at RM600,000. "The pool villas will allow residents to have direct access to the swimming pool, while the garden units will come with a private garden terrace," says Ng, adding that there will also be an exclusive 2,272 sq ft 4+1 bedroom duplex unit that comes with a private garden terrace and direct access to the pool.
All Altris Residence units will be fitted with kitchen cabinets, hobs and hoods, water heaters, sanitary fittings, floor and wall tiles, as well as air conditioners for the bedrooms and living area.
Ultimately, the developer intends to deliver lifestyle concepts that add joy to customers' everyday lives. "We strive to create products that focus on good design, quality and safety while being mindful of balancing creativity with functionality. This is where such designs will stand the test of time," says Ng.
Altris Residence will have three facility levels. The ground level will comprise a family pool, boulder gymnasium, co-working melting pot, tree house nursery and multipurpose room; the podium will feature a 50m lap pool, infinity edge pool, podium gymnasium, Jacuzzi, seating Jacuzzi pod, lazy deck, garden walkway and barbecue deck; and the rooftop will have a barbecue patio, sky lounge and sky deck, overlooking Bukit Tabur. "We are looking at an estimated monthly maintenance fee of 35 to 40 sen psf," says Ng.
The development is centrally located and is in a maturing residential area with spillover effect from the Kuala Lumpur city centre, which is only about a 20-minute drive away. It is also easily accessible via Jalan Ampang, Jalan Genting Klang, Middle Ring Road 2 and Duta-Ulu Kelang Expressway, as well as the Setiawangsa-Pantai Expressway (DUKE 3), which is under construction and expected to further increase the capital appreciation of Altris Residence and other properties in Wangsa Maju.
Surrounding amenities include Wangsa Walk Mall, Melawati Mall, Setapak Central, Tunku Abdul Rahman University College, Fairview International School and Royal Selangor Visitor Centre. Ng says there will also be a free shuttle service to take residents to and from the Sri Rampai LRT station and Wangsa Walk Mall, both of which are a five-minute drive away.
Beverly Group's fifth project and last parcel in Quartz WM occupies 4.78 acres and will be a serviced apartment development with a GDV of RM800 million. "It is still in the planning stages and other information has yet to be firmed up," says Ng.