This article first appeared in The Edge Financial Daily, on April 25, 2019.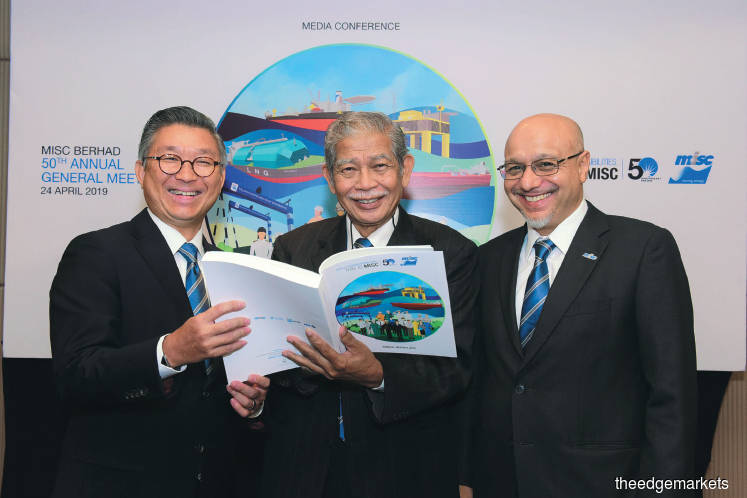 KUALA LUMPUR: After a tumultuous 2018, MISC Bhd has promised shareholders "better years to come" as the projects secured in the past will begin to contribute to its earnings coupled with better market conditions.
"Some of the projects that we have developed over the years should start contributing in 2019," MISC president and group chief executive officer Yee Yang Chien told the media after the shipping company's annual general meeting (AGM) yesterday, noting certain segments that are exposed to the cyclical nature of the business are expected to perform better on improving market conditions.
"As a group, MISC's growth is driven by how well we invest, [and] we invest to build assets. We need to allow for the lag time of about two to three years for the assets to be built. So, for example, if we secured a project last year, it may only start contributing as an asset maybe at the end of this year or 2020," Yee explained.
In 2020 when our five shuttle tankers are commissioned for a floating storage and offloading (FSO) project, net operating cash flow is projected to increase by a fifth, he added.
MISC sees net operating cash flow as a true reflection of the company's performance. "We measure our performance purely on our cash flow," Yee said.
Net cash flows generated from operating activities stood at RM4.1 billion as at Dec 31, 2018, versus RM4.74 billion a year earlier, according to the company's latest quarterly financial statement.
Traditionally, Yee said companies refer to accounting profit or earnings per share to measure financial performance. However, he argued that these indicators no longer reflect MISC's performance for the current year due to updates and changes in accounting standards.
"For example, under the finance lease accounting convention, if we build an asset and it is chartered out to the client for 15 years, the accounting convention today requires us to recognise the value of the entire 15 years, in the year when the asset comes into service.
"So you get a sudden big jump in the number, while in the past, we only recognised what we earned during each year."
Yee said MISC has been more successful in tenders of late, improving its conversion rate from 14% in 2017, to 20% in 2018. In the first quarter of 2019, the company considered projects totalling US$6 billion – the equivalent value of projects it had looked at for the whole of last year.
"So we are not short of opportunities. This is where it is a nice problem to have, it is [a matter of] picking the right one because every single project involves heavy investment. We have to be very stringent in our project risk assessment to make sure that we can actually execute the numbers that we think we can deliver from securing those projects," he said.
Yee said charter rates have bottomed and does not expect them to get any worse than last year when they were as bad as the last critical down cycle of the market in 2011.
"I think we have turned the corner in terms of how bad things can be. We have navigated and gone past 2018. Our real test was actually last year and we still generated about US$1 billion of cash flow from operations.
"So we are moving towards the right direction in terms of the resilience and the robustness of our business regardless of what the market cycle is", he said.