This article first appeared in The Edge Malaysia Weekly, on December 10, 2018 - December 16, 2018.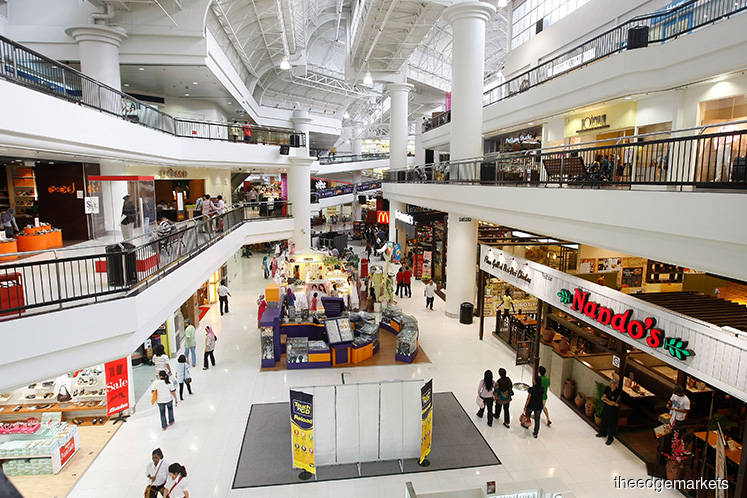 FOR the third quarter ended September, retail stocks had one thing in common — they disappointed. The tepid performance of AEON Co (M) Bhd, Padini Holdings Bhd, Bonia Corp Bhd and Parkson Holdings Bhd, fell considerably short of analysts' expectations.
To be fair, the buildup to what was projected to be a bonanza quarter for retailers owing to the June to September tax holiday — Goods and Services Tax being zero-rated and the absence of Sales and Services Tax during the period — did not help.
In hindsight, analysts surmised that consumers made the most of the tax holiday by zooming in on big-ticket items rather than everyday goods.
Padini and Bonia posted year-on-year declines in net profit in the July to September quarter — their first for FY2019.
Padini's earnings amounted to RM17.96 million, a significant 42.5% lower than a year ago, while that of Bonia shrank a massive 82% to RM232,000.
Parkson managed to marginally narrow its losses for the quarter— also its first — to RM43 million from RM43.5 million.
For the cumulative nine months, AEON's earnings contracted 15% to RM51.6 million.
"We expected it to be a good year for retailers but that didn't pan out. In hindsight, it should have been expected because consumers would go for big-ticket items instead of spending at the typical retail stores," says an analyst with a bank-backed research firm. "Even convenience store players we talked to said they did not see a surge in demand. There was a change in spending pattern for consumers this time."
Another analyst with a local research house, who declined to be named, agrees, highlighting record vehicle sales in the quarter. In July, total industry volume increased 41% to 68,465 units against 48,533 units in the previous year, marking the second highest monthly sales in the auto sector's history.
Retailers could find themselves in a better position going forward as consumer sentiment seems to be recovering from the lows that have stretched to almost three years.
The commonly tracked MIER Consumer Sentiment Index has recorded two consecutive quarters above the 100 point mark. In 2Q2018, it soared to a 21-year high of 132.9 points and in the following quarter, slipped to a more moderate 107.5 as sentiments normalised after the zero-rating of GST.
Recently, Retail Group Malaysia, in its third revision for the year, upgraded its annual sales growth forecast to 4.4% from 4.1% on the back of robust retail sales growth in the third quarter. It has projected a slight increase in growth for next year of 4.5%.
Even so, analysts covering the retail sector are a bit more cautious. Their wariness is partly because the forecast GDP growth of 4.9% for 2019 comes amid more subdued global growth. Moreover, private consumption is expected to normalise.
The analyst with the local research house reckons it could boil down to the type of business retailers are in.
"I think it really depends on what kind of retailers they are. Is their clientele the mass market or does it consist of a narrower group of people? I believe that retailers in the business of basic necessities will still see strong demand while those that sell items that tend to be more discretionary can expect to see slower growth, even though they are in the more 'affordable' range.
"Because of that, one of my top picks is AEON Co because it has a wider range of offerings, which includes the hypermarket AEON Big. I also like it because it has a property income stream (from rental) besides its retail segment."
The analyst from the bank-backed research firm takes a slightly different view. He believes next year looks more positive in terms of consumer demand, given that the impact of SST is not as widespread as GST.
"For companies like Parkson, Padini and AEON, it does not look like it is downward for them from here on. Some companies mentioned that they saw a decline in sales right after the implementation of SST, but it has stabilised since," he says.
He anticipates that the consumer-friendly policies of the new government, coupled with stable consumer demand, could boost retail sales going forward.
That said, he is neutral on the sector as he believes the stocks are fairly valued at present.
He suggests that investors who are keen on retail stocks study the pricing strategy of retailers. "Investors should look out for whether these companies can keep their sales stable now, with SST in place, and how margins will be affected if prices were to be kept constant."
Only two analysts cover Bonia. One has a "hold" call on the stock, and the other a "sell", with the average target price being 25 sen.
Affin Hwang Capital Research is cautious of Bonia's turnaround prospects because the leather and footware manufacturer competes with international players in a highly competitive retail space.
"In the meantime, cost pressures might persist as Bonia continuously spends on advertising and promotions to build brand equity," it observes in a report.
Parkson does not fare any better, with Public Invest Research "neutral" on the stock with a target price of 40 sen. "We see a translation of China's recovery into net profit taking longer due to the weaker-than-expected momentum. This, coupled with operational challenges in Southeast Asia, will keep earnings subdued at group level."
However, it is expecting an improved performance in the second half of its financial year.
Garment retailer Padini is also not getting much traction with analysts.
"They will be opening fewer stores next year compared with 2018, so that means top-line growth won't be much different. Perhaps, the only long-term catalyst for the company is to see how its regional expansion works out," observes an analyst.
Maybank Investment Bank Research has cut its target price from RM5.05 to RM4.05 while maintaining its "sell" call, premised on Padini's expensive valuations and limited earnings growth prospects.
"We turn more cautious on Padini's near-term growth outlook due to a challenging earnings outlook from a rising cost of goods and operating expenditure as a result of inflationary cost pressure post-implementation of the Sales and Services Tax, and stiff competition in the fashion retailing industry," it says.
There are two "buy", three "hold" and eight "sell" calls on the counter, with an average target price of RM5.14.
Of the analysts covering AEON Co, three have a "buy" call, three a "hold", and one "sell", with an average target price of RM2.21.
RHB Research expects AEON Co to extend its steady financial performance into FY2019, and has maintained its "buy" call, with a target price of RM2.76.
"We anticipate consumer spending to stay resilient on healthy wage growth and moderate inflation rates. With its strong branding and well established network of stores in Malaysia, the company remains in pole position to capture the above-mentioned spending," it says in a report.
Save by subscribing to us for your print and/or digital copy.
P/S: The Edge is also available on Apple's AppStore and Androids' Google Play.