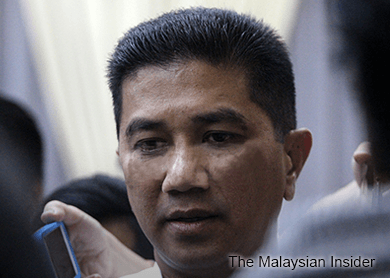 (May 4): PKR deputy president Mohamed Azmin Ali drew on the criticism by former prime minister Tun Dr Mahathir Mohamad as campaign material for the Permatang Pauh by-election, saying it was better to support a 90-year-old who fought corruption
than a young candidate with no courage to speak up against wrongdoing by the government.
Azmin told voters at a ceramah last night that there was no use being young when one's brain was 100 years old and lacked principles and idealism.
"Better we support a 90-year-old. There is one who is making a lot of noise everywhere in the country.
"Tun Dr Mahathir Mohamad is like a dragon. His type becomes stronger when he fights. He would fall ill if he doesn't fight.
"I have known him for a long time. He can only survive through crisis. If there is a fight, he will be strong," Azmin said at a ceramah on opposing the goods and services tax (GST) in Kubang Ulu last night.
Azmin was drawing a comparison between Barisan Nasional's young candidate Suhaimi Sabudin, 44, and PKR's more senior and seasoned candidate, its 62-year-old president Datuk Seri Dr Wan Azizah Wan Ismail.
He said Suhaimi would not have the courage to criticise Putrajaya on matters like the GST and corruption.
Dr Mahathir has become a vocal critic of Prime Minister Datuk Seri Najib Razak over various policy and governance issues, including 1Malaysia Development Bhd's (1MDB) financial troubles. Azmin also touched on the lavish wedding of Najib's daughter recently.
"All this is why Dr Mahathir is angry. Would Suhaimi have the courage to reprimand? So what is the use of being young but having no principles or idealism?
"What kind of leader do we want? Better a 90-year-old who has the guts to fight corruption. We will support all efforts to topple Umno and Barisan Nasional.
"People are going through difficult times, even reporters. We want to speak up for reporters who are having a hard time, too. Report the news properly."
Azmin was on a roll yesterday, cracking jokes and poking fun at leaders from BN, such as Deputy Finance Minister Datuk Ahmad Maslan, who has been criticised over his effort to explain why the GST was a good tax.
He made cheeky remarks about hair, lobsters which were not subject to the GST, and bashed Inspector-General of Police Tan Sri Khalid Abu Bakar over the May Day anti-GST rally arrests, which saw several PKR leaders arrested.
The Permatang Pauh by-election polling day is Thursday.