This article first appeared in The Edge Financial Daily, on September 13, 2018.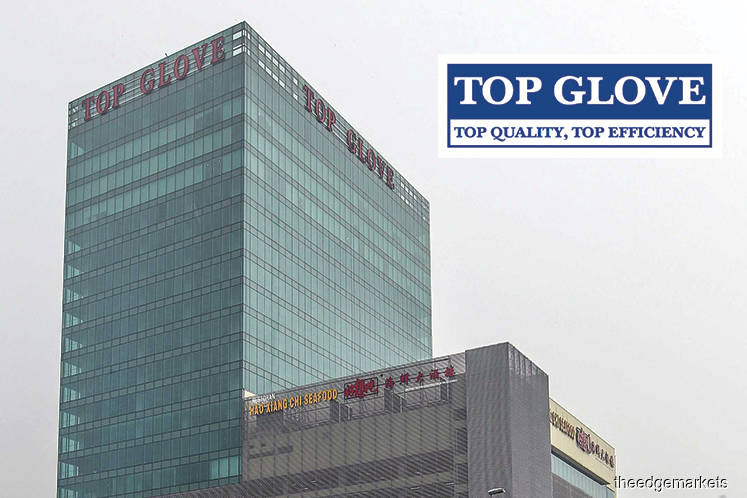 Top Glove Corp Bhd
(Sept 12, RM10.52)
Maintain hold call with a target price (TP) of RM9.90: Share price bottomed in July 2018 and has risen 20% since. However, share price may have a knee-jerk reaction upon the release of its 4QFY18 results in October 2018 as we expect its earnings to be hit by a sizable impairment.
Elsewhere, positive external factors bode well for its near-term earnings and its one-for-one bonus issuance is targeted to complete by next month.
Maintain earnings forecasts, "hold" call and TP of RM9.90 (26 times 2019 PER; 20% discount to our target for Hartalega).
4QFY18 results will be released on Oct 19 and we expect a better quarter-on-quarter (q-o-q) core earnings (3QFY18: RM118 million), underpinned by stronger sales volume, stable margins (USD/MYR: +3% q-o-q, latex: -10%, NBR: +10%) and full quarter earnings contribution from Aspion (only recognised 1.5 months earnings in 3QFY18).
However, headline profit could be hit by a sizable impairment, in relation to Top Glove's overvaluation claim for the purchase of Aspion (total overvaluation claim amounts to RM640 million).
We think near-term earnings growth will continue to be supported by the stronger US dollar against the ringgit of 4.15 presently (4QFY18: average 4.05), benign latex prices of RM4.05/kg presently (4QFY18: average RM4.20/kg) and stable NBR price of US$1.34/kg (RM5.56/kg) presently (4QFY18: average US$1.33/kg).
Additionally, demand for Malaysia's rubber gloves remains robust (1QFY18: +9% y-o-y) and the potential US import tariff of 10-25% on China's gloves may lead to slightly better demand for Malaysia's gloves. In 1QFY18, Malaysia and China supplied 68% and 10% of US' rubber glove demand.
Our earnings forecasts have assumed for the dollaer/ringgit rate of 3.95 for FY18- 20E.
Based on our sensitivity analysis, every 1% change in dollar/ringgit could change our earnings per share (EPS) estimates by 4%.
Meanwhile, Top Glove is working on initiating the arbitration process but a conclusion could be long drawn.
We have assumed that Top Glove will be recognising the actual earnings from Aspion, rather than the profit guarantee in our FY18-20E EPS. — Maybank IB Research, Sept 7