This article first appeared in The Edge Financial Daily, on April 1, 2019.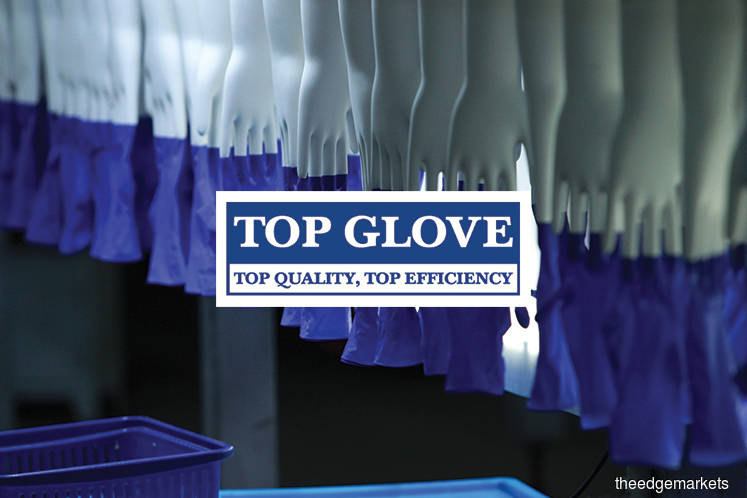 Top Glove Corp Bhd
(March 29, RM4.62)
Maintain add with an unchanged target price (TP) of RM5.08: We attended Top Glove's first half of financial year 2019 (1HFY19) briefing last Thursday attended by its chairman Tan Sri Lim Wee Chai, managing director Lee Kim Meow and executive director Lim Cheong Guan. There were no surprises with discussion focusing on the group's 1HFY19 financials, future plans and view on current competitive environment.
Revenue for 1HFY19 rose 27.7% year-on-year (y-o-y), thanks to higher overall sales volume (+18% y-o-y) and average selling prices (ASPs) for nitrile gloves (+5% y-o-y). However, 1HFY19 core net profit rose only 2.8% y-o-y to RM218.3million due to higher interest expenses (>100% y-o-y) and weaker quarter-on-quarter (q-o-q) results in the second quarter of FY19 (2QFY19) owing to: i) margin pressure in natural glove segment as a result of time lag in increasing selling prices to pass on higher latex prices, and ii) more competitive environment especially in the vinyl segment.
We expect Top Glove to record stronger results in 2HFY19F. This would mainly be on better margins for latex gloves, as we expect higher ASPs for latex gloves to offset rising latex prices. We also expect sales volume to increase with the gradual commissioning of two new plants — F32 (2.2 billion per annum capacity) and F33 (1.2 billion per annum) from mid-3QFY19F onwards. The plants would boost Top Glove's total production capacity by 5.7% to 63.7 billion per annum. In addition, we believe earnings contribution from the group's wholly-owned subsidiary Aspion Sdn Bhd should also gradually improve.
Despite facing heightened pricing pressure, Top Glove is confident the impact from that will be short-lived. It believes the sector's current capacity surplus will be well-absorbed as glove demand remains robust (sales volumes still healthy) and glove makers are making efforts to pace out the incoming new capacity. Also, it expects any negative impact on its margins from pricing pressure will be mitigated by the ongoing efforts to increase its operating efficiencies through higher usage of automation and better cost control.
With no surprises from the briefing, we retain our "add" call and RM5.08 TP, based on 24 times calendar year 2020 forecast (CY20F) price earnings (+1 standard deviation of its five-year historical mean). We are of the view Top Glove is appealing at its current valuation of 20.6 CY20F price earnings given: i) its position as the world's largest glove maker; ii) it is poised to benefit from the inelastic demand for gloves; and iii) its three-year earnings per share compounded annual growth rate of 10.4% (FY19-21F). Potential rerating catalyst is a weaker ringgit against the US dollar. Key risks: heightened price competition, and sharp strengthening of ringgit against the US dollar. — CGSCIMB Research, March 28