This article first appeared in Capital, The Edge Malaysia Weekly, on December 30, 2019 - January 05, 2020.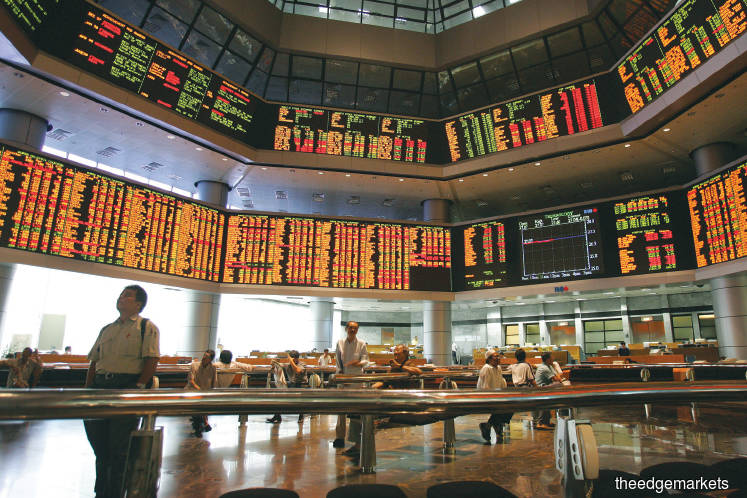 Bursa Malaysia has been the region's laggard in 2019
Photo by Reuters
Click / Tap image to enlarge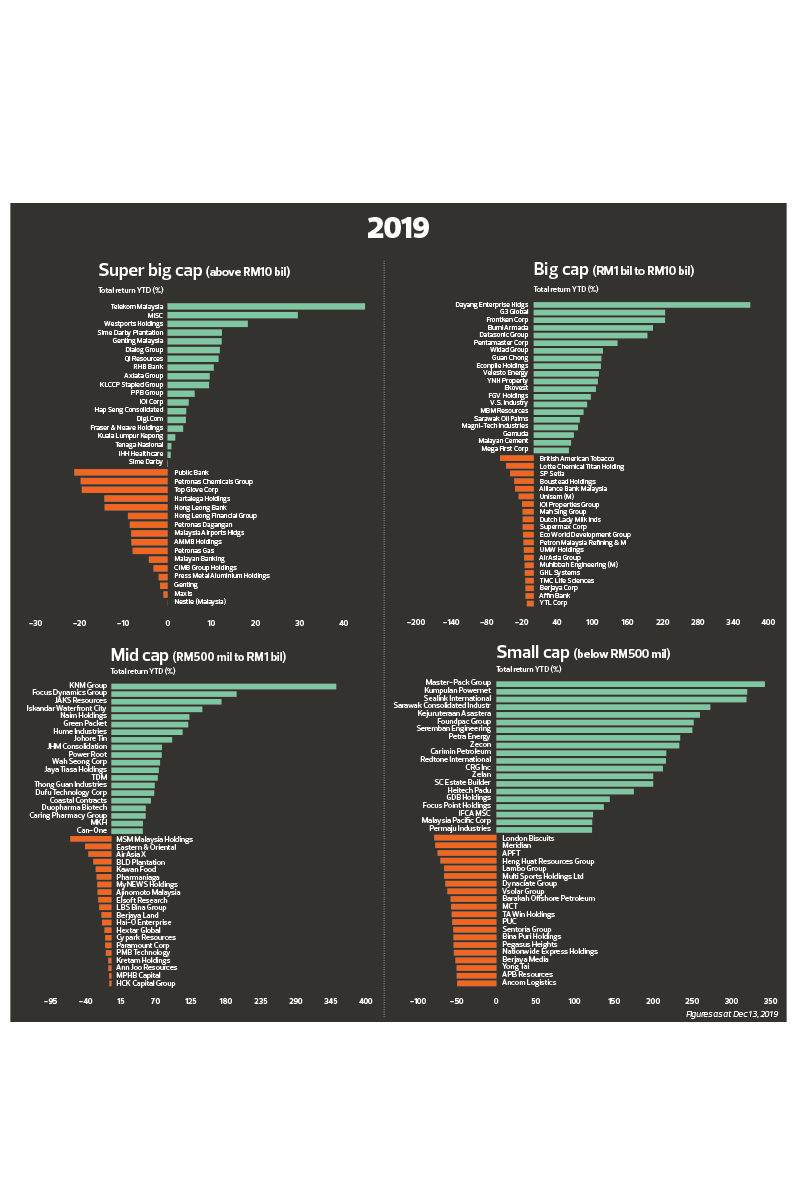 BURSA Malaysia has been the laggard in the region throughout 2019. While investors have been looking at how the new government would revive the country's fiscal health and navigate the transition of power, many opted to shy away from the Malaysian market.
Still, there are a good number of big gainers whose share prices have more than quadrupled this year. At the same time, there are also stocks that have lost their footing for different reasons.
Thanks to the recovery of the crude oil price, which has stayed above US$50 per barrel after the abrupt plunge in the final quarter of 2018, the oil and gas (O&G) theme play has lifted many energy-related stocks out of the doldrums.
Dayang Enterprise Bhd was the best performer among companies with a market capitalisation of RM1 billion to RM10 billion. Its share price jumped 369% to a five-year high of RM2.41, making it probably the best performing O&G counter this year. Its record high was RM2.74 posted in March, 2014. The company's market capitalisation has ballooned by RM2.02 billion.
Bumi Armada Bhd, KNM Group Bhd and Velesto Energy Bhd also made a big leap, although their share prices are still far from their peak after this year's jump. Bumi Armada and KNM Group's shares have more than quadrupled in value.
Petra Energy Bhd and Carimin Petro­leum Bhd were also top performers with share prices soaring more than 200%. Another stock that saw strong renewed interest is Velesto Energy, formerly known as UMW Oil & Gas Bhd, which made a massive cash call to recapitalise in 2018. The counter has shot up 111% from the start of the year to Dec 13. Shareholders have made back some profit from the additional capital they pumped in through the rights issue.
The banking sector, which is the proxy for economic growth, however, is the opposite in terms of share price performance. Except for RHB Bank Bhd, all banking counters were in the red zone. RHB Bank, in which the United Arab Emirates-based Aabar Investments PJS ceased to be its third largest shareholder in June, bucked the trend with a 10.5% gain.
Alliance Bank Bhd led the fall with its share price slipping nearly 32% year on year to RM2.62 as at Dec 13. Surprisingly, Public Bank Bhd, known as the bluest of blue chips, was the second worst performing banking stock. The most expensive bank on Bursa, trading at 1.81 times book value, it has fallen 21% this year — its biggest drop in at least 20 years.
Hong Leong Bank Bhd, the second most expensive bank, at a book value of 1.35 times, dropped almost 14% while its parent, Hong Leong Financial Group Bhd, was down 9%.
British American Tobacco (M) Bhd (BAT) and MSM Malaysia Holdings Bhd fell out of favour as investors found the duo's earnings were no longer as resilient given the harsh operating landscape.
BAT lost RM5.6 billion in market capitalisation year to date as at Dec 13, because investors failed to see effective measures being taken to curb contraband cigarettes, which have taken a heavy toll on the group's earnings.
MSM's downward momentum continued from 2018, pulling its share price down 64.6% in 2019. The sugar refiner, a member of Felda Group, made its debut on Bursa at an initial public offering (IPO) price of RM3.50 (institutional investors) with a market capitalisation of RM2.4 billion in June 2011. Its market cap has shrunk by three-quarters, or RM2.34 billion, to RM646.7 million since its listing.
On the other hand, the fortunes of FGV Holdings Bhd, in which Felda controls 39.91%, are a sharp contrast to that of its sister company MSM, supported by stronger crude palm oil (CPO) prices, despite the group not being on a firm financial footing. The plantation group's share price soared 97.2%, bouncing back from its all-time low of 63.5 sen in late December 2018. FGV had regained RM2.53 billion of market cap as at Dec 13. Still, it is substantially below its IPO price of RM4.45.
The rise in CPO prices wooed back investors' interest in plantation stocks in 2019. Sarawak Oil Palms Bhd is a star performer with its share price climbing 78.5%. State-owned plantation company TDM Bhd, has also performed well, its share price has risen by 72.7%.
Among the super big-cap (market cap above RM10 billion) plantation giants, Sime Darby Plantation Bhd is the champion with a 12.3% gain, ahead of PPB Group Bhd, IOI Corp Bhd and Kuala Lumpur Kepong Bhd with single-digit percentage gains.
Leading the climb among the super big-cap stocks was Telekom Malaysia Bhd, which dropped off the FBM KLCI component stock list in 2018. The telco giant's share price increased almost 45% in 2019, having declined nearly 60% in 2018.
Its telco peers, Digi.Com Bhd and Axiata Group Bhd, also crawled back into the positive zone as at Dec 13 after the selldown of 2018.