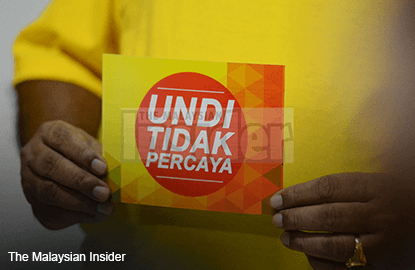 (Oct 9): Some 6,000 people have signed up in Bersih's vote of no-confidence campaign against Prime Minister Datuk Seri Najib Razak since its launch yesterday.
The online petition drive, run through the portal DearYb.my, was launched to put pressure on MPs to file a no-confidence vote against Najib in the next parliamentary sitting beginning Oct 19.
Bersih 2.0 secretariat member Mandeep Singh said 13,000 postcards had also been distributed to several states via non-governmental organisations to send to their MPs.
The states include Johor, Selangor, Sabah, Perak and Kuala Lumpur.
Mandeep said Bersih had not set a target for the online campaign, but the electoral reform group was pushing it to the maximum.
"Our campaign has no Bersih logo, this is a neutral campaign... we need to make our voiced heard clearly," he told The Malaysian Insider.
"Everybody should look at the bigger picture of the country, see the current situation of our country, which needs to be saved compared with the obsession over an individual,
"Our country is facing a crisis and it needs to be saved and the leader needs to be changed," he said, urging people from all walks of life to participate in the campaign.
The public can take part by going to DearYb.my and sign in their support.
The campaign site will create a letter, which will be sent on behalf of the person signing to the relevant MP. – The Malaysian Insider