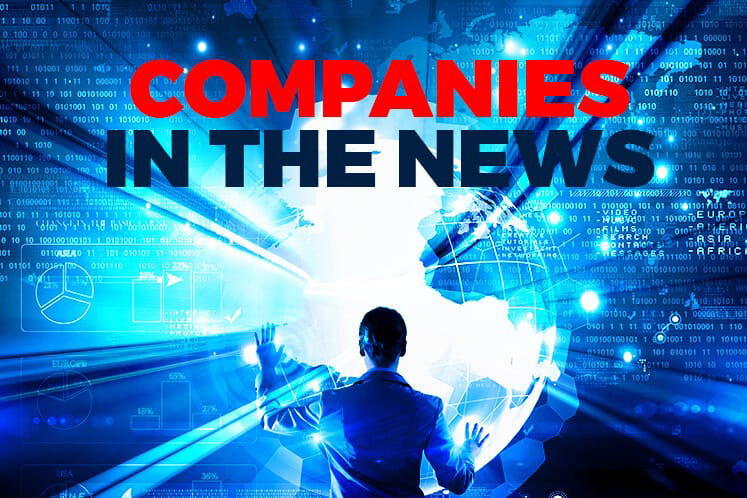 KUALA LUMPUR (Jan 15): Based on corporate announcements and news flow today, stocks in focus for Thursday (Jan 16) may include the following: Bermaz Auto Bhd, FGV Holdings Bhd, Axiata Group Bhd, Maxis Bhd, DiGi.Com Bhd, Cuscapi Bhd, OSK Holdings Bhd, Securemetric Bhd, London Biscuits Bhd and Pestech International Bhd.
Bermaz Auto Bhd launched the new Mazda CX-30, a new compact crossover SUV that sits between the CX-3 and CX-5 on the sizing scale.
Bermaz executive chairman Datuk Seri Ben Yeoh said with the rising popularity and demand for SUVs in the domestic market, the CX-30 will complement the group's existing range of SUVs.
Yeoh said Bermaz, as the distributor for Mazda vehicles in Malaysia, will continue to pursue better ownership experience for Mazda cars' buyers.
The Roundtable on Sustainable Palm Oil (RSPO)'s complaints panel has suspended principles and criteria (P&C) certification processes for all of FGV Holdings Bhd's uncertified units, while re-imposing its suspension of FGV's mill unit Kilang Sawit Serting.
RSPO said its complaints panel had reviewed six audit reports on the FGV units and found the results to be unsatisfactory. Consequently, the panel has moved to suspend again Kilang Sawit Serting's P&C certificate and halted all certification processes on FGV's uncertified units, effective Jan 13.
Following the announcement, FGV said it will appeal RSPO's decision to suspend FGV's Serting complex and the ongoing certification process of the group's 20 other entities, in view of FGV's progress updates and action plan for its foreign worker employment process.
Axiata Group Bhd's Celcom Axiata Bhd expects to grow its non-consumer mobile business revenue contribution to between 15% and 20% of total revenue in the next two to three years from about 10% now, in line with its commitment to digitise local businesses, especially small and medium-sized enterprises (SMEs) with connectivity and financing solutions that will enable and inspire growth within today's digital economy.
Celcom chief executive officer Mohamad Idham Nawawi said that in line with Malaysia's National Entrepreneurship Policy, the company aims to digitise SMEs with innovative digital solutions that will create efficient and sustainable businesses.
Separately, Celcom and Maxis Bhd have successfully conducted the first 5G Multi Operator Core Network (MOCN) trial in Southeast Asia, recording a peak speed exceeding 1.1gbps in outdoor environments.
The trial was held last December in Langkawi, after a Memorandum of Understanding (MoU) was inked between Celcom and Maxis the previous month, to explore Malaysia's first active 5G Radio Active Network (RAN) sharing, said the telcos in a joint statement today.
The trial locations were a Maxis 5G site at Seaview Hotel in Kuah and a Celcom 5G site at The Westin Langkawi Resort & Spa.
It allowed users of each telco at both locations to access the 5G network hosted by the two companies, as if they are on their home network.
DiGi.Com Bhd's Digi Telecommunications Sdn Bhd has partnered with Malaysia Airports Holdings Bhd (MAHB) and Panorama Langkawi to initiate Malaysia's first real-time virtual tourism experience, powered by 5G, at the Langkawi International Airport (LGK).
A cable car gondola and a virtual reality (VR) experiential zone set up at the LGK would allow visitors to enjoy a 360-degree view of Gunung Machinchang, live-streamed from 20km away via a camera mounted at the Langkawi SkyCab middle station, where the world's steepest cable car ride takes one 708 metres above sea level.
Digi said the 5G virtual tourism experience, which is open to the public until March this year, is projected to provide a new immersive and integrated travel experience for tourists and further the tourism industry in the nation.
Cuscapi Bhd is collaborating with Indonesian-based PT Cartenz Inti Utama (PT CIU) for the supply and implementation of 20,000 point-of-sale (POS) system units in Indonesia.
Cuscapi said it has entered into a Memorandum of Understanding (MoU) today with PT CIU to be strategic partners for the roll-out of F&B sector POS projects in Indonesia.
"Additionally, the strategic partnership with PT CIU will extend Cuscapi's footprint and increase our POS hardware installed user base," it said.
OSK Holdings Bhd and its Japanese partner Marubeni Corp have been unsuccessful in their joint bid for a large scale solar photovoltaic plant in Peninsular Malaysia under the Government's third cycle of the scheme (LSS3).
OSK said it received an outcome letter today dated Jan 6 from the Energy Commission of Malaysia.
"It was stated that the joint bid of OSK and Marubeni Corporation for Large Scale Solar Photovoltaic Plant in Peninsular Malaysia (LSS3) was not successful. Hence, the JDA-TS (Joint Development Agreement Term Sheet) would be terminated with immediate effect," it said.
Securemetric Bhd has invested in a 5% stake in Indonesian digital startup PrivyID for a cash consideration of 20.25 billion Indonesian rupiah (RM6.03 million).
The company signed a conditional share subscription agreement with PT Privy Identitas Digital today.
PrivyID is Indonesia's first non-government institution certified certificate authority (CA), as well as the first private company in Indonesia that was granted access to the National Identification database.
The High Court has granted a winding-up order against London Biscuits Bhd's wholly-owned subsidiary Kinos Food Industries (M) Sdn Bhd for not being able to pay an RM5.003 million outstanding sum owed to Desa Potensi Sdn Bhd.
As such, Ling Sie Kiong of Messrs HC Advisory Sdn Bhd has been appointed as the liquidator of Kinos following the court order on Jan 14.
"The company shall fully cooperate with the liquidator of KINOS to ensure the smooth running of the liquidation process," London Biscuits said.
Pestech International Bhd is expanding its business in Cambodia by acquiring a 94% stake in a Cambodian company.
The group said its unit Astoria Solar Farm Sdn Bhd (ASF) is investing US$4 million (about RM16 million) to acquire from two individuals, a 94% stake in Green Sustainable Ventures (Cambodia) Co Ltd (GSV).
The proposed acquisition will give the group super-majority rights over the development of a 20-year concession of a 20MW AC large-scale solar farm project in Bavet City, in the Svay Rieng Province of Cambodia.