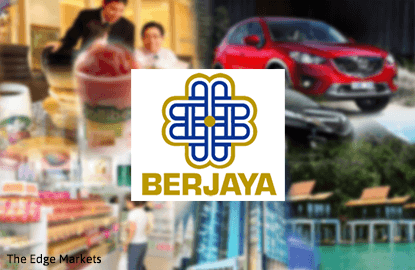 KUALA LUMPUR (April 29): Berjaya Corp Bhd (BCorp) saw nearly 3.6% of its shares traded off market today, for a total of RM61.29 million.
According to Bloomberg data, the shares moved in four blocks, ranging from 353,600 shares to 160 million per block, for a value of between RM134,370 and RM60.8 million.
The transaction price of 37.5 sen and 38 sen apiece, represents a discount of one sen or 0.5 sen to its closing price of 38.5 sen.  
Meanwhile, BCorp's 16.38%-owned Berjaya Assets Bhd (BAssets) also saw 55 million shares or a nearly 5% stake, crossed off market today.  
Bloomberg data showed the securities moved in two blocks — 22.2 million and 32.8 million — at 80 sen per share.
The total transacted value amounted to RM44 million.  
As press time, it was unknown as to who the parties involved in the trades were.
According to Bloomberg, BCorp's largest shareholder is its founder Tan Sri Vincent Tan Chee Yioun, with a shareholding of 1.03 billion shares or 23.05%; followed by Hotel Resort Enterprise's 626.32 million shares or 13.95%.  
In BAssets, Tan controls 511.45 million or a 45.95% stake, while BCorp holds 88.55 million or 7.96%. Puteri Access Sdn Bhd is the third largest shareholder, with 6.23% stake.  
BCorp's share price closed up one sen or 2.67% at 38.5 sen today, with 8.3 million shares traded, giving it a market capitalisation of RM1.73 billion.
BAssets closed unchanged at 80 sen, with 20,000 shares exchanging hands, giving it a market value of RM890.43 million.