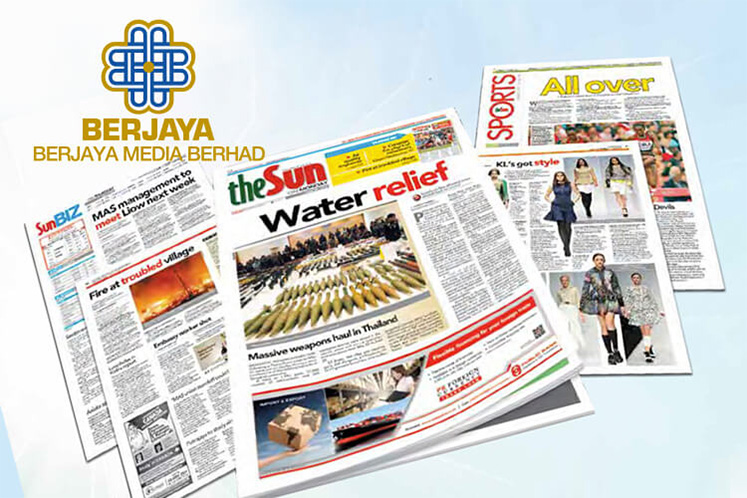 KUALA LUMPUR (June 20): Berjaya Media Bhd (BMedia), which publishes theSun newspaper, managed to narrow its losses by 38% in the fourth financial quarter ended April 30, 2019 (4QFY19) amid the absence of a RM1.96 million impairment loss on quoted investments that was recorded in the year-ago quarter.
The group posted a smaller net loss of RM3.71 million in 4QFY19 from RM6.03 million in 4QFY18. Loss per share also fell to 1.58 sen compared with 2.56 sen a year ago.
However, quarterly revenue was down 25.9% to RM4.81 million from RM6.5 million in 4QFY18, mainly due to lower advertising income reported by its principal operating subsidiary, Sun Media Corp Bhd, as advertisers shifted their advertising preference to the digital platform.
For FY19, the group's net loss widened to RM17 million from RM12.5 million the previous year, no thanks to a provision of compensation totalling RM5.912 million for two legal suits.
Revenue also dropped 22.9% to RM25.66 million from RM33.27 million in FY18.
On prospects, BMedia warned that that its business for the next financial year will remain challenging as the advertising industry shifts its preference to the digital platform, which will impact the print media industry.
In a filing with Bursa Malaysia today, it said it is operating in a difficult business environment, adding that it will continue to focus on containing cost and improving its advertising revenue.
"The board of directors has been exploring other options including diversifying into new businesses outside the media sector, to regularise its Practice Note 17 (PN17) condition.
"Consequently, the group had appointed AmInvestment Bank Bhd as its principal adviser for the submission of its regularisation plan," it added.
BMedia has until June 20 to submit the regularisation plan.
"With the interim financial support of the major shareholder and subject to the successful implementation of the regularisation plan, the board believes that the group can continue to operate as a going concern and will eventually be declassified as a PN17 company," it added.
BMedia shares closed unchanged at 12 sen today, with 600 shares traded, bringing a market capitalisation of RM28.21 million.