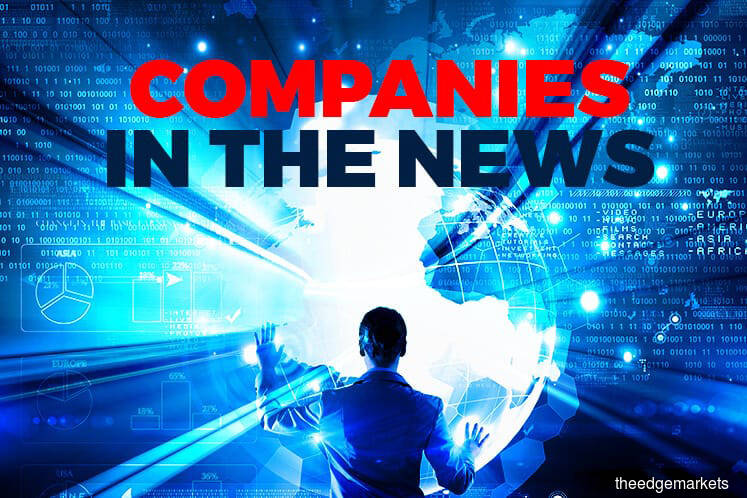 KUALA LUMPUR (March 12): Based on corporate announcements and news flow today, companies that may be in focus on Wednesday (March 13) may include: Berjaya Media Bhd, Ekovest Bhd, JCY International Bhd, KESM Industries Bhd, Matrix Concepts Holdings Bhd and T7 Global Bhd. 
Berjaya Media Bhd recorded wider net loss of RM7.96 million in the third quarter ended Jan 31, 2019 (3QFY19) from RM2.45 million in losses the year before, mainly due to provision on a legal damages worth RM5.91 million. 
Quarterly revenue fell 16.36% to RM6.94 million from RM8.3 million in 3QFY18, due to lower advertising income.  
For the nine months ended Jan 31, 2019 (9MFY19), the company's net loss more than doubled to RM13.28 million from RM6.47 million previously. Revenue fell 22.2% to RM20.84 million, from RM26.77 million. 
Ekovest Bhd has proposed to acquire a 23.42% stake in PLS Plantations Bhd that is held by Serumpun Abadi Sdn Bhd — a company owned by its executive chairman Tan Sri Lim Kang Hoo — for RM76.5 million. 
PLS Group has been loss-making for three years. Through its 70%-owned subsidiary Aramijaya Sdn Bhd, it runs Ladang Hutan Ulu Sedili, a 35,223-hectare forest plantation project within the Kota Tinggi and Mersing districts of Johor.   
JCY International Bhd (JCY) has agreed to receive 133.30 million yuan (RM81.05 million) as compensation for the relocation of its properties in China's Suzhou Wuzhong Economic Technology Development Area.  
JCY expects pre-tax gain from the acceptance of compensation to be around 20.64 million yuan (RM12.55 million), after taking into account the expected direct and consequential costs. 
KESM Industries Bhd's net profit in the quarter ended Jan 31, 2019 (2QFY19) plunged 95.76% to RM474,000 from RM11.18 million a year ago, hit by lower margin and as customers intituted higher inventory control measures in light of the US-China trade war uncertainties. 
Quarterly revenue fell 11.33% to RM81.11 million, versus RM91.47 million the year before, as lower demand for burn-in and testing services offset increased rendering of electronic manufacturing services. 
For the first six months ended Jan 31, 2019 (1HFY19), net profit sank 86.19% to RM3.12 milion, from RM22.55 million previously. Half-year revenue fell 10.71% to RM162.66 million, from RM182.18 million. 
Matrix Concepts Holdings Bhd has proposed a private placement of 75 million shares or 10% of its issued shares to raise up to RM147 million to fund its Indonesian Islamic financial district development joint venture, where it is participating with a 30% stake.  
This is on the back of an illustrative issue price of RM1.96, based on the five-day volume weighted average market price of Matrix Concept shares up to March 7. The placement is expected to be completed before end-June. 
T7 Global Bhd has bagged two contracts, with the first to provide splash zone structural repair and maintenance to Petronas Carigali Sdn Bhd, and the second to provide manpower services to Vestigo Petroleum Sdn Bhd. 
The Petronas job was for a two-year period beginning Jan 2, 2019, with option for T7 to extend for one additional year. Separately, the contract by Vestigo starting Oct 19, 2018 is also for a two-year period and option to extend for one additional year.  
Returns from the contracts depend on units' rates and scope of work respectively, the company said.