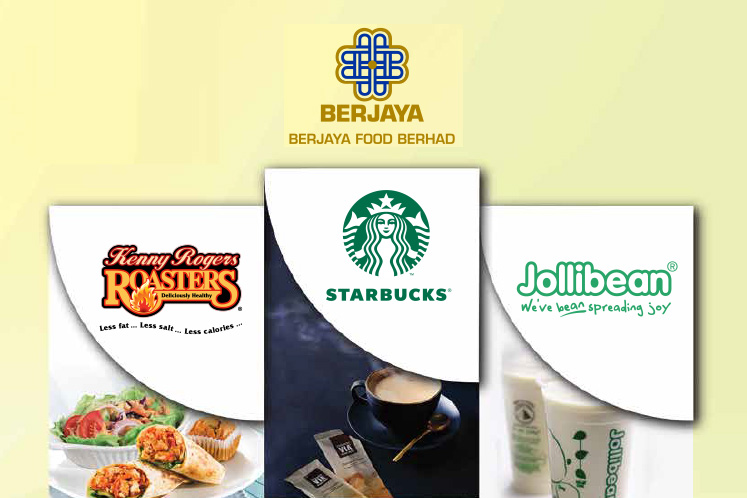 KUALA LUMPUR (Jan 31): Of the RM100 million capital expenditure Berjaya Food Bhd allocated for the current fiscal year ending April 2019, more than half has been set aside for popular coffee chain Starbucks, especially its reserve concept store.
With 20%-30% of the capex remaining, chief executive officer Sydney Quays indicated Starbucks would continue to be the focus of its expansion as the outlets had delivered stable same-store sales growth of about 6% to 8%.
On average, some 30 Starbucks outlets are opened per annum including two to three Starbucks Reserve concept stores, which cost about 30% more to set-up, he said, adding the group is also looking at different formats such as drive-through stations and outlets at transportation hubs
There are currently 317 Starbucks stores, including kiosks and drive through stations.
"The reception [to our Starbucks Reserve concept store] has been really good. We have not seen a drop in our business. Looking at what has happened in the last few months, consumer sentiment has increased for us. People are more confident now in their spending as a lot of uncertainties are over.
"We also see tourist numbers go up and that augurs well for our business. We do rely heavily on tourists as well as we have locations in a lot of tourist destinations such as airports," Quays told media at the opening of its eighth Starbucks Reserve concept store at Berjaya Times Square today in conjunction with Starbucks Malaysia's 20th anniversary.
The balance of the capex will go to its other brands including Kenny Rogers Roasters (KRR) and Jollibean.
Quays said Bfood is targeting a 12% to 15% bottom line growth for FY19.
BFood's approach for its less-popular KRR will be to adopt a smaller-scale, capex-light expansion strategy — for instance "express stores' at rest and relaxation (R&R) stations along highways, which generate high traffic. It will also revamp its existing outlets and diversify into new products such as fried chicken.
"Among brands in the company, Kenny Rogers Roasters was the brand that was challenged over the last three years or so. But we are working on it and this year, we are seeing it improve tremendously.
"And our Singapore business Jollibean is also improving tremendously through a lot of new initiatives that we have implemented. Our FY19 to FY20 outlook should be very good for Berjaya Food," Quays remarked.
He added that its Singapore soy-related beverages and street snacks business has been expanding through a franchising model in Singapore, the Philippines, and India, as it allows for greater penetration with little capex.
"We will also have our bottled soya bean [beverage] retailed eventually, similar to a fast-moving consumer goods business, so that we can go into different countries through distributorship. That will help grow the business in Singapore faster."
In FY18, Berjaya Food's net profit slumped to RM1.18 million against RM11.44 million the year before despite a 5.7% increase in revenue to RM639.74 million. The group attributed the weaker earnings to an exceptional loss arising from the disposal of PT Boga Lestari Sentosa.
At market close, Berjaya Food inched up one sen or 0.75% to finish at RM1.34, for a market capitalisation of RM486.3 million.