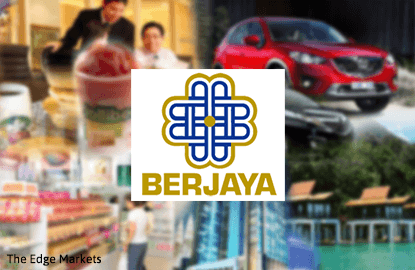 KUALA LUMPUR (Oct 5): Berjaya Corp Bhd (BCorp) is disposing of a 39.09% equity interest and C$52.91 million (RM166.5 million) worth of unsecured subordinated notes in Toronto-listed Taiga Building Products Ltd — Canada's largest independent wholesale distributor of building products — to Singapore-listed UPP Holdings Ltd, which is controlled by businessman Datuk Tong Kooi Ong, for a combined C$65.58 million (RM206.37 million) cash.
According to BCorp, the proposed disposals represent an opportunity for it to realise its entire investment in Taiga. The proposed disposals will result in a total net gain of about C$23.14 million (RM72.82 million) and it plans to use the proceeds for working capital.
Taiga is currently a 39.09%-owned associate of Berjaya Forest Products (Luxembourg) S.A.R.L (BForest), a wholly-owned subsidiary of BCorp. The Taiga group owns and operates three wood preservation plants that produce pressure-treated wood products. It also has 15 distribution centres in Canada and two distribution centres in California, the US.
Taiga's products include panel products, mouldings, doors and other specialty products. It also exports its products to Pacific Rim countries, Central and South America, the Middle East and Europe. Its products are used to build homes and commercial installations.
Tong is the chairman and director of Taiga. He is also the beneficial owner of C$22.15 million principal amount of the Taiga notes, representing 17.2% of the outstanding Taiga notes.
In a filing with Bursa Malaysia today, BCorp said the group and BForest have entered into a share purchase agreement (SPA) and a notes purchase agreement (NPA) with UPP for the proposed disposals. Tong is also the executive chairman and a substantial shareholder of UPP, holding a 25.52% stake as at Sept 29, 2016.
Under the SPA, BCorp will dispose of the entire 12.67 million shares or 39.09% stake in Taiga held by BForest to UPP for C$12.67 million (RM39.87 million) or C$1 per share. The offer price represents a price-to-earnings multiple of 2.8 times based on the audited net earnings per share of 36 Canadian cents for the financial year ended March 31, 2016. Taiga has audited net liabilities of C$26.54 million as at March 31, 2016.
BCorp will also dispose of 35.71% of the outstanding C$46 million unsecured subordinated notes issued by Taiga (Taiga notes) held by BForest to UPP for C$52.91 million or C$1.15 per sale note. Taiga notes are unsecured and bear interest at 14% per year, with maturity on Sept 1, 2020.
The market value of the notes as determined by the closing market price of the notes traded on the Toronto Stock Exchange on Oct 4 was C$1.13 per note, said BCorp.
It added that the NPA is conditional on the SPA, and cannot be completed without the completion of the SPA. The proposed disposals are expected to be completed by the first quarter of 2017.
In a separate filing with the Singapore Stock Exchange today, UPP said it has also entered into a conditional SPA with Genghis S.A.R.L. to buy another 6.24 million shares or a 19.25% stake in Taiga from the latter for C$6.24 million cash.
Genghis is controlled by a trust, of which Tong is the sole beneficiary. Accordingly, Tong is the beneficial owner of the 6.24 million Taiga shares.
UPP said the proposed acquisitions are beneficial to the group as this is earnings accretive and would enable it to undertake a separate line of business, as well as expand its geographical presence beyond Southeast Asia.
"Taiga has been in the same business for 43 years, and has carved a viable business as the largest wholesale distributor of building materials in Canada, with annual sales of over C$1.3 billion," it added.
The UPP Group is principally involved in the manufacture and sale of paper and paper products. It is also an independent power producer in Yangon, Myanmar.
BCorp shares closed unchanged at 33 sen today, bringing a market capitalisation of RM1.56 billion. UPP shares ended the day up 0.53% at 19.1 Singapore cents (58 sen), with a market cap of S$159.8 million.