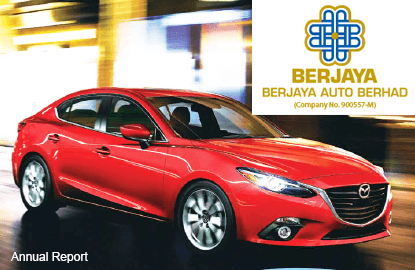 KUALA LUMPUR (March 11): Berjaya Auto Bhd (BAuto) saw its third quarter ended Jan 31, 2016 (3QFY16) net profit fell by 11.6% to RM41.13 million or 3.6 sen per share, from RM46.52 million or 4.1 sen per share a year ago, mainly due to margin contraction.
The group declared a third interim dividend of 2.15 sen, with ex-date on March 30.
In its explanatory note to Bursa Malaysia today, BAuto said the slower financial performance was attributable to the drop in profit from local operations, as well as mitigated by improved performance from Philippine operations, higher profit contribution from associated companies, and lower Employees' Share Option Scheme (ESOS) expense.
"Although revenue for Malaysia's operations increased by RM88 million or 27.5%, gross profit margin contraction and higher operating expenses have caused pre-tax profit from local operations to drop by RM15.3 million or 25.8%," it said.
BAuto further explained that its gross profit margin in local operations was impacted by price pressure arising from stiff competition, unfavourable sales mix and higher vehicle cost, as the Japanese yen continued to appreciate against our ringgit.
The group's total revenue for 3QFY16 rose 34.42% to RM522.58 million, from RM388.76 million in previous corresponding quarter.
Cumulatively, BAuto's net profit for the nine-month period (9MFY16) declined by 8.59% to RM146.39 million, from RM160.15 million previously; while revenue increased 12.24% to RM1.58 billion, from RM1.41 billion in 9MFY15.
Earnings per share (EPS) thus fell to 12.84 sen per share, from 14.15 sen per share in 9MFY15.
Commenting on the group's future prospects, BAuto's management said the remaining quarter of FY16 will be challenging, as the downturn in local and global economies has deteriorated further, since crude oil prices fell to historically low levels and thus, put further pressure on Malaysia's economy.
"On the brighter side, Philippines' auto sales volume for 2016 is forecasted to grow by 15% to 350,000 units, while the sales volume of Mazda vehicles in Malaysia is expected to continue growing, albeit at a slower pace," BAuto said.
In view of this and after taking into consideration the challenges mentioned in the above paragraph, the Board expects the Group to perform satisfactorily for the remaining quarter of the financial year.
Nonetheless, the group's board of directors said it expects BAuto to still be able to perform satisfactorily for the remaining quarter of FY16.
BAuto rose three sen or 1.39% to RM2.19 today, giving it a market capitalisation of RM2.51 billion.