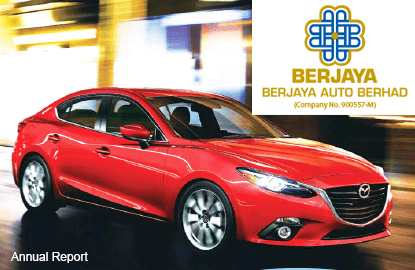 This article first appeared in The Edge Financial Daily, on March 15, 2016.
Berjaya Auto Bhd
(March 14, RM2.16)
Maintain buy with a lower target price (TP) of RM2.50: Berjaya Auto Bhd's third quarter ended Jan 31, 2016 (3QFY16) earnings were not as strong as expected. The group reported core earnings of RM42 million. This took its nine months ended Jan 31, 2016 (9MFY16) core net profit to RM150 million (excluding a collective RM4 million in employee share option scheme expense), which accounted for just 67% of our and 69% of consensus FY16 forecast.
Key reasons for the deviation were invoiced sales being apparently slightly weaker at 3.8% quarter-on-quarter, but 50% higher year-on-year (y-o-y) (this reflects the actual invoiced sales to dealers and via branches), Mazda CX3 deliveries were still small in January and more importantly, the CX5 run-out came earlier than expected.
Berjaya Auto is scheduled to launch the CX5 facelift this month. We had expected the bulk of the old CX5 run-out to occur in 4QFY16. However, most of this was done in 3QFY16. Run-outs typically involve a lot of dealer incentives to clear off inventory of the old model, which impacts margin quite a lot. In fact, this is one of the key reasons for the very weak margin in 3QFY16.
Had the CX5 run-out come in 4QFY16 (as we expected earlier), these could have been offset by the incremental volume and margin from the CX3. On the bright side, the pain has been taken and the absence of this means 4QFY16 should see meaningful margin recovery sequentially. However, our chat with management last Friday suggested that there was also a fair bit of dealer incentive for the Mazda 2. This apparently will sustain next quarter and hence, may still partly impact 4QFY16 earnings and margin.
Berjaya Auto registered sales of 658 units of the CX3 (launched in December 2015) in 3QFY16. While this accounts for 16% of volume, the bulk of the remaining 3,342 units will only be booked in 4QFY16, with some spillover into early FY17. The lower-than-expected CX3 volume was another contributor to the weaker-than-expected revenue (and ultimately earnings) growth in 3QFY16. But similar to the above point, the revenue is merely pushed into 4QFY16 and FY17.
Other than the CX5 run-out and Mazda 2 incentives, 3QFY16 margin was also impacted by a spike in promotional cost (for December to boost year-end sales). Secondly, two new service and spare parts centres were opened in 3QFY16 and these have yet to reach break-even (it typically requires six to eight months), though current operational cost is small, with a skeletal staff force of 10 as well as rental and utilities — all-in estimated at RM95,000 a month.
Other than the resumption of CX5 sales as a revenue and margin catalyst for a recovery, CX3 volume is likely to be more meaningful in 4QFY16. The group is importing an initial batch of 4,000 units, which are targeted to be cleared by April or May. Only 658 units were booked in 3QFY16, hence the bulk of the 4,000 units will be recognised in 4QFY16. The CX3 commands slightly better margin than the Mazda 2, but off a much higher selling price at RM135,000 versus Mazda 2's RM87,000. This will contribute to lifting Berjaya Auto's unit revenue and margin going forward.
Berjaya Auto announced a third interim dividend of 2.15 sen, bringing its dividend payout so far to 6.9 sen a share.
We maintain our "buy" call on Berjaya Auto but conservatively trim our TP to RM2.50 per share (from RM2.60 a share) following the earnings revision in this report. Key share price catalysts over the next 12 months: 1) potential special dividend on top of the already attractive 4% underlying dividend yield — net cash accounts for 13% of market capitalisation, FCF yield of 6.5% on the back of normalising capex; 2) further market share wins driven by new launches; 3) recovery in manufacturing earnings (via 30%-owned Mazda Malaysia Sdn Bhd and 29%-owned Inokom Corp Sdn Bhd) after the launch of the facelift CX5 — manufacturing earnings were hit last quarter by run-out of the current CX5 model. — MIDF Research, March 14