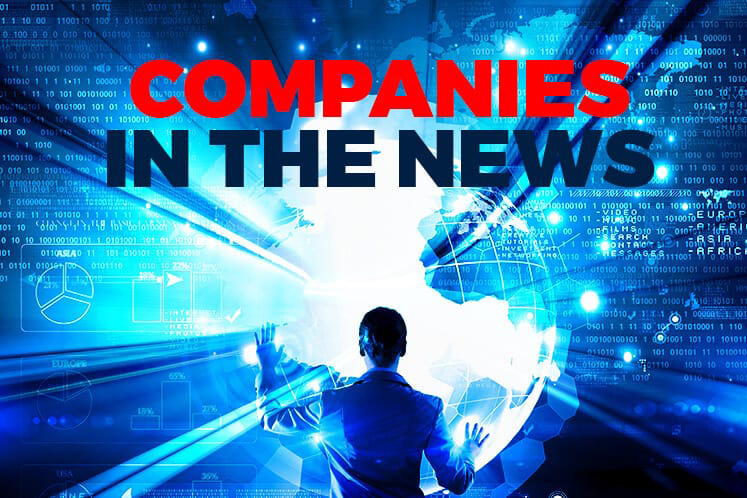 KUALA LUMPUR (Feb 7): Based on corporate announcements and newsflow today, companies in the spotlight tomorrow (Feb 8) may include: Benalec, Spring Gallery, MMHE, Hibiscus, MBSB, Scicom, Bonia, Berjaya Assets and MCT.
Benalec Holdings Bhd has declined to sell 12 plots of land owned by its wholly-owned units in Pekan Klebang, Melaka Tengah, Melaka, to engineering solutions provider Spring Gallery Bhd for about RM186.63 million.
Its units Heritage Land Sdn Bhd, Klebang Property Sdn Bhd and Heritage Land Development Bhd received three letters of offer from Million Rich Development Sdn Bhd, a wholly-owned unit of Spring Gallery, on Jan 26.
The plots, measuring a collective 4.44 million sq ft, are all leasehold lands with their leases set to expire between April 2111 and Oct 2112
Malaysia Marine and Heavy Engineering Holdings Bhd (MMHE) reported a net profit of RM48.13 million for its fourth quarter ended Dec 31, 2017, versus a net loss of RM119.67 million in the same quarter last year, despite lower revenue, as its heavy engineering segment returned to black.
Quarterly revenue fell 18% to RM247.95 million from RM303.64 million a year ago. Earnings per share was at 3 sen per share, compared to a loss per share of 7.5 sen previously.
It announced an interim dividend of 3 sen per share payable on March 8.
Hibiscus Petroleum Bhd's 50%-owned Anasuria Operating Co Ltd (AOC) is expected to drill and complete its first side-track well on the Guillemot-A field by the first half of 2018.
The execution and completion of the side-track well located off the North Sea in United Kingdom is a planned production enhancement project at the Anasuria Cluster concession off the North Sea, which will unlock 1.01 million barrels of oil from its current net 2P (proven and probable) reserves.
Hibiscus said AOC recently awarded a drilling rig contract to North Atlantic Drilling Ltd, a subsidiary of Seadrill Ltd — an international drilling contractor that owns or leases a fleet of more than 50 drilling rigs.
Scicom (MSC) Bhd has bagged a contract to develop, implement, operate and maintain an integrated Cambodia Tourism Management System for the country's Ministry of Tourism.
The company said the project period is five years, with an option to extend for two more years.
"The anticipated revenue from this contract is predicted on the number of air travellers to and from the Kingdom of Cambodia," it said, but did not indicate the estimated value of the project.
It expects the project to contribute positively to the earnings and net assets per share of the company going forward.
Malaysia Building Society Bhd (MBSB) has completed its acquisition of Asian Finance Bank (AFB) today.
The RM644.95 million acquisition was completed following MBSB's settlement of a balance cash consideration of RM357.2 million as well as the allotment of the consideration shares in accordance with the terms of the sale and purchase agreement, it said.
"Upon the listing of the consideration shares on Feb 8, 2018, an amount of RM24.81 million — representing the deposit paid on the portion of the purchase consideration settled via the consideration shares — will be refunded to MBSB," it added.
Meanwhile, Bonia Corp Bhd is contemplating the demerger of its wholly-owned unit CRG Inc Sdn Bhd and the latter's subsidiaries (collectively the CRG Group), which it proposed to subsequently be listed on the LEAP Market of Bursa Malaysia.
CRG's subsidiaries are involved in the designing, manufacturing, promoting, marketing, distribution and retailing of Carlo Rino and CR2 branded fashion products.
The exercise comprises the proposed conversion of CRG into a public company, the capitalisation of part of the retained earnings of CRG into new ordinary shares, and the subdivision of existing ordinary shares in CRG.
Bonia also proposed to distribute its entire shareholding in CRG by way of a dividend-in-specie distribution, on a pro-rata basis, to its shareholders.
Berjaya Assets Bhd (BAssets) said it has acquired a total of 3.55 million shares in Berjaya Food Bhd (BFood), representing a 0.94% equity interest, for RM6.06 million or RM1.71 a share.
Following the acquisitions, BAssets now holds a total of 7.55 million shares or a 2% equity interest in BFood.
BAssets said the purchases, undertaken by its wholly-owned subsidiary Sublime Cartel Sdn Bhd, were made at market prices and funded by internal funds.
MCT Bhd on the other hand, said Philippine-listed Ayala Land Inc, its major shareholder via Regent Wise Investments Ltd (RWIL), intends to explore options to boost MCT's public shareholding spread.
As at Feb 5, MCT's public shareholding spread stood at 24.65%, according to MCT's Bursa Malaysia filing today. This does not comply with the Main Market listing requirements, which specified at least 25% of a company's listed shares must be in the hands of public shareholders.
In view of this, RWIL will explore various options to rectify the public shareholding spread issue witin three months of the closing date of the offer, or such time frame as allowed by the authorities.