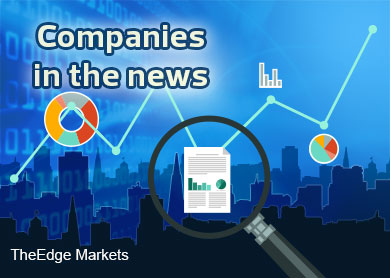 KUALA LUMPUR (Dec 2): Based on news flow and corporate announcements today, companies that may be in focus tomorrow (Wednesday, Dec 3) could include the following: Benalec Holdings Bhd, Bumi Armada Bhd, Malaysia Airports Holdings Bhd (MAHB), Advance Synergy Bhd, Sime Darby Bhd, Brahim's Holdings Bhd and UMW Oil & Gas Corp Bhd (UMW-OG).
 
Benalec Holdings Bhd is disposing nine pieces of reclaimed land in Pekan Klebang, Melaka, for RM107.2 million, which is expected to be completed by the end of the fourth quarter of 2015. In a filing with Bursa Malaysia today, Benalec said the disposal will enable it to repay outstanding debts, as well as finance ongoing and future reclamation projects.
 
The group's wholly-owned unit Sentosacove Development Sdn Bhd (SDSB), had entered into a sale and purchase agreement with Jadex Land Sdn Bhd (JLSB) and its subsidiary Quality Paradise Sdn Bhd (QPSB), to dispose of the lands.
 
Six of those tracts measure about 39.27 acres and will be sold to QPSB for RM71.8 million. "Benalec is expected to realise an estimated gain of RM18.82 million (after taxation), which translates into a gain of RM0.02 per share against the estimated net book value of approximately RM46.75 million," said Benalec.
 
The remaining three pieces of land, measuring 19.36 acres, will be sold to JLSB for RM35.4 million. The group expects an estimated gain of RM9.28 million or 1 sen per share from the disposal, against the land's net book value of RM23.05 million.
 
Benalec closed the day 2.5 sen or 3.76% higher at 69 sen, for a market capitalisation of RM539.3 million.
The Employees Provident Fund has trimmed its equity stake in Bumi Armada Bhd to 8.51%, the latter's filing with Bursa Malaysia disclosed today.
The retirement fund had, on November 27, disposed some 1.7 million shares that represented a 0.03% stake in the offshore oilfield service provider and floating production storage and offloading player.
Today, Bloomberg reported that the Malaysian oil and gas services provider climbed from a record low, after saying the oil rout and the cut in spending by state-owned energy company, Petroliam Nasional Bhd (Petronas), will have "minimal" impact on earnings.
Bumi Armada sank the most on record yesterday (Monday, Dec 1) after oil slid to a five-year low and an announced spending cut of as much as 20% by Petronas dented investor confidence.
Bumi Armada closed up 4 sen or 4% today at RM1.05, giving it a market capitalisation of RM5.98 billion.
 
Malaysia Airports Holdings Bhd (MAHB) is looking to roll out a series of services over the next three years to enhance its passengers' experience, while uplifting its non-aeronautical revenue, which is mainly derived from non-airport operations business and commercial activities.
 
The airport operator has mapped out initiatives that will be deployed from 2015 to revolutionise connectivity, enhance check-in processes and develop mobile apps for total airport experience.
 
"We believe that this will give us the opportunities for revenue uplift, by making better decisions through adoption of data analytics.
 
"We will also be able to leverage on our existing lazy assets to enhance passenger experience, by creating a seamless travel environment," MAHB Senior General Manager Khair Mirza said at the Future Travel Experience (FTE) Asia 2014 conference and exhibition at KLIA today.
 
MAHB closed 2 sen lower to RM6.80 today, giving it a market capitalisation of RM9.36 billion.
 
Advance Synergy Bhd plans to buy a 50% stake in South Korea-basedSH Tour Co Ltd for US$800,000 or RM2.766 million in cash, in a bid to venture into the Korean market for new travel and tour packages and products.
 
In a filing with Bursa Malaysia this evening, Advance Synergy said its indirect wholly-owned subsidiary, Orient Escape Travel Sdn Bhd (OET), had signed a share purchase agreement to acquire 35,000 shares in SH Tour, which is located in Nonhyun-dong, Gangnam-gu, Seoul.
 
"This venture rides on the Korean Wave such as K-Pop, K-Fashion, K-Beauty and K-Wellness. It will provide our travel division an opportune presence in South Korea, which will be well-positioned to promote growth in both inbound and outbound tourism.
 
"The proposed acquisition is in line with the intention of our travel and tours division to have a greater presence in Asia, and to further enhance its overall long term growth plan," it said.
 
Share price of Advance Synergy was unchanged at 16 sen today, with more than 1.484 million shares done. It has a market capitalisation of RM106 million.
 
Plantation giant Sime Darby Bhd is selling a controlling 55% stake in its China-based palm oil refining unit to a local business entity, for RMB85.25 million (RM45.2 million).
 
In a statement to Bursa Malaysia today, Sime Darby said it was selling the 55% stake in wholly-owned Rizhao Sime Darby Oils & Fats Co Ltd to Shandong Wanbao Agricultural Co Ltd.
Sime Darby said it had signed the equity transfer agreement with Shandong Wanbao, last Friday (Nov 28).
 
"The proposed transaction offers a good opportunity for Sime Darby to improve its commercial ability and viability in other edible oils in PRC (People's Republic of China)."
 
Sime Darby said the transaction is due for completion within six months from the date of the equity transfer agreement.
 
Upon completion, Sime Darby and Shandong Wanbao will own 45% and 55% respectively, of Rizhao Sime Darby.
 
Sime Darby shares closed 14 sen higher to RM9.58, giving it a market capitalisation of RM 58.09 billion.
 
In-flight caterer Brahim's Holdings Bhd is forming a joint-venture with an Australia-based company, to develop an abattoir in Cataby, Western Australia.
In a filing with Bursa Malaysia this evening, Brahim's said it has signed a memorandum of understanding (MOU) with Carpenter Beef Pty Ltd, to form the joint venture (JV). It said it will take a 49% stake in the JV, while the remaining 51% will be held by Carpenter Beef.
Brahim's statement noted it intends to up its stake in the JV to 51%, once the abattoir receives a "halal" certification from Jabatan Kemajuan Islam Malaysia. It added that the abattoir will meet regulatory requirements from China, the European Union and the US Department of Agriculture.
"The plant will have a capacity of 100,000 carcasses per annum on a single shift basis, with a 400 head per day capacity. The first stage of completion will produce a 4-way cut facility," the group said.
Brahim's added that the plant will be fully operational within six to nine months from investment date, with additional capital expenditure of A$15 million (RM43.70 million). Brahim's closed 1 sen higher to RM1.39 today, giving it a market capitalisation of RM328.44 million.
Oil & gas (O&G) counters led by UMW Oil & Gas Corp Bhd (UMW-OG) staged a rebound in morning trades yesterday (Dec 1) on bargain hunting, according to analysts. The rebound followed a beating in O&G stocks yesterday, as global oil prices fell to a five-year low of below US$68 per barrel.
However, analysts are unsure if the surge reflects a dead cat bounce pattern, which depicts a short term recovery, followed by a continuation of the downtrend.
 
AllianceDBS Research analyst Arhnue Tan told theedgemarkets.com that it was still unclear as to the impact of crude price volatility on O&G stocks. Nevertheless, Tan said "it is good to see" that the market had embarked on bargain hunting for cheap O&G stocks, following the selldown yesterday.
Another O&G research analyst said the rebound in O&G stocks today, was due to investors picking up oversold stocks as valuation had improved. "Valuation has dropped a lot, but fundamentally, there is no change. I don't think O&G stocks would reach its former valuation or peak," he added.
 
UMW-OG closed 15 sen higher to RM2.48 today, giving it a market capitalisation of RM5.36 billion.