This article first appeared in Forum, The Edge Malaysia Weekly, on May 24, 2021 - May 30, 2021.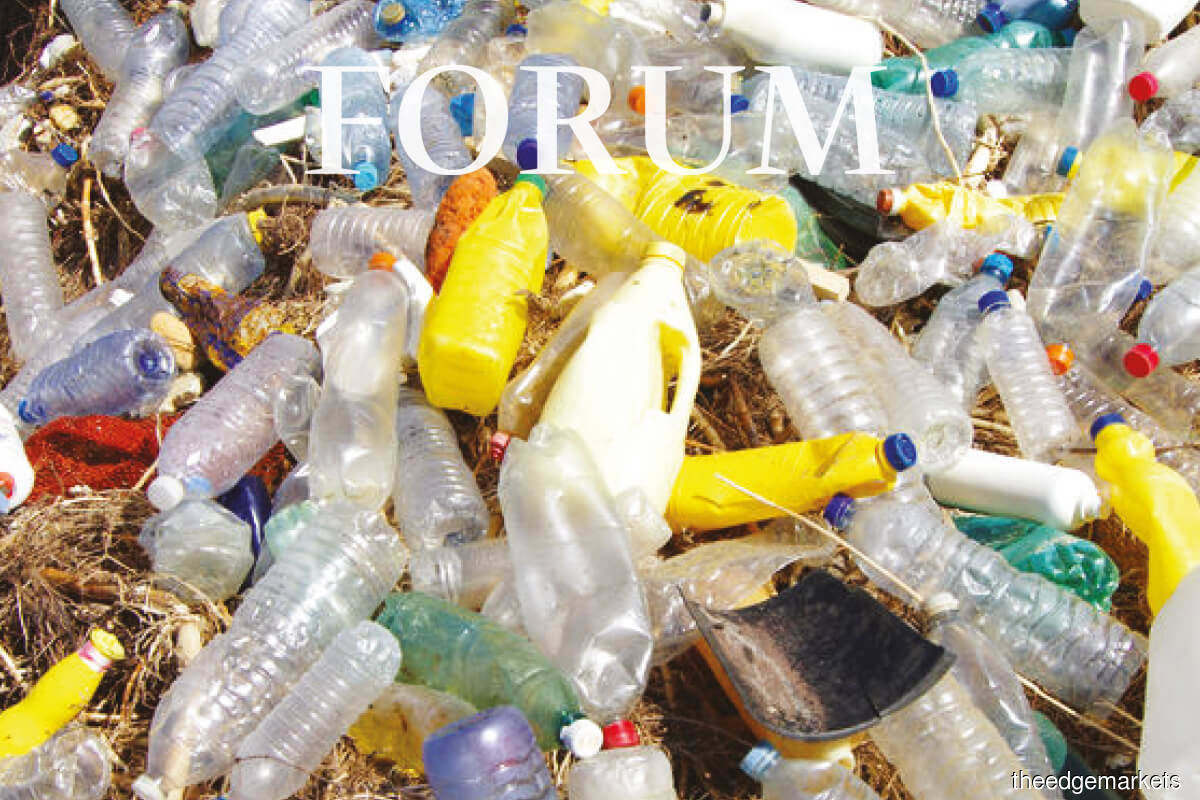 One of the most poignant cartoons of our times shows a fishmonger telling a customer who asks for a plastic bag to hold the fish she has bought that "it's already inside". Meaning, the plastic is in the fish.
There is a whole backstory behind that line, of course.
Plastic pollution has become so serious that up to 80% of all litter in the oceans is made up of plastics, a 2017 United Nations report states.
The problem relates to microplastics, which are 5mm or less in size, making them small enough to be ingested by marine life. A few steps later, they end up on our plates.
To illustrate the scale of the problem, the United Nations Environment Programme (UNEP) says in its report that as much as 51 trillion microplastic particles — 500 times more than the stars in our galaxy — litter the seas.
Asia plays a major role in this crisis, contributing more than 80% of the 5 million to 13 million tonnes of plastic waste that enter the oceans every year.
It took just 70 years for the plastic industry to get to that point, but a global effort to stop this hazard to life is now underway.
At the launching of UNEP's Clean Seas campaign in 2017, the agency urged countries and businesses to aim to eliminate microplastics from personal-care products, ban or tax single-use plastic bags, and dramatically reduce other disposable plastic items by 2022.
For Southeast Asia, the economic opportunity of addressing the problem is worth billions.
This March, the World Bank released a series of studies that examine the potential in developing a circular economy around plastics and addressing marine debris in Malaysia, the Philippines and Thailand. The studies found that less than a quarter of plastics used in the three countries are being recycled.
More than 75% of the value of the plastics is lost — amounting to US$6 billion per year across the three countries — with single-use plastics being discarded rather than recovered and recycled, the World Bank says.
The ratio is higher for Malaysia, where 81% of the material value of plastics is lost through disposal.
However, key market barriers must be addressed to unlock the value in this ubiquitous resource. This will require a ramping up of changes that are being undertaken in government policy and programmes, industry practices and consumer behaviour.
In terms of policy instruments, the Malaysia Roadmap Towards Zero Single-Use Plastics, 2018-2030 is in place, and a Circular Economy Roadmap is being developed to address plastic production, consumption, recycling and waste management.
Major plastic industry associations and private companies in Malaysia are also exploring plastics circularity initiatives, the study notes.
While the government is aiming to achieve its plastic recycling goals through private sector participation, the World Bank study provides a market assessment of the plastics value chain in the country, a critical element for achieving these goals.
For perspective, the study identifies a host of issues that are hindering the development of plastics recycling as a new area for economic growth.
In a nutshell, the study states that an enabling environment is required to encourage investments in plastics recycling and reduce plastic waste.
The analysis presents a broad set of recommended interventions to first stem the loss of value of plastics by laying a strong foundation for the recycling industry, strengthen the demand for recycled products and transform Malaysia's plastics recycling industry into a globally competitive and resilient industry.
The following are some highlights of the recommendations to illustrate how the proposed interventions aim to solve the demand, quality and supply issues affecting the industry.
Among interventions aimed at raising the value of the resource is to increase waste collection and sorting efficiency of post-consumer plastics.
For this, says the study, sorting efficiency needs to increase across the post-consumer plastics value chain, including the stages of waste disposal, separate collection and transport and sorting of materials from mixed sources.
This requires an integrated solid waste management system to be put in place.
In the middle term, lasting three to five years, developing consumer awareness campaigns is essential. Awareness and behaviour change campaigns that focus on litter prevention, source segregation (for example, dry versus wet waste) and recycling are critical for the success of plastics circularity, the study notes.
As the informal sector plays an important part in the recycling industry, another measure to strengthen demand is to provide inclusion opportunities for its agents.
Five best cases for informal sector inclusion are microenterprises supported by non-governmental organisations, cooperatives and collectives, franchisee development, supplier development and independent waste banks, the study states.
In the longer term, beyond five years, measures like digitalising the collection of recyclables will be necessary.
"Demand for ethically sourced recyclables is expected to increase as brands increase their commitments to use recycled content," says the study.
This requires increased transparency of the plastics value chain in Malaysia by tracing the flow of materials through the informal collectors, junk shops, aggregators and recyclers via digital tools and thereby increasing the value of plastics, it states.
Another systemic change required is to set recycled-content targets across all major end-use applications of plastics.
Recycled content targets should be complemented by longer-term measures to discourage the use of 100% virgin plastics in industries where recycled plastics can technically replace virgin plastics without any impact on product performance, the study states.
Further, the study recommends that "design for recycling" standards be mandatory for all plastics, and especially for packaging.
Packaging constitutes 48% of the revenue of all plastics consumed in Malaysia. Without fundamental redesign and innovation, about 30% of plastic packaging will never be reused or recycled, it states.
Finally, disposal of plastics into landfills and dumpsites must be restricted, the study states. A large portion of the plastic resins covered in the study that are not recycled end up in landfills and dumpsites or ends up in the environment.
"One of the first steps towards becoming a resource-efficient society would be to eradicate the landfilling of any waste that can be used as a resource," the study says.
Readers of a certain vintage will remember a time before we became a throwaway society. Today, the World Bank study reaffirms the values of an era that put a premium on responsible consumption.
Nature, it seems, works in cycles.
For the future, the recommendations, if taken up, look set to cause a foundational transformation of society.
---
Rash Behari Bhattacharjee is an associate editor at The Edge