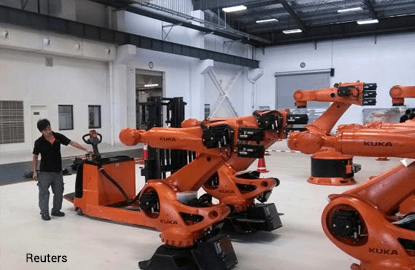 SINGAPORE (July 4): There is a revolution sweeping the workplace, and it's called robotics process automation (RPA).
With the evolution in technology, software and IT systems have become sufficiently capable and reliable in performing operational tasks. These include processing invoices and ensuring compliance with prescribed rules and standards.
But the drive to automate now poses a threat to the livelihood of large swathes of white-collar workers.
A Deloitte survey of its clients shows that over the next 12 months, 30% of respondents plan to implement process automation in one form or another. Some 18% plan to introduce analytical software, while 15% are looking into cloud computing.
"There is an established relation between continuous improvement and automation," states Deloitte in its report.
The advantages of replacing humans with machines for repetitive tasks are obvious: speed, consistency and reliability. Computers do not need sleep and will not pause in the middle of a workday to smoke, have lunch, stand around the water cooler, or post Facebook updates.
How bad will it get, and how much time do these workers have before they are replaced?
More on the impact of automation on the workforce can be found in the latest issue of The Edge Singapore (week of July 4, p21 "Robots are taking over corporate back offices, potentially displacing workers" by Chan Chao Peh), available at Singaporean newsstands today.