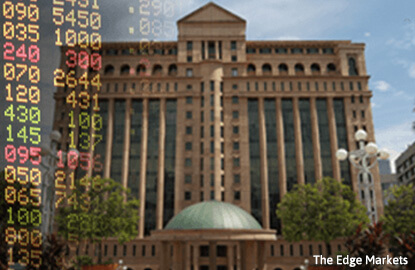 This article first appeared in The Edge Financial Daily, on 30 November, 2016.
 
 
Foreign institutions continued their selling spree on Bursa Malaysia as the ringgit weakened but which was supported by local institutions. Bank Negara Malaysia's move to maintain the overnight policy rate at 3% was welcomed by market participants. The market was directionless and the FBM KLCI traded sideways within a narrow trading range. The index increased only 0.2% in a week to 1,627.26 points last Friday after trading between 1,621.42 and 1,632.71 points. The market remained directionless and closed at 1,626.93 points yesterday.
 
Trading volume was low, indicating that the market is staying on the sidelines. The average daily trading volume last week was only 1.4 billion shares, compared with 1.6 billion shares two weeks ago. The average trading value has also declined from RM2.1 billion two weeks ago to only RM1.6 billion. Total market valuation fell RM5 billion from the previous week to RM1,657.6 billion last Friday. 
 
Foreign institutions continued their selling last week, but at a lower volume, and local participants bought. Net selling from foreign institutions last week was RM493 million, while net buying from local institutions and retailers were RM388 million and RM105 million respectively. The ringgit was at RM4.45 last Friday, compared with RM4.41 in the previous week.
 
The market was generally weighed down by telecommunication stocks, but supported by finance stocks. In the FBM KLCI, gainers outpaced decliners nine to five. The top gainers for the week were Genting Malaysia Bhd (+3.3% in a week to RM4.73), Hong Leong Bank Bhd (+2.2% to RM13.24) and Genting Bhd (+2% to RM8). The top decliners were Axiata Group Bhd (-6.6% to RM4.26), Telekom Malaysia Bhd (-1.9% to RM6.22) and Petronas Dagangan Bhd (-0.8% to RM23.58).
 
Markets in Asia mostly rebounded and closed higher. China's Shanghai Stock Exchange Composite Index increased 2.1% in a week to 3,261.49 points last Friday. Hong Kong's Hang Seng Index added 1.8% to 22,723.45 points. Japan's Nikkei 225 index surged 2.3% in a week to 18,381.22 points and Singapore's Straits Times Index rose 0.7% to 2,859.33 points. 
 
The US market continued to rise as the market is expecting an interest rate hike that also caused the US dollar to strengthen. The US Dow Jones Industrial Average increased 1.5% in a week to 19,152.14 points last Friday. London's FTSE 100 Index rose 0.9% in a week to 6,835.14 points and Germany's DAX Index added 0.1% to 10,678.89 points.
 
The US dollar index continued to climb to a fresh 13-year high last week. The index increased from 101.3 points two weeks ago to 101.5 points last Friday. Commodity exchange gold fell 2% in a week to US$1,183.4 (RM5,277.96) an ounce, the lowest in nine months. Crude oil (Brent) rose 0.5% in a week to US$47.12 per barrel. Crude palm oil on Bursa Malaysia jumped 5.6% in a week to RM3,031 per tonne to close at its highest level in four years.
 
The FBM KLCI is forming a triangle chart pattern, a pattern that usually indicates a continuation of a trend, and in this case, a downtrend. The index remained bearish below the short-term 30-day and 200-day moving averages and the Ichimoku Cloud indicator. It also failed to climb back above the broken support level at 1,650 points, which now acts as the immediate resistance level.
 
Momentum indicators are starting to move sideways as the index was directionless in the past two weeks. The slightly elevated Relative Strength Index and moving average convergence divergence indicators indicate a weak bearish momentum. The narrowing Bollinger Bands also indicate a weak momentum. However, the bearish trend may strengthen if the index falls below the immediate support level at 1,620 points. 
 
The FBM KLCI trend is in a bearish trend correction, and there is a higher chance for the trend to continue its bearish trend as indicators are bearish. The weak ringgit strengthens the bearish sentiment. Last week, the market was supported also by the generally bullish market performances globally. A breakout below 1,620 points, the immediate support level, would confirm the continuation, and the index may test the crucial support level at 1,610 points. If it does not break below this level, expect the market to remain directionless.
 
---
Benny Lee is chief market strategist for Jupiter Securities Sdn Bhd. Jupiter Securities is a participating broker in Bursa Malaysia. He can be contacted at [email protected]. The views expressed in the article are the opinions of the writer and should not be construed as investment advice. Please exercise your own judgement or seek professional advice for your investment decisions.