This article first appeared in The Edge Financial Daily, on November 16, 2018.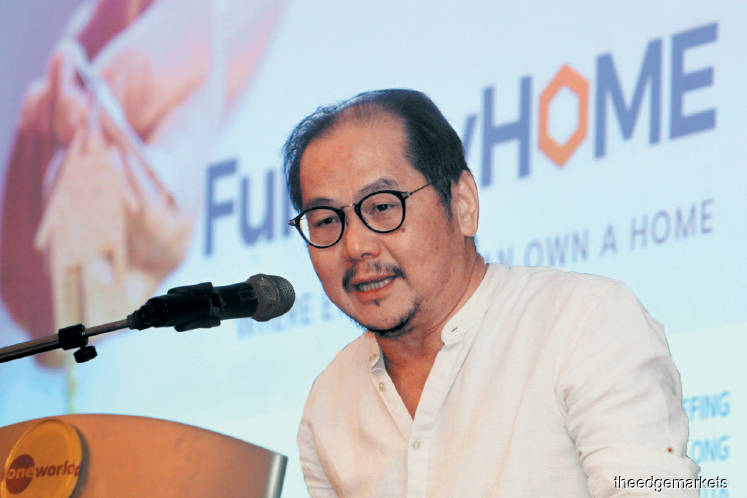 KUALA LUMPUR: EdgeProp Sdn Bhd chairman Datuk Tong Kooi Ong has urged critics of the FundMyHome scheme to be open-minded to the idea and what the alternative home financing platform is aiming to achieve.
During his opening remarks at a session with the media yesterday, he acknowledged the usual response from proponents of renting — that those who cannot afford to buy property should rent — but urged property industry stakeholders to hear the company out.
"I am aware that the standard response by many is that if you cannot afford to own a home, you should rent. It is better not to take on excessive risk.
"FundMyHome was created to try and resolve the above dilemma. How can I own a house if I cannot afford to at this time? At first glance, it is a contradiction. But is it? That is all we ask. Be open-minded and hear us out," said Tong.
"Because if it works, imagine the lives we can help," he added.
There has been much criticism of FundMyHome since its launch earlier this month from various quarters including politicians, property players and others, with concerns ranging from whether the platform would encourage speculation and have some negative economic implications to whether it would benefit property developers rather than buyers.
Tong said this is rather normal for any kind of innovation introduced, adding that new solutions usually go through several stages of perception.
"Usually, a new innovation will go through a process of being ridiculed, then it will be debated, and finally everyone would look back at it and say, 'Well, it was obvious from the very beginning,'" he said.
However, he is not surprised by the misunderstanding of FundMyHome as it is a very new concept and could be difficult to grasp at first, adding that he welcomes the confusion as it indicates that people are trying to better understand the scheme.
A shift in mindset is very difficult, said Tong, pointing out that everyone has been used to buying a property in the same way for decades. However, he said no party has disputed the value proposition of FundMyHome, as the math speaks for itself.
EdgeProp will be engaging the various stakeholders, including the Real Estate and Housing Developers Association (Rehda), on FundMyHome to better explain the workings of the platform tomorrow. The company will also be holding a public forum on Sunday to address questions and concerns that the public may have.
Asked if he was dismayed by the criticisms and cynicism, Tong said he faced a similar situation during his time as the chief executive officer of Phileo Allied Bank when the bank launched online share trading and banking in the mid-1990s.
"We were the first to do it and we were also the first bank to pay interest for current accounts. During those days, there were a lot of objections and there were a lot of people that thought it cannot be done. But clearly today, everybody does it.
"Innovations will always initially be met with cynicism," he said.