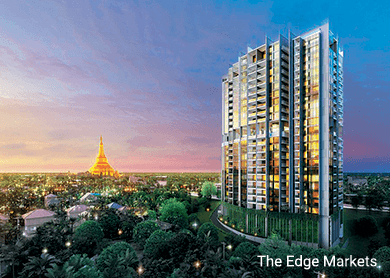 MYANMAR has been at the forefront of investors' interest over the last two years. Its largely untapped economic potential and positive macro-fundamentals have led to a sharp increase in foreign investments in the country. As a result, real estate prices and rents boomed. 
The buoyant market conditions saw prime office rents reaching as high as US$13 (RM49) per square feet per month, US$6,000 monthly rent for quality apartments, and new property launches that were launched at record prices and sold out within weeks. This has attracted investments from many estate investors from Singapore. The list includes Keppel Land, Oxley Holdings, Pan Pacific Hotels Group, Amara Holdings and Soilbuild amongst others.
A different picture has emerged in 2015. Investor sentiment towards the market has cooled somewhat. The Office Rental Index compiled by us showed that prime office rents remained flat in first quarter of 2015; this is after a decline of 4% in the previous quarter, and 12% off the peak level achieved in the second quarter of 2013. 
The completion of newer office spaces like the Union Commercial Centre and the Strand Office has weakened the bargaining position of existing landlords, resulting in  weakening rents. The once-hot residential property market has gone lukewarm. New launches have found buyers harder to come. The take-up of the excellent Rosehill Residences, a high quality residential project by Soilbuild, has been affected by the more cautious sentiment on the ground.
A key reason for the less buoyant sentiment, especially in the real estate market, was the increasing uncertainty over the political stability of the country leading up to the elections this year. This has inhibited new investments into the country with many corporations we have met saying that they are adopting a wait-and-see approach before committing resources to the country.
While the caution is understandable, it might be misplaced. Generally, despite the political posturing, economic reforms are likely to continue. Fundamentally, all the factors that drew investors to the country remain intact. Arguably, the country has also become better equipped to manage its growth.
The government's effort to improve its soft infrastructure like improving the clarity of laws and reducing bureaucracy is starting to benefit businesses. The Myanmar Investment Commission is committed to streamlining and shortening its approval process. Numerous improvements have been made to hard infrastructure like utilities, telecommunications and transport.
This is visible from investments that have continued to flow into the market. Foreign direct investment (FDI) into Myanmar has soared to more than US$8 billion this fiscal year, US$3 billion more than anticipated according to Aung Naing Oo, head of the state-run Myanmar Investment Commission. The US$8.1 billion in FDI is 25 times the US$329.6 million received in 2009/2010, the year before the military ceded power.
Four foreign banks namely, the United Overseas Bank Group (UOB), Overseas Chinese Banking Corporation (OCBC), Bank of Tokyo-Mitsubishi UFJ and Sumitomo Mitsui Banking Corp have commenced operations over the last three months.  In the oil and gas sector, Britain's BG Group, Australia's Woodside Petroleum and Chevron's Unocoal have announced deals to invest into Myanmar recently. In May, Melia Hotels International announced that it signed an agreement to operate a hotel in Yangon.  
The increased presence of these foreign companies will have positive downstream effect on demand for accounting, legal, tax and technology services. Foreigners who are better trained are still needed to manage these projects and companies.  This will lead to an increase in demand for better quality offices and apartments. The lack of quality real estate in key cities like Yangon and Mandalay means that demand will still be largely unmet over the next few years.  
Once the political situation stabilises, we expect investors to start to put their money to work in Myanmar and as a result, we expect a sharp increase in foreign investments in the coming years. Real gross domestic product grew by 8.5% in 2014 and is expected to average around 8.2% per annum over the next three years, according the estimates by the World Bank. 
At this growth rate, the economy will be one of the fastest growing economies in Asia. Its unfulfilled economic potential lies in the country having an excellent geographic location bordering two of the world's most populous countries, India and China, and being endowed with plentiful resources and minerals and more importantly, with its large population of almost 55 million people. — theedgeproperty.com
---
Tan Kok Keong is the CEO of REMS Advisors, a real estate consultancy, and the co-founder of Fundplaces, a real estate dedicated crowdfunding platform.
This article first appeared in The Edge Financial Daily, on June 11, 2015.