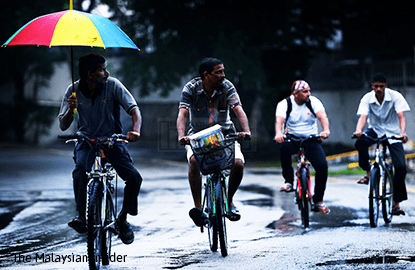 KUALA LUMPUR (Feb 18): Tourism and Culture Minister Datuk Seri Mohamed Nazri Abdul Aziz today urged Malaysians to be gracious hosts to Bangladeshi workers coming to the country to work in sectors that are unappealing to locals.
He said the contribution of Bangladeshis should not be belittled because there would be industries crippled without them.
"Don't make light of their contributions to the Malaysian economy.
"We need them, so be good hosts to them. They are doing work that Malaysians don't want to do," he said today.
Nazri was commenting on Putrajaya's plan to open its doors to 1.5 million Bangladeshi workers.
He said Malaysians did not have to be surprised, as the number was the size of the workforce that Bangladesh was ready to supply to any country that needed workers.
"It does not mean that 1.5 million people are coming here. We will only take in the workers when we need them," he said.
The Home Ministry in a statement last Thursday said there was no specific figure for Bangladeshi workers entering the country, because it depended on the actual needs of the employer during the application.
According to the ministry, the figure of "1.5 million Bangladeshi workers" widely mentioned in media coverage was actually the number of Bangladeshis registered with the Bangladesh government for employment.
Yesterday, Lawyers for Liberty had expressed concern over the rising xenophobic and racist sentiments against the government's plan to bring in 1.5 million Bangladeshi workers over the next three years.
Its executive director Eric Paulsen said it was unacceptable that the people made sweeping statements that migrant workers would cause all manner of social problems, including having relations with local women and causing a rise in crime, diseases, security issues and even terrorism.