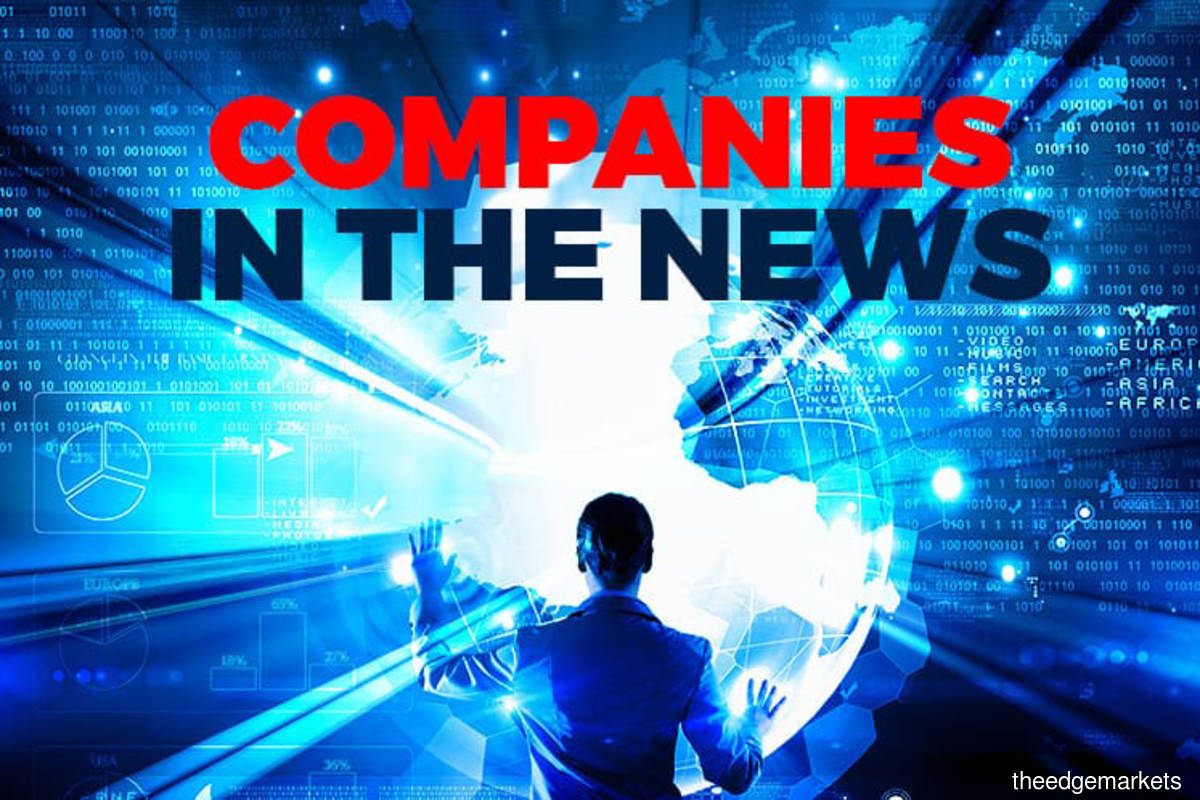 KUALA LUMPUR (March 16): Based on corporate announcements and news flow today, companies in focus on Wednesday (March 17) may include: Berjaya Corp Bhd (BCorp), Classic Scenic Bhd (CScenic), Complete Logistic Services Bhd, Daya Materials Bhd, FGV Holdings Bhd, My E.G. Services Bhd (MyEG), Sime Darby Plantation Bhd, Superlon Holdings Bhd, Time dotCom Bhd, Top Glove Corp Bhd and United Malacca Bhd.
Berjaya Corp Bhd has appointed Abdul Jalil Abdul Rasheed as its new chief executive officer, the first time someone outside the Tan family will hold the position. The former CEO of Permodalan Nasional Bhd will take over from Datuk Seri Robin Tan, who was promoted to executive deputy chairman of the conglomerate.
Complete Logistic Services Bhd (CLSB) has acquired 18 million shares representing 14.94% stake in Classic Scenic Bhd (CScenic) from Lim Ket Leng Holding Sdn Bhd (LKLH) for RM1.63 per share or RM29.34 million cash. LKLH is the private vehicle of the Lim family, which collectively control 31.76% stake in CScenic prior to the disposal. The deal is at a 8.58% premium to the five-day volume weighted average market price of CScenic shares at RM1.50.
Daya Materials Bhd today inked a series of agreements as part of its debt restructuring scheme, following the approval in principle from its creditors in July last year. The Practice Note 17 company said it signed seven supplemental agreements and two debt settlement agreements with its creditors. All defaulted debts will be restructured and settled in accordance with the respective agreements, it added.
FGV Holdings Bhd said its controlling shareholder, the Federal Land Development Authority (Felda), needs more time to formulate a "firm plan" on the plantation group's listing status, following the unsuccessful attempt to take it private. FGV noted that it has requested an extension of time for Felda to address the matter, and for FGV to rectify the shortfall in its public shareholding spread, as Felda's shareholding has bumped up to an 80.99% stake, after its mandatory takeover offer at RM1.30 per share.
My E.G. Services Bhd (MyEG) has proposed to undertake a one-for-one bonus issue of up to 4.15 billion new shares. The group's issued share capital stood at RM638.78 million, comprising 3.67 billion shares as at March 10. Under a maximum scenario, the enlarged share capital of MyEG could rise to 8.3 billion shares. Concurrently MyEG has also proposed the diversification to include healthcare-related businesses, namely medical screening services, distribution of vaccines, other pharmaceutical products and medical devices, and the provision of quarantine and quarantine-related services.
Sime Darby Plantation Bhd (SDP) has withdrawn the discovery application it filed in the US against the Liberty Shared managing director Duncan Jepson, after the Securities Commission clarified that there is no investigation against SDP with regards to a complaint filed by Jepson against the plantations group. SDP had commenced legal proceedings against Jepson to obtain critical information pertaining to his complaint, which alleged SDP had made wrongful disclosures in its 2019 Sustainability Report.
Superlon Holdings Bhd's net profit for the third quarter ended Jan 31, 2021 leapt 63.2% to RM3.52 million, from RM2.15 million a year ago, due to higher gross profit margin, lower selling and distribution expenses. Quarterly revenue, however, fell 13.5% to RM22.86 million from RM26.44 million, due to reduction in revenue contributed by its manufacturing division. The group declared a third interim dividend of 1.25 sen per share, which will be paid on April 21. For the nine months ended Jan 31, 2021, the group's net profit grew 37.2% to RM10.02 million, from RM7.3 million a year earlier. Revenue in the period slid 12% to RM72.89 million, from RM82.83 million a year earlier.
Time dotCom Bhd, whose share price has jumped over 50% in the last one year, has proposed a two-for-one bonus issue of its shares. The fixed-line telecommunications provider currently has 604.26 million shares. Post bonus issue, the share base may increase by 1.21 billion shares to between 1.81 billion and 1.82 billion shares, according to the group's filing.
Top Glove Corp Bhd's unit Top Glove Sdn Bhd was charged in the Sessions Court with 10 counts of failing to provide workers' accommodations certified by the Labour Department (JTK) last November. The company, which was represented by its director, pleaded not guilty to all charges. The charges were framed under Section 24D(3) of Workers' Minimum Standards of Housing and Amenities Act 1990, which provides for a fine not exceeding RM50,000 if found guilty. The court set April 28 for re-mention.
United Malacca Bhd's net profit rose 326.14% to RM13.73 million or 6.54 sen per share in the third quarter ended Jan 31, 2021 (3QFY21), from RM3.22 million or 1.54 sen per share a year earlier, as the plantation group enjoyed higher production, higher selling prices and lower costs. Quarterly revenue rose 22.3% to RM106.98 million, from RM87.47 million. For the nine-month period ended Jan 31, 2021 (9MFY21), net profit fell 67.93% to RM24.71 million, from RM77.06 million in 9MFY20, which included gain on disposal of RM103.2 million. Revenue for the nine-month period rose 40.38% to RM291.71 million, from RM207.8 million.