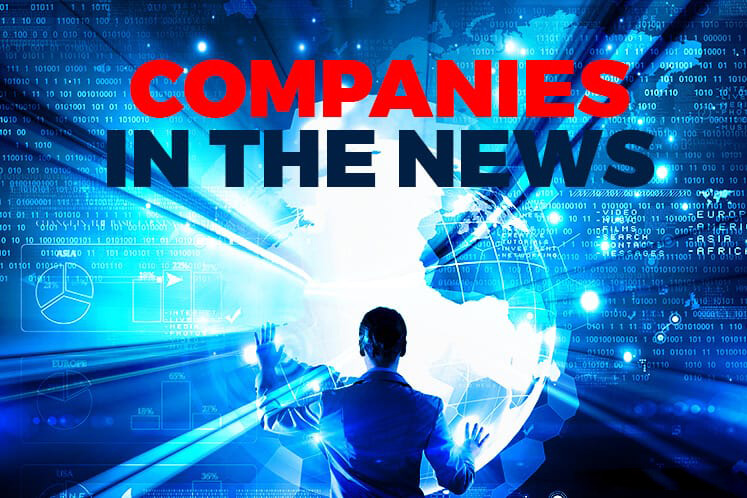 KUALA LUMPUR (June 12): Based on corporate announcements and news flow today, companies in focus on Wednesday (June 13) may include: Bermaz Auto Bhd, Poh Kong Holdings Bhd, Tiger Synergy Bhd, Comintel Corp Bhd, PUC Bhd, AppAsia Bhd, Sumatec Resources Bhd and George Kent (M) Bhd.
Bermaz Auto Bhd's net profit for the fourth quarter ended April 30, 2018 came in 2.6 times higher at RM57.19 million compared with RM22.21 million in the previous year, thanks to higher domestic sales of its well-received CX-5 and CX-9 models that were launched in the last quarter of 2017.
This brought earnings per share for the quarter to 4.93 sen from 1.93 sen. Revenue grew 61% year-on-year to RM570.59 million from RM354.03 million.
The group has recommended a fourth interim dividend of 2.3 sen per share and a special dividend of 2.7 sen per share, totalling a payout of 5 sen per share, which will be payable on July 26.
For its full year, net profit rose 19% y-o-y to RM140.07 million from RM117.65 million, while revenue rose 20% y-o-y to RM1.99 billion from RM1.66 billion.
On prospects, the group said profitability of its associate Mazda Malaysia is expected to rise with the increase in volume of cars to be exported to the ASEAN region, coupled with high demand in the domestic market.
Poh Kong Holdings Bhd's third quarter net profit fell 41.79% to RM4.31 million from RM7.4 million a year earlier, due to fluctuation in gold prices.
Quarterly revenue however rose 17.16% to RM240.44 million, from RM205.23 million previously, on higher demand for gold jewellery and gold investment products, as well as revenue from new outlets.
Cumulative nine-month net profit fell 5.03% to RM14.48 million or 3.53 sen a share from RM15.24 million or 3.71 sen a share in the previous corresponding period. Revenue was 18.53% higher at RM731.35 million from RM617.01 million previously.
Going forward, Poh Kong said the group is optimistic of maintaining its growth and leading position in Malaysia, despite more challenging and competitive conditions in the domestic jewellery market.
Tiger Synergy Bhd is to undertake a RM22.3 million mixed development property in Sungei Kandis, Klang.
Comprising either a residential or commercial development, the project will be carried out on a joint-venture basis with the group's wholly-owned units, Pembinaan Terasia Sdn Bhd and Harapan Handal Sdn Bhd.
Tiger Synergy said the two subsidiaries inked a joint-venture agreement today under which Tiger Synergy said Harapan Handal will contribute to the development land.
Pembinaan Terasia, meanwhile, will bear the entire cost and expense of developing the land, which will take around three years to complete.
The proposed joint-venture will enable Tiger Synergy to participate and benefit from the business venture and is expected to contribute positively to the future profitability and the cash flow of Tiger Synergy as well as the stability of its future income stream.
Comintel Corp Bhd has been served with a statutory demand by U Television Sdn Bhd (UTV) to pay a sum of RM20.83 million, together with an annual interest rate of 8%
The statutory demand was in relation to litigation action taken by Comintel Sdn Bhd, a wholly-owned subsidiary of Comcorp, against UTV and Tan Sri Vincent Tan Chee Yioun.
The sum — being UTV's counterclaim against Comintel — amounted to RM22.2 million, inclusive of interest calculated from Aug 18, 2017 to June 12, 2018.
It said it will be seeking legal advice on this matter.
Last year, Comintel announced it had failed in its final bid to claim losses arising from an alleged breach of contract worth RM20.8 million with UTV and Tan.
PUC Bhd has settled for a RM40 million investment in e-commerce platform 11Street Malaysia, less than half the RM90 million it had initially considered.
Its wholly-owned PUC Ventures Sdn Bhd has inked a share subscription agreement with Celcom Planet Sdn Bhd, to subscribe to 12.348% equity interest in Celcom Planet for a total cash consideration of RM40 million, instead of subscribing for up to 24% equity interest in Celcom Planet for a total cash consideration of up to RM90 million.
The subscription includes a 1.72% equity interest in Celcom Planet, which was a done deal on April 24.
Celcom Planet, who owns and operates 11Street Malaysia, was loss-making as at end-2017, incurring a net loss of approximately RM129 million with net liabilities at some RM104 million.
AppAsia Bhd is partnering with the Malaysian Institute of Accountants (MIA) to develop an industry-wide electronic bank confirmation platform, which will facilitate the bank confirmation process in the country.
The group said its wholly-owned unit, Extol Corp Sdn Bhd, inked a collaboration agreement with MIA, which is valid over the next 10 years.
The directors are of the opinion that the collaboration agreement is in the best interest of AppAsia after considering, amongst others, the potential financial contribution to its earnings.
Sumatec Resources Bhd is confident that it will be declassified as a Practice Note 17 (PN17) company by 2019, as it looks to submit its regularisation plan to Bursa Malaysia "very soon".
The regularisation plan includes a scheme to pay off its RM230 million legacy debt to its creditors, as well as future business operations that will keep the company in the black for the next two financial quarters after the approval of the plan.
Barring unforeseen circumstances, Sumatec said it will have the plan ready in two or three weeks' time which will then be announced to the stock exchange.
George Kent (M) Bhd's net profit for the first quarter ended April 30, 2018 rose 16.49% year-on-year to RM21.54 million from RM18.5 million, driven mainly by its metering business.
Revenue for the quarter, however, fell to RM99.76 million from RM129.42 million previously.
In a statement today, George Kent chairman Tan Sri Tan Kay Hock said the group had achieved yet another record set of first-quarter results.
Going forward, with a strong balance sheet, the group will increase its resources substantially, in terms of manpower and financial resources, to accelerate the growth in its metering and other water-related businesses and investments through M&As and strategic partnerships.