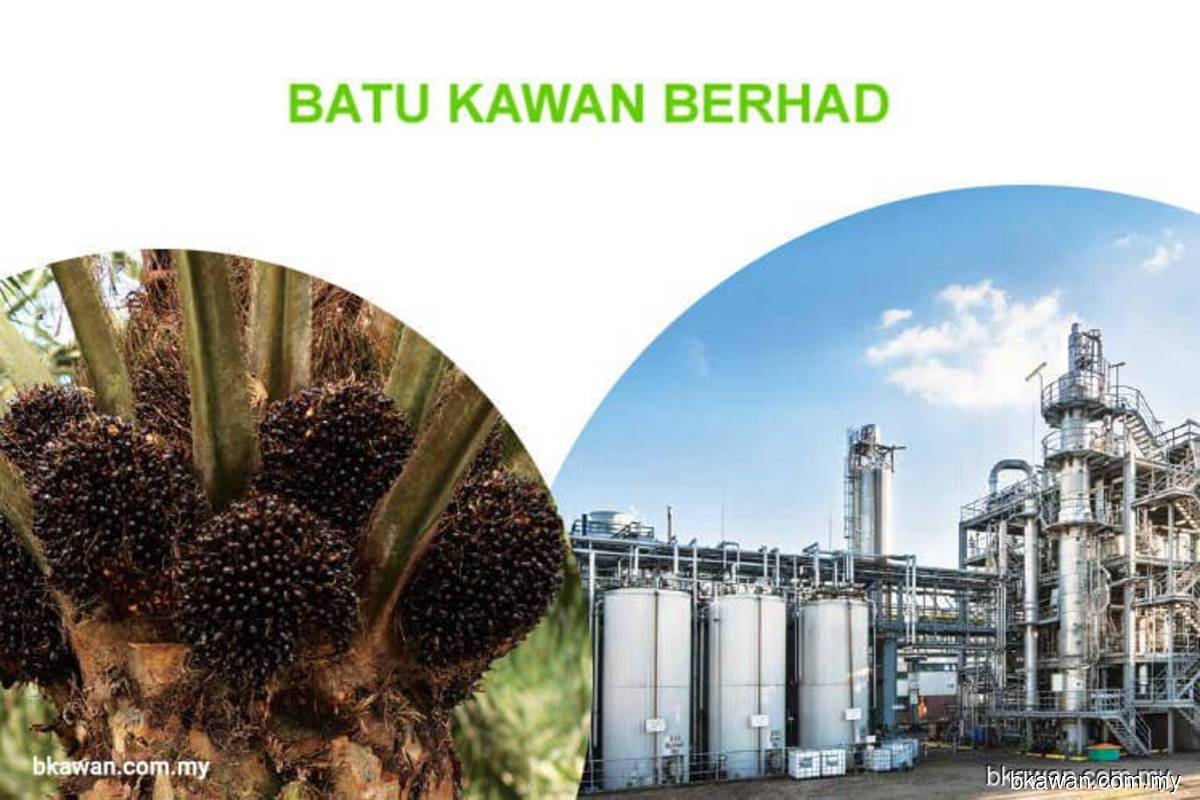 KUALA LUMPUR (Nov 23): Batu Kawan Bhd posted a 262% spike in its net profit to RM308.04 million for the fourth financial quarter ended Sept 30, 2021 (4QFY21), from RM85.17 million in the previous year's corresponding quarter, helped by higher crude palm oil (CPO) and palm kernel (PK) prices.
Quarterly revenue grew 50% to RM6.16 billion, from RM4.12 billion.
Its performance for the quarter under review was supported by a surplus of RM4.26 million on sales of land and government acquisitions, offset by foreign currency exchange translation loss of RM2.24 million on intercompany loans denominated in foreign currencies, and a RM61.88 million impairment on an estate in Liberia.
Excluding the non-operational items, it said its pre-tax profit would have been RM951.47 million.
Segmentally, Batu Kawan said its plantation operations posted a three-fold increase in profit to RM594.25 million, amid higher CPO and PK selling prices, profit contribution from IJM Plantations Bhd, and better profit contribution from processing and trading operations.
The manufacturing segment's profit grew 29% to RM168.01 million, contributed by better performance of its oleochemical division China and Europe, as well as its industrial chemical division, which benefited from higher sales volume and selling prices of caustic soda.
However, its property development segment did not fare as well. The segment posted a 51% decline in profit to RM14.6 million on lower revenue.
Quarter-on-quarter, Batu Kawan's net profit fell 20% from RM386.47 million, despite a 14% increase in revenue from RM5.4 billion.
For the financial year ended Sept 30, 2021 (FY21), its net profit leaped to a record high of RM1.15 billion, surging 175% from RM417.28 million, while revenue rose 29% to RM20.72 billion, from RM16.08 billion a year earlier.
In its prospects, the group expects its plantation segment to continue its strong performance into the current financial year ending Sept 30, 2022, helped by higher CPO prices.
It said its oleochemical division expects to maintain its performance for FY22, despite ongoing challenges from volatile raw material price movements and logistic issues caused by the Covid-19 pandemic. 
"As for the group's industrial chemical division, given the strong prevailing caustic soda prices, a better performance is expected in FY22.
"The group therefore expects to maintain a strong performance for FY22," it said.
Batu Kawan's share price went up four sen to RM21.90 on Tuesday (Nov 23), giving it a market capitalisation of RM8.75 billion.
Year-to-date, the counter has gained 22.4% from RM17.90.