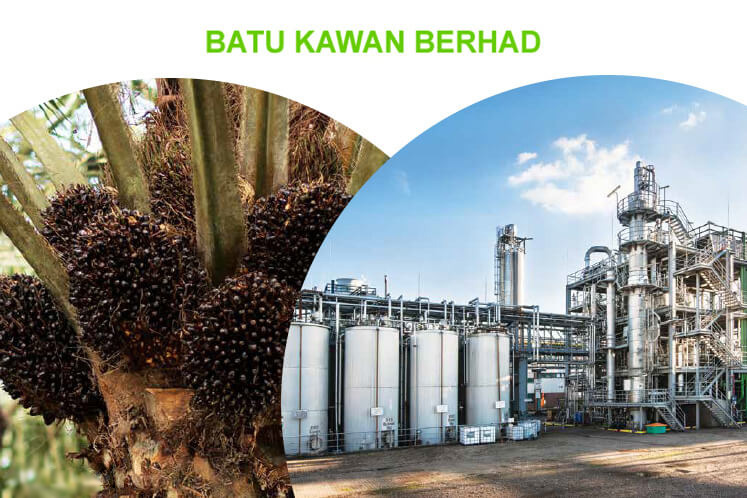 KUALA LUMPUR (May 15): Batu Kawan's net profit in the second quarter ended March 31, 2019 (2QFY19) jumped 41.67% to RM79.29 million from RM55.97 million a year ago mainly due to lower operating expenses, finance cost and income tax expense.
This has resulted in higher earnings per share of 19.92 sen in 2QFY19 versus 13.93 sen in 2QFY18, Batu Kawan said in a filing with Bursa Malaysia.
Its quarterly revenue, however, fell 15.55% to RM4.08 billion against RM4.83 billion a year ago.
The plantation division's profit was 65.2% lower at RM104.08 million versus RM299.14 million a year ago, as revenue dropped 18.1% to RM1.61 billion.
"Despite a 6.3% improvement in fresh fruit bunches (FFB) production to 1.05 million mt, the current quarter's profit was impacted by weaker crude palm oil (CPO) and palm kernel (PK) selling prices."
The group's manufacturing division also reported a lower profit contribution of RM120.6 million, 17.7% less than RM146.6 million a year ago. Meanwhile, revenue for the segment also fell 14% to RM2.39 billion versus RM2.78 billion.
The Oleochemical division's profits also dropped 17.01% to RM90.93 million from RM115.6 million a year ago due to lower revenues and margins.
Meanwhile, its industrial chemical division posted a 23.6% lower profit at RM28.8 million down from RM37.7 million due to lower selling prices and higher energy cost.
However, its property development division registered a higher profit of RM7.11 million up from RM6.6 million a year ago despite a decrease in revenue to RM34.8 million from RM37.69 million.
Its investment holdings division recorded lower foreign exchange currency loss of RM3.93 million compared with foreign exchange currency loss of RM135.33 million in 2QFY18, on translation of inter-company loans denominated in foreign currencies and RM25.6 million surplus from Government acquisition of plantation land.
For the cumulative six months ended March 31, 2019 (6MFY19),  its net profit rose 18.82% to RM215.97 million from RM181.77 million a year earlier, despite 18.29% lower revenue of RM8.3 billion versus RM10.16 billion in 6MFY18.
In view of low CPO prices due to high stocks, the group said its plantation division profit for FY19 is expected to be lower than the preceding year.
"Notwithstanding a challenging business environment, the group's oleochemical division is anticipated to sustain its performance with reasonable capacity utilisation,"
The group's industrial chemical division performance is projected to be satisfactory despite higher energy and raw material costs," it added.
Overall, the group said it anticipates a satisfactory profit for the FY19.
Shares of Batu Kawan closed four sen or 0.24% lower at RM16.80 today, valuing the group at RM6.66 billion, after some 14,100 shares changed hands.