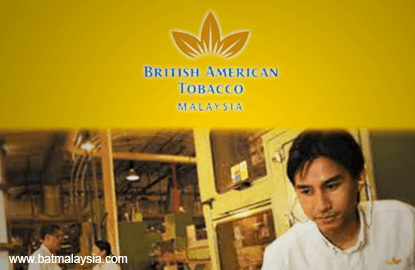 KUALA LUMPUR (Feb 17): British American Tobacco (Malaysia) Bhd (BAT), the country's largest tobacco company, saw its net profit increase 5.7% to RM196.12 million or 68.1 sen per share in the fourth quarter ended Dec 31, 2015 (4QFY15) from RM185.53 million or 65.6 sen per share a year ago on lower finance costs and operating expenses.
Revenue, however, declined 12.2% to RM1.06 billion from RM1.21 billion in 4QFY14.
BAT declared a fourth interim dividend of 78 sen per share, amounting to RM222.71 million, for the financial year ended Dec 31, 2015 (FY15), payable on March 24.
For the 12-month period (FY15), the group posted a 1.7% increase in net profit to RM913.31 million or RM3.19 per share from RM898.13 million or RM3.16 per share in FY14, despite revenue falling 4.6% to RM4.58 billion from RM4.8 billion a year ago.
In a filing with Bursa Malaysia today, BAT said its market share grew 0.9 percentage points (ppt) to reach 62.1% in FY15, driven by Peter Stuyvesant's growth in the aspirational segment (1.3 ppt increase).
However, BAT said its gross profit had declined 2.2% due to a 13.5% decline in domestic volumes as a result of softer demand among consumers brought on by the implementation of the goods and services tax and an impact of an unusually "large" November excise increase.
It added that contract manufacturing volumes for export business registered a steep decline, resulting in a total reduction (cigarettes and non-cigarettes) of 28.4% compared with FY14, driven by lower demand from Australia, South Korea, the Philippines and Taiwan.
"Additional productivity savings and tax-driven price increases during the year could only partially mitigate the overall impact of the reduction in domestic and contract manufacturing volumes, the inflationary costs increases and escalating cost pressures due to lower production volumes," said BAT.
Operating expenses registered a 8.7% decline in FY15 due to the absence of a one-off cost related to discontinuation of cigarette rations in FY14, along with savings of RM14 million as the group trims overhead costs and marketing expenditure.
On prospects, BAT said the outlook for FY16 will largely depend on the massive excise increase and recovery of the legal market will depend on enforcement efforts to reduce high illegal cigarette trade.
In November last year, the government had increased excise duty for cigarettes by more than 40%.
"The significant increase in the illegal trade will be the single most important challenge in 2016 for the legal tobacco industry," it said.
BAT shares closed 18 sen or 0.32% higher at RM56.08 today, with a market capitalisation of RM16.01 billion.