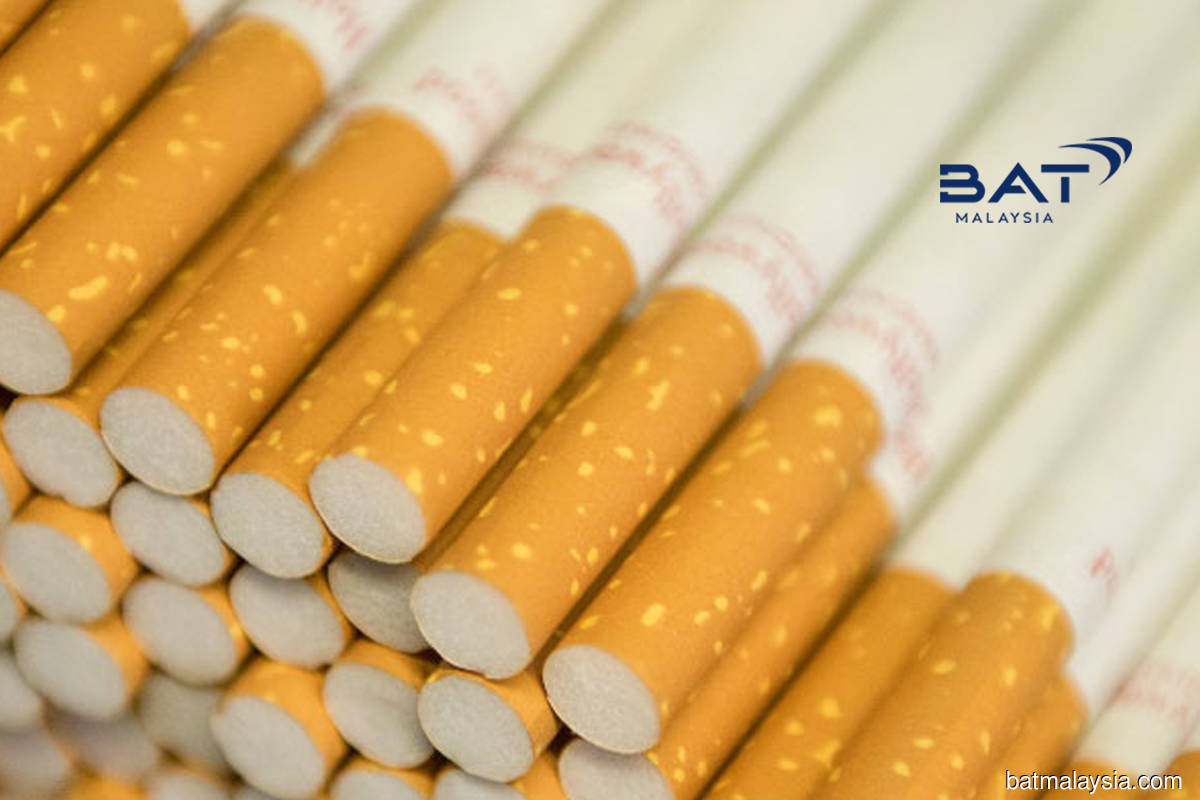 KUALA LUMPUR (Aug 4): British American Tobacco (Malaysia) Bhd's (BAT) profitability in the third quarter of 2021 (3Q21) is expected to be hit by lower volume due to the implementation of the full movement control order (FMCO), Hong Leong Investment Bank (HLIB) Research said.
In a post-briefing research note today, HLIB Research said that the latest FMCO rules "will no doubt have an impact on BAT's sales volume", where BAT's domestic volume in June 2021 more than halved to 172 million sticks from the first half of 2021's (1H21) monthly high of 379 million sticks in May.
"However, BAT has shared that it is well prepared to deal with logistical hiccups, having ensured that its retailers are adequately supplied with a sufficient inventory for the duration of the FMCO, with the inventory increasing by 66.5% year-on-year (y-o-y) in 2Q21.
"We believe BAT's forward planning to hold a larger inventory may be part of the reason its market share increased in 1H21 (BAT's market share of the legal market increased by 1.5 percentage points [ppts] to 52.4% versus the same period last year)," it said.
HLIB Research maintained its target price (TP) of RM12.95 for the counter, while keeping its earnings forecasts unchanged.
Separately, TA Research estimated the monthly impact of the FMCO to be RM50 million in revenue or about 25% of average monthly sales.
"Further extension of the FMCO may not bode well for the group but we understand BAT is committed to speedily accessing the market and resupplying products once the situation permits," TA Research said in a note today.
"1HFY21 revenue (for the first half ended June 30, 2021) made up around 48% of our FY21 estimate, and we deem it to be intact considering factors such as greater conversion from illicit to the legal industry, which would offset the impact of the MCO," it said, maintaining its "buy" call on BAT with an unchanged TP of RM15.70.
However, TA Research also pointed out that BAT had pivoted transactions to its business-to-business (B2B) e-commerce supply chain, which combined with the higher inventory, helped the group in supplying products to its key customers who made up the bulk of the 172 million sticks of cigarettes sold in June 2021.
The research notes pointed out that Malaysian illicit cigarette trade dropped to 57.9% in mid-2021 from 64.1% in December 2020, signalling that Malaysia's Budget 2021 initiatives to curb illicit trade was paying off.
Meanwhile, Malaysian authorities are expected to finalise the regulatory framework for nicotine vape products and e-cigarettes as early as 2H21, which could bode well for existing manufacturers like BAT, although expectations of legalisation remain low.
Thanks to the recovery in the latest quarter, BAT's net profit for 1HFY21 rose 27.86% to RM134.73 million from RM105.38 million. Revenue, meanwhile, rose 13.1% to RM1.16 billion from RM1.03 billion.
The group posted a dividend of 24 sen for the latest quarter, bringing the 1HFY21 total to 45 sen, up from 35 sen for the same period last year.
BAT shares rose to 12 sen or 0.83% this morning before paring gains to trade down two sen or 0.14% at RM14.52, giving the cigarette manufacturer a market capitalisation of RM4.15 billion.