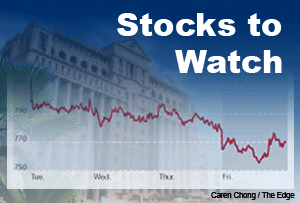 KUALA LUMPUR (Sept 22): Based on news flow and corporate announcements today, these are some of the stocks that could stir the market's interest tomorrow (Sept 23):
British American Tobacco (Malaysia) Bhd (BAT) has announced that the prices of all its cigarettes will revert back to their last pricing before Sept 8, effective today. Its managing director Stefano Clini said the move was for the tobacco player to remain "competitive".
With the revised cigarette prices, the Dunhill range is now priced at RM12, KENT at RM12, Benson & Hedges at RM12, Peter Stuyvesant at RM10.50, Pall Mall at RM10.50.
BAT had raised the prices of its cigarettes by RM1 per pack, across the board, on Sept 8.
A-Rank Bhd's net profit for the fourth quarter ended July 31, 2014 (4QFY14) climbed 56% to RM2.99 million, or 2.49 sen per share, from RM1.91 million or 1.6 sen per share a year ago despite lower revenue.
The aluminium billets manufacturer said its revenue for the quarter fell 3.44% to RM123.35 million from RM127.75 in the same corresponding period, due to a slight drop in its business volume.
The group has proposed a first and final single-tier dividend of 2.25 sen per share, amounting to RM2.7 million, for the financial year ended July 31, 2014.
For the full financial year, A-Rank's net profit jumped 28.4% to RM9.5 million against RM7.4 million a year ago. Revenue expanded almost 13% to RM487.3 million from RM431.5 million recorded in FY13.
A-Rank said domestic demand is expected to remain supportive of growth. However, for Malaysia the increase in electricity tariff and natural gas pricing effective Jan 1 and May 1, 2014 respectively had adversely impacted margins.
"We will continue to focus on improving cost efficiencies to mitigate the effect of expected inflationary pressures following the rise in the electricity tariff and natural gas pricing," it said.
Iris Corp Bhd has been chosen by the Royal Malaysian Customs Department as an approved refund agent for the goods and services tax (GST) paid by foreign tourists under the Tourist Refund Scheme.
The investment amount for the Tourist Refund Scheme is RM155.1 million but Iris will be paid an administrative fee of 15% from the GST refund services.
In a Bursa Malaysia filing, Iris said the implementation of the Tourist Refund Scheme would be financed through internally generated funds and bank borrowings.
In addition, Iris said its appointment could be extended for a further two years subject to its performance.
Land and General Bhd (L&G), which has cash and cash equivalents of more than RM300 million, is looking for new land bank in the country's top three property hotspots – the Klang Valley, Johor and Penang.
L&G managing director Low Gay Teck told reporters after its annual general meeting that the group has the appetite to expand its land bank in these areas for future housing developments.
L&G, the master developer of Bandar Sri Damansara here, currently owns a 2,500 acres estate land in Lembah Beringin, Selangor, which will be converted into residential land.
It also owns three tracts of freehold land held for development in Sungai Buloh, Selangor; Tebrau, Johor, and Sungai Petani, Kedah.
Mitrajaya Holdings Bhd bagged a RM269.78 million contract for main contract works to build a campus for international school Raffles American School in Nusajaya, Johor.
The construction and engineering firm said in an exchange filing that its wholly-owned unit Pembinaan Mitrajaya Sdn Bhd had on Sept 19 accepted the award from Raffles American School for the job. They include academic blocks, boarding facilities, support facilities and outdoor sport facilities.
Mitrajaya said the contract, which will contribute positively to its future earnings, spans 80 weeks and the project is expected to be complete within 80 weeks of commencement of work order.
Chin Well Holdings Bhd's managing director and co-founder Tsai Yung Chuan has bought a total of 21.53 million shares in the manufacturer of nuts and bolts, Bursa Malaysia filing showed today. The shares were equivalent to a 7.9% stake.
The acquisition was done by Benua Handal Sdn Bhd, with Tsai deemed interested, on Sept 19 via an off market deal. The shares were valued at RM1.40 apiece, which was 12.5% lower than the day's closing price of RM1.60 on the open market.
With the acquisition, Tsai now holds 158.41 million Chin Well shares, equivalent to a 58.12% stake.
Koperasi Permodalan FELDA Malaysia Bhd (KPF) has bought one million shares in Brahim's Holdings Bhd last Friday. KPF now has a direct 6.47% equity interest, or 15.28 million shares, in the airline caterer after the share purchase.
KPF has been accumulating shares in Brahim. It bought some 1.7 million shares in Brahim's at the beginning of this month. The Edge Weekly reported last week that Brahim's is in negotiations to purchase fast food chain Burger King from Ekuiti Nasional Bhd.
The company told the stock exchange last week that it was exploring the business opportunity and engaging in preliminary discussions to buy the Burger King franchise, but has yet to enter any definitive agreement on the acquisition.