Click / Tap image to enlarge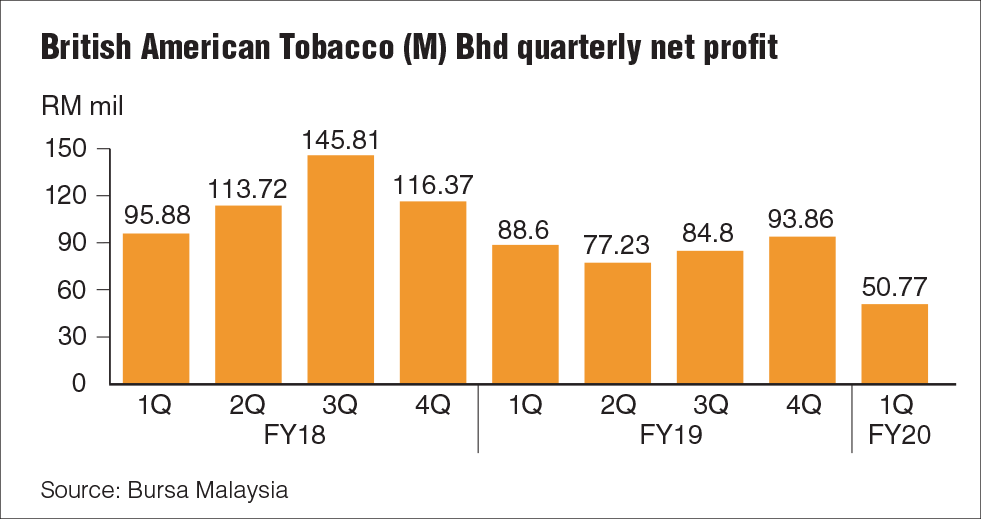 Click / Tap image to enlarge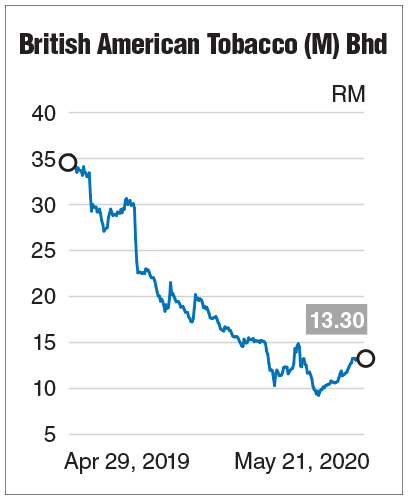 Click / Tap image to enlarge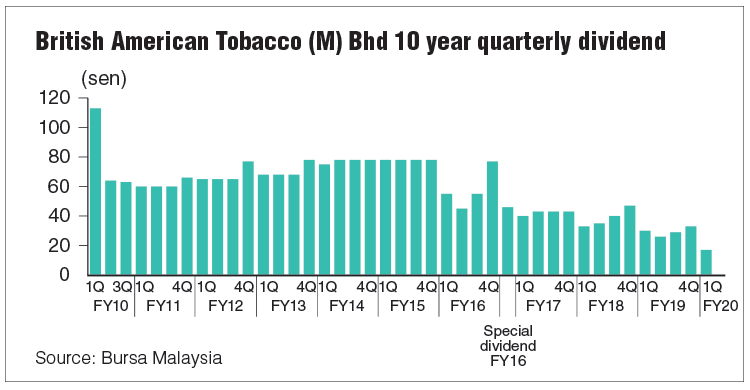 KUALA LUMPUR (May 21): British American Tobacco (M) Bhd's net profit dropped again in the first quarter of its financial year 2020, as the continued contraction of the legal cigarette market impacted its business, its stock exchange filing today showed.
Its net profit for the three months ended March 31, 2020 fell 42.7% to RM50.77 million from RM88.6 million in the corresponding quarter a year ago, while revenue fell 22.5% to RM481.15 million from RM620.96 million as sales volume declined 21%. The latest quarterly profit is the lowest since 2QFY16 and marks the fifth consecutive quarterly earnings decline for the tobacco player.
It also announced a first interim dividend of 17 sen, almost half the 30 sen it declared in the same quarter last year, payable on June 18. According to Bloomberg data, this is the lowest interim dividend declared by the group since 1990.
The interim dividend, to be paid out on June 18, represents 96% of its 1QFY20 earnings per share of 17.80 sen – which was at 31 sen in 1QFY19 – or a total of RM48.54 million.
BAT said the decline seen in its net profit was due to contraction of the legal market as a result of illicit cigarette volume and illicit nicotine vaping growth, market downtrading, and lower duty-free sales as a consequence of travel restrictions put in place to combat the spread of the COVID-19 pandemic.
Total legal industry volume declined by 11% year-on-year, it said, as the sales of illegal cigarette and illicit nicotine vaping products continued to grow despite enforcement actions by government agencies. "The results from enforcement actions were insufficient to drive a recovery in legal cigarette volumes," it said.
Its latest quarterly earnings were supported by its rationalisation exercise, launched last year, which helped reduce operating expenses by 19.4% to RM52.18 million from RM64.73 million previously, it said.
"Our 1QFY20 results were within expectations despite the disruption from the Movement Control Order (MCO) in the last two weeks of quarter one. However, due to the supply disruptions of legitimate tobacco manufacturers during the MCO period, consumers were forced to turn to cheap, black market cigarettes. As a result, it has been highly disappointing to see a severe uptick in illegal cigarette activities," said BAT managing director Jonathan Reed.
"The government is losing RM5.1 billion in tax revenue to the tobacco black market at a time when the country needs every ringgit for the COVID-19 fight and the subsequent recovery. It's alarming that at a time when movement controls were at their strictest and the legal business had distribution disruptions – the criminal syndicates were able to establish a virtual monopoly by brazenly flouting MCO orders and profiteer from a national health and economic crisis
"Now, more than ever, there must be focus given over to ensure that effective structural reforms are put in place to tackle this problem once and for all. The sustainability of the industry and livelihoods of our employees will be very much dependent on tackling the tobacco black market scourge, a regulated nicotine landscape and sensible fiscal policies," Reed added.
BAT shares finished unchanged at RM13.03 per share today, giving it a market capitalisation of RM3.8 billion. The stock is down about 58% from a year ago.