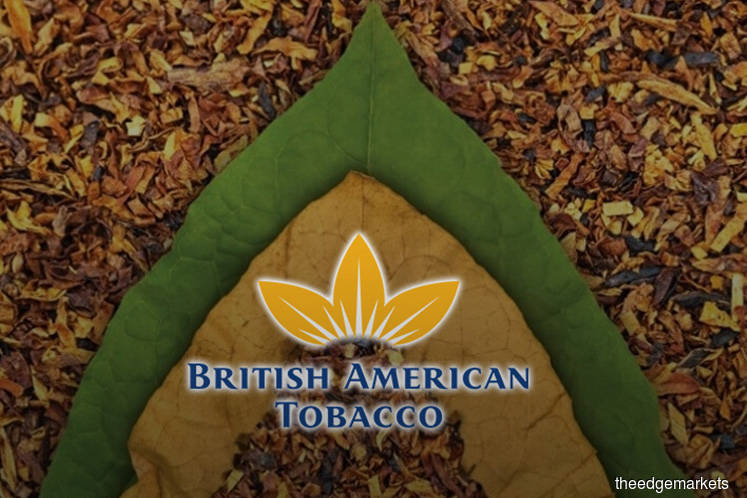 KUALA LUMPUR (Feb 21): British American Tobacco (Malaysia) Bhd's (BAT) net profit rose 43.59% to RM116.37 million in the fourth quarter ended Dec 31, 2018 (4QFY18) from RM81.04 million last year as revenue climbed 12.52%.
Revenue grew to RM770.62 million from RM684.86 million, its stock exchange filing today showed. Earnings per share (EPS) climbed to 40.8 sen from 28.4 sen previously.
During the quarter, it also registered lower operating expenses of RM80.48 million versus RM102.9 million in 4QFY17, which it said is due to its continuous effort to improve cost efficiency while investing in strategic opportunities and segments.
The group declared a fourth interim dividend of 47 sen per share or a total of RM134.2 million, payable on March 19. This brings its full FY18 payout to 155 sen per share, compared with 169 sen per share a year ago.
Despite the stronger 4QFY18 results, its full year net profit fell 4.89% to RM468.53 million from RM492.64 million a year ago, as revenue slid 3.2% to RM2.83 billion from RM2.92 billion. EPS retreated to 164.1 sen from 172.5 sen.
BAT said the group remains concerned with legal volumes continuing to be impacted by the illicit cigarette trade. "However, the group is very encouraged by heightened enforcement and hopes it will be intensified in the coming months," said BAT, adding that the group's outlook for 2019 will be very much dependent on the recovery of the legal market.
In a separate statement, BAT said it has managed to keep its market share stable at 56.3% on an annual basis.
"Despite 2018 being a challenging year, we are very encouraged by our overall results for the fourth quarter and throughout 2018. Even with the re-introduction of sales and services tax (SST) and the resulting SST-led price increase, the company's results demonstrate our market leadership in executing sound strategic decisions that helped us retain market share while driving growth where it matters," said BAT Malaysia managing director Erik Stoel.
Stoel added that the results are in line with the company's projections, and that its 4QFY18 earnings growth demonstrates that its new cost-based transformation initiative and business model to optimise strategic investments is adding value to its future sustainability.
BAT shares closed RM1.12 or 3.1% higher at RM37.30 today, valuing the company at RM10.65 billion. Over the past 12 months, the stock has climbed nearly 30%.